University of Notre Dame Honours Diplomat Former Labor Leader Kim Beazley
Catholic Communications, Sydney Archdiocese,
11 Dec 2014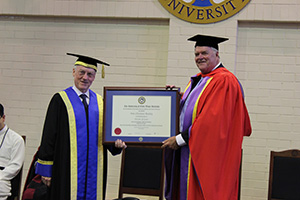 Kim Beazley, Australia's Ambassador to the US and former Leader of the Australian Labor Party has been conferred with an Honorary Degree of Doctor of Laws honoris causa by the University of Notre Dame Australia.
The Perth born diplomat and former politician was awarded UNDA's highest honour by Chancellor of the University of Notre Dame, Terence Tobin QC at a ceremony held at the university's Fremantle campus last night.
"In the context of Australian higher education, Notre Dame has been a great initiative. I have had the chance to be acquainted with its founders, leaders, staff and students since foundation. Its community has intellect, spirit and purpose. To be honoured by the community in their 25th anniversary year is at once undeserved but deeply gratifying," Mr Beazley said on receiving the honour.
As the recipient of an Honorary Doctor of Laws from the University of Notre Dame, Mr Beazley joins a distinguished group of individuals which includes the Archbishop of Sydney, the Most Rev Anthony Fisher OP, the former Archbishop of Sydney Cardinal George Pell, and former Prime Ministers John Howard.
At 25 Mr Beazley was awarded a Rhodes Scholarship for Western Australia and graduated from Oxford University with a Masters of Philosophy. During his time at Oxford he became friends with two other post graduate students: Tony Blair who would go on to become Prime Minister of Britain, and Geoff Gallop who would later become Premier of WA.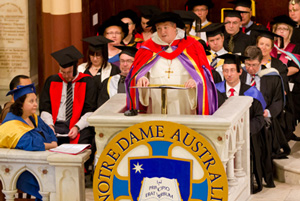 Returning to Perth, Mr Beazley lectured and tutored politics at Murdoch University before embarking on a political career that spanned 27 years. Elected to Parliament in 1980, he became the nation's youngest ever Defence Ministers in the Hawke Government and today, he remains one of Australia's longest serving and most distinguished Ministers of Defence.
During his many years in Parliament, Mr Beazley assumed numerous senior ministries including Aviation, Transport and Communications, Finance, Employment, Education and Training, and was also appointed Special Minister of State.
He became Leader of the House, Deputy Prime Minister and then Leader of the Opposition.
Admired and well-liked by both sides of the House as well as the Australian public, he retired from politics in 2007 and re-entered academia. Appointed Chairman of the Australian National University in 2009, he received a Companion of the Order of Australia and towards the end of the year, was appointed Australia's Ambassador to the US.
His appointment as Ambassador to the US was extended until 2015 by Prime Minister Tony Abbott after the Coalition's return to Government in September last year, making Mr Beazley one of Australia's longest serving Ambassadors to the United States.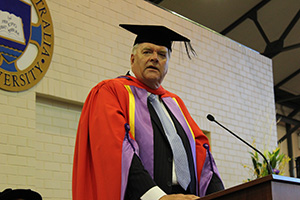 "Kim Beazley has had an exceptionally distinguished career in government, public service and higher education," Professor Celia Hammond, Vice Chancellor of UNDA said in conferring the former politician and political leader with a Doctor of Laws honoris causa last night.
"He has made a very significant contribution to Australian politics and has had an enormous influence on our country. His commitment to nation-building is evident in his achievements in government, politics, international relations and education. He has devoted his life to public service and continues to have a passion to serve his country, and is a most worthwhile recipient of Notre Dame's highest academic award," Professor Hammond said.