More than 2000 Expected at Notre Dame's Annual Graduation Mass at Cathedral
Catholic Communications, Sydney Archdiocese,
11 Dec 2014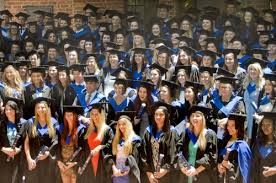 The Archbishop of Sydney, the Most Rev Anthony Fisher OP will celebrate the University of Notre Dame's Sydney Graduation Mass at St Mary's Cathedral at 7 pm on Tuesday, 16 December.
At least 2000 will attend the annual Mass including this year's 900-plus graduands, their families and friends, together with UNDA professors, lecturers and university staff.
Archbishop Anthony is well known to both faculty and students at UNDA. A keen supporter of the university and the establishment of the Sydney campus in 2006, Archbishop Anthony has been Adjunct Professor of Bioethics and Moral Theology at Notre Dame since 2007.
In addition he is a member of the Advisory Board of the School of Philosophy and Theology.
As a former practicing lawyer and a graduand in law from the University of Sydney, Archbishop Anthony officially opened UNDA's School of Law on the Sydney Campus in 2006, and three years later officially opened Notre Dame's Centre for Faith, Ethics and Society.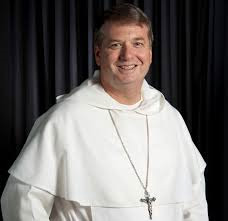 Prior to his appointment in 2010 as Bishop of Parramatta, and the increase in responsibilities and demands on his time, Archbishop Anthony taught a full unit course in moral theology. Although his time has become more limited, particularly since becoming the ninth Archbishop of Sydney, he nevertheless continues his involvement with the university, giving guest lectures, formation sessions to staff and participating in many of UNDA's public discussions and conferences.
In 2011 Archbishop Anthony was created a Doctor of Laws honoris causa by the University for in recognition of his contribution to the Church, young people and to society as a whole.
"He has been a great friend and supporter of Notre Dame since its inception," Vice Chancellor Celia Hammond told UNDA graduands when she conferred Archbishop Anthony with an honorary doctorate in December 2011, and thanked him for his "ongoing contribution to UNDA as a teacher, lecturer, inspiring evangeliser and friend."
The annual Graduation Mass at St Mary's Cathedral for graduands of UNDA's Sydney campus has become an important tradition and this year, as in previous years, each of the 900-plus graduating students at the Mass will be presented with a Graduation Cross.
The Graduation Mass on Tuesday will be followed by a series of graduation ceremonies to be held at St Benedict's Church, Broadway from Wednesday, 17 December.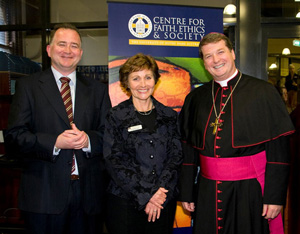 With more than 900 students, 120 more than last year, graduating from the Sydney campus this year with degrees, diplomas or certificates in Law, Medicine, Education, Arts and Sciences, Business, Nursing, Research and Philosophy and Theology, the graduation ceremonies are staggered over three days.
The largest cohort of graduands will be from the university's School of Education with 295 set to graduate, an increase of almost 50 on last year's figures
A further 112 will also graduate from the School of Medicine as Bachelors of Medicine and Surgery.
There has also been an increase in the number of those graduating from UNDA's School of Nursing which is up from 123 last year to 164 this year.
The six graduation ceremonies to be held each morning and afternoon at St Benedict's on Wednesday, Thursday and Friday next week also include graduands in Philosophy and Theology, Law, Business, Research and Arts and Sciences.
UNDA is Australia's youngest university and in terms of student numbers one of the smallest. Nevertheless the university continues to punch well above its weight. The widespread regard for UNDA's degrees and the high standard of its post-graduate and doctoral students was underscored in August this year with the release of the 2015 Good Universities Guide.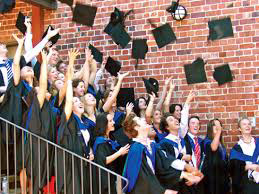 For the eighth year running, the quality of teaching and overall graduate satisfaction at UNDA was given a five star ranking. The university was also given five stars for the all-important categories of "Getting a Full Time Job" and "Graduate Starting Salaries."
In terms of graduates being able to find full-time employment, UNDA ranked well ahead of established universities such as the University of Sydney, Monash University and Flinders University.
Starting salaries for graduates from UNDA also did well, receiving the same high ranking as ANU, Curtin, the University of Melbourne, UNSW and the University of Western Australia, and well ahead of graduates from Tasmania University, the University of SA and the University of Queensland.