Lights of Christmas Spectacular Launch at St Mary's Cathedral
Catholic Communications, Sydney Archdiocese,
10 Dec 2014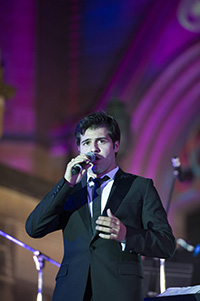 Hundreds of people gathered at St Mary's Cathedral for this year's launch of the dazzling Lights of Christmas.
And it was a spectacular display of laser light and sound scape. Beautiful images telling the story of Christmas to the theme of the Joy of Giving wrapped around the facade of St Mary's Cathedral.
Little children clutching battery operated candles sat in awe as the Twelve Days of Christmas story was told through 3D animation followed by breathtaking images of the Madonna and Child.
Presented by PAYCE this year with the Australian Catholic University the Education Partner, the Lights of Christmas was officially launched by the Archbishop of Sydney, the Most Rev Anthony Fisher OP.
However the evening began earlier with a special Opening Night Concert.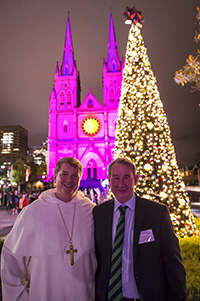 As the daylight faded people began arriving - city workers, families, children and parishioners from throughout the Archdiocese found a spot in Cathedral Square.
Compare Sandra Sully introduced the entertainment beginning with the St Mary's Cathedral Boy's Choir under the direction of Thomas Wilson.
This was followed by popular Australian singer Paulini and the young classical tenor Mark Vincent. Their performances of Christmas carols put everyone in the mood for the official "switch-on". The Vice-Chancellor of ACU, Prof Greg Craven thanked everyone for coming to the opening night before Archbishop Fisher welcomed everyone saying said he hoped this year's Lights will remind all of the true meaning of Christmas. He then declared this year's Lights of Christmas launched and the brilliant light show began.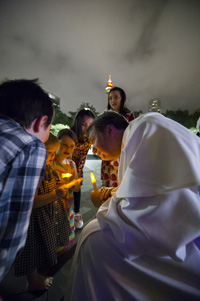 Around 1200 people were captivated by the free light display which will now run every night up to and including Christmas Day night from 8.30pm to midnight. And there will be entertainment every night from 7.30pm.
Official guests were welcomed to the PAYCE marquee by Tim Webster and Managing Director Dominic Sullivan. This included the NSW Premier Mike Baird and Lord Mayor Clover Mayor.
With the emphasis this year on giving and of service to others, all the proceeds from special postcards available for sale at the Lights of Christmas will go to the Matthew Talbot Hostel and the Brown Nurses.
PAYCE is also holding a special community night for those who tirelessly give their time to charities and having their "special guests" many of the homeless and those supported by Matthew Talbot Hostel.
ACU has been a great supporter of the Lights of Christmas for the past couple of years and has helped establish the event as a popular Sydney Christmas
tradition.
Catholic Cemeteries and Crematoria are also a major supporter and have made available the battery-powered candles, so popular with the children, for a gold coin donation - again all the proceeds going to charity.
The Archdiocese is also grateful to Catholic Super for their support.
However the magic of the lights is born in the studio of AGB Events and Creative Director Anthony Bastic - who says he is already planning out next year's Lights of Christmas.