A Giant of Public Service and Business While a Man of Faith and Humility
Catholic Communications, Sydney Archdiocese,
7 Nov 2014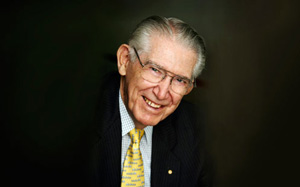 Business leaders, colleagues and friends have paid wonderful tributes to a man who gave distinguished and outstanding service to his career and the community and at the same time has been acknowledged as gracious and a true gentleman.
Mervyn John Phillips AO passed away earlier this week in hospital. Often described as one of the most outstanding Catholic laymen in Australia, John was married to Margaret and they had two children, Anne and Mark and four grandchildren.
John Phillips was a leader in the world of finance and business, in particular his work as Deputy Chairman of the Reserve Bank of Australia, the Foreign Investments Review Board and the Government Task Force for Financial Reform. After stepping down from his role at the Reserve Bank , after 32 years of faithful service, both sides of parliament said they held him in high regard.
John Phillips then served as chairman or board member of numerous companies and organisations covering everything from retail to insurance to mining. He represented Australia at working parties on financial reform and governance internationally while giving his time, energies and expertise to a number of Australian universities and institutes of higher education. He contributed greatly to the mission of the Australian Catholic University serving as a member of the Senate for seven years from 1991 prior to which he was a member of the Council of the Catholic College of Education in Sydney, a predecessor institute of the university.
John Phillip's generosity was also highlighted by his contribution to charitable organisations. He joined the board of Caritas Australia as Honorary Treasurer (1993-2002) where he reorganised the financial structures and procedures in a body which had grown substantially and which was at times disbursing $15 million in aid.
In 1987 John Phillips was made a Member of the Order of Australia and then in 2004 and Officer of the Order of Australia.
For many years John Phillips was also a valued member of the Finance Council of the Archdiocese of Sydney and his expertise, integrity, good judgement and humility will be greatly missed by members of the board.
"I knew my father was involved in many boards and was highly regarded however I don't think I realised until this week just how much he achieved," Mark Phillips commented.
"Many, many people have contacted us to say no matter how busy he was or his commitments, he was always available for good advice. They had said he was gracious and very much a gentleman.
"He did have to travel a great deal but he was a great family man - and even made the time to coach my soccer team when I was a child."
A Requiem Funeral will be held at St Joan of Arc Catholic Church at Haberfield at 10.30am next Tuesday for John Phillips.