Vatican Museums 3D: Welcome to the World's Greatest Art Collection
Catholic Communications, Sydney Archdiocese,
7 Nov 2014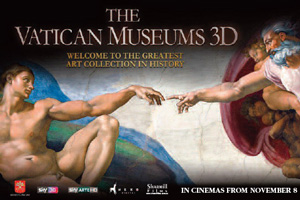 A spectacular documentary film, shot in the Vatican Museums at night opens at cinemas across Australia tomorrow, 8 November giving audiences everywhere a chance to see the world's greatest art collection in state-of-the-art 3D.
Billed as "the Greatest Art Collection in History Like You've never seen it before," the mega- production uses a unique mix of 3D and advanced dimensional techniques developed for movies by James Cameron and Tim Burton. Filmed in collaboration with the Vatican Museums Directorate, a team of more than 40 professionals, SKY 3D, a division of Britain's Sky Broadcasting Group, takes us on an unforgettable tour of the Vatican Museums' famous art collection and the Sistine Chapel.
Acting as guide throughout the film, the Director of the Vatican Museums, Professor Antonio Paolucci uses his expertise to lead us through the past, present and future of the Vatican's extraordinary collection, equally at ease talking about the 2000 year old fragmented sculpture known as Belvedere Torso as he is exploring modern sculptures by 20th Century greats such as Italy's Lucio Fontana.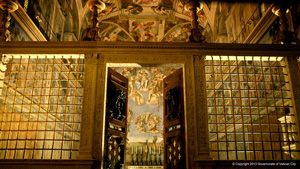 The tour also encompasses antiquities, treasures and the wide range of paintings held in the Vatican Museums including those by Chagall and van Gogh and other Impressionists of the late 19th Century and the spectacular Renaissance masterpieces by artists such as Giotto, da Vinci, Caravaggio, Tintoretto, Bellini, Raphael and Michelangelo.
Using the latest advances in 3D the film allows us to totally immerse ourselves in some of the world's most acclaimed masterpieces. As one reviewer in the UK wrote "you feel you are 'entering' each painting and can see every brushstroke and fine detail."
Every fold, line and captured movement of sculptures Michelangelo's breathtaking La Pieta is captured on film in vivid 3D.
La Pieta which is now housed in St Peter's Basilica in Rome depicts the crucified Christ lying on the Virgin Mary's lap and in the film it seems all we have to do is reach out to feel the cool marble and the deep rich folds of her gown.
Thanks to the donation of a superb marble replica of La Pieta to St Mary's Cathedral by art lover and collector, Sir Charles Lloyd Jones in the 1940s, Michelangelo's sculpture is well known and much loved by Sydney's Catholics.
The film has already been shown in cinemas in Britain and Italy as well as being broadcast on TV by Sky Italia.
In Australia the film is being distributed by Sharvill Films and to find out where you can see this remarkable and extraordinary film of the treasures and artworks of the Vaticans Museums, log on to http://www.thevaticanmuseumsincinemas.com/photograph/australia-cinemas/
To see a preview of The Vatican Museums 3D go to https://www.youtube.com/watch?v=1xEDfyu6AX8