New Archdiocese Business Manager Here to Serve
Catholic Communications, Sydney Archdiocese,
28 Nov 2014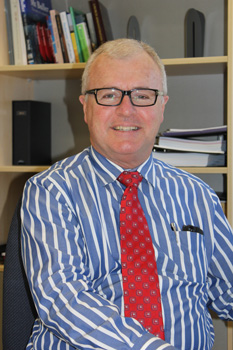 When Michael Digges left the corporate world nearly four years ago he wasn't looking for a quiet life.
He had seen the need for the Church and most non-profit organisations to engage with business and other entities and government on a more professional basis. That required specific skills sets, experience and at the same time an understanding of the Church. For Michael it was also a desire to serve and support.
An opportunity arose with the Parramatta Diocese and the relatively new Bishop to the diocese who was starting to get things moving - Bishop Anthony Fisher OP.
Working closely with Bishop Fisher as the diocesan Business Manager, Michael used his experience and skills to build a business strategy that was also inclusive of the needs of diocese priests and agencies.
However as it has turned out, Parramatta was not the final stop. Earlier this year Cardinal George Pell was called to Rome. The Business Manager for the Archdiocese of Sydney also took up a position in Rome and eight months later the Most Rev Anthony Fisher OP was installed as the new Archbishop of Sydney.
Michael Digges has now joined Archbishop Anthony at the Archdiocese of Sydney as the new Business Manager and this week was his first full week on the job.
"At Parramatta I was passionate about supporting the parish priests in the work they do for their parishes," Michael said. "They are on the frontline and the bishop was also extremely keen to support them in their mission.
"That is certainly what I also bring to the Archdiocese.
"I know the Archbishop wants to engage with the priests here. I also know he wants to focus on families and youth as he did in Parramatta and as most people know he has a keen interest in education. I am looking to supporting his mission."
Immediately following the Installation Michael joined Archbishop Anthony on a quick trip to Rome. While the Archbishop was attending the Vatican colloquium on the complementarity of man and woman, Michael was connecting with the former archdiocesan business manager now working in Rome, Danny Casey.
"It was a great opportunity to spend time with Danny and get a good briefing," he said
"Danny set the Archdiocese on a very strong course and I am looking forward to building on his excellent work and working with his highly and very capable staff.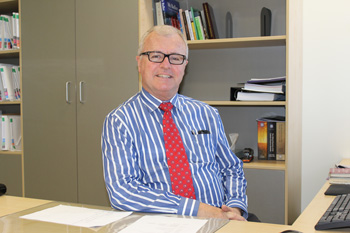 "Some of the initiatives he developed with the Cardinal and Cardinal Pell's legacies in the Archdiocese are very impressive.
"The restoration and artwork undertaken at St Mary's Cathedral is magnificent, the music program is of world standard as we saw and heard at the Installation Mass and also the Benedict XVI Retreat Centre at Grose Vale - all great achievements.
"Also Domus in Rome is a wonderful initiative and a terrific facility for pilgrims travelling from Australia to Rome and Vatican City State.
"We are in a very fortunate position but I am very much looking forward to working with all the priests who as I say are the ones on the frontline."
Although in the Business Manager's chair for just a week, Michael has also visited three deaneries - St George, Concord and Sutherland.
He met around sixty clergy, religious and deacons and was fortunate to be able to chat with many of them at two Christmas lunches.
"Everyone was very welcoming of me and for that I am very grateful. I was very impressed by the hospitality they not only showed me but each other.
"There is great comradery amongst our priests and I am very much looking forward to meeting many more in the New Year."