Archbishop Anthony Fisher OP to Celebrate Lourdes Healing Mass at St Mary's Cathedral
Catholic Communications, Sydney Archdiocese,
27 Nov 2014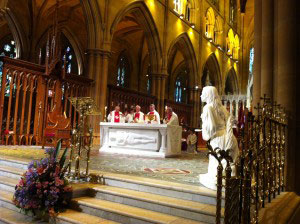 The fifth annual Lourdes Healing Mass will be held at St Mary's Cathedral on Saturday, 29 November and will be celebrated by Sydney's newly-installed Archbishop, the Most Rev Anthony Fisher OP.
Archbishop Anthony is also a Conventual Chaplain of the Order of Malta (NSW) which organises the Lourdes Mass each year.
The Knights and Dames of Malta are dedicated to helping the sick and the poor, and encourage those facing health challenges, struggling with a disability or simply troubled and unable to see their way ahead to attend the Lourdes Mass and receive the Blessing of Healing. Each participant will also be given a bottle of Lourdes water for their personal use.
The water is taken from the Marian Shrine of Lourdes where visions of the Virgin appeared to 14-year-old French girl, Bernadette Soubirous. Her first appearance came from behind a wild rose growing in a grotto beside a spring. Visions of the Holy Mother were seen by Bernadette on a daily basis but local people remained sceptical. Some even claimed Bernadette was suffering from a mental illness and demanded she be should be put in an asylum.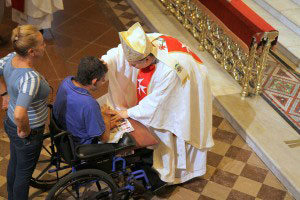 But when the muddy water of the spring suddenly ran clear and a rose bush suddenly appeared and bloomed in mid-winter, Bernadette was finally believed.
In one of her final appearances to Bernadette, the apparition of the beautiful lady in white asked that a chapel be built beside the grotto.
Bernadette lived a short life, dying at age 35. Nevertheless she lived long enough to see Lourdes, which is visited by more than 5 million each year, become major pilgrimage site and a place of prayer and healing.
For more than half a century each March, the Knights and Dames of the Order of Malta from across the world have gathered in Lourdes for a week-long pilgrimage.
"This is when we collect the Lourdes water," explains David Hall, Chair of the NSW Branch of the Order of Malta and Treasurer of the Order's National Association.
At the Lourdes Mass at St Mary's Cathedral last year, he says more than 400 bottles of Lourdes water were given to those who received the Blessing of Healing and predicts that even more may be needed at this year's Mass.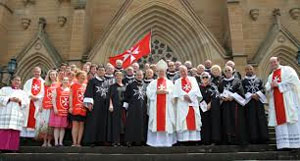 In addition to organising the Lourdes Healing Mass each year, the NSW Knights and Dames of the Order of Malta also support Gorman House, the residential detoxification unit at St Vincent's Hospital, Darlinghurst. Working in close partnership with St Vincent's Hospital, the Order raised more than $1.25 million this year on top of just over $1.123 million raised by the Order last year.
In addition, for the past six years the Order has given generous financial support of St Joseph's Hospital's Palliative Care Unit which provides compassionate inpatient and outpatient multi disciplinary care for those in the final stages of life.
Coats for the Homeless is another important initiative of the Order of Malta. Specifically designed by the Order's Ambassador to Timor-Leste, David Scarf, the coats are quilted for warmth, lightweight, portable, showerproof and come with hidden pockets so the few valuables the homeless may have are kept safe.
"The guys can sleep in them. They don't have zippers or buttons or anything that would press into them," David Hall says and reports that in winter this year the Order distributed 1200 of these Coats to those sleeping rough across NSW.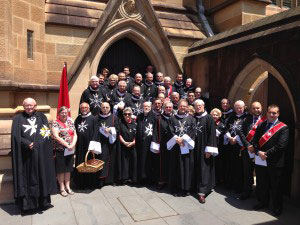 On any given night of the year at more than 20,000 Australian men, women and children have no bed and no shelter and are forced to bed down in the streets.
For the past 10 years the Order of Malta has given away thousands of these coats.
"Unfortunately demand continues to outstrip supply," David Hall says and is hoping the NSW chapter can raise enough funds over the Christmas period to ensure 1500 Coats for the Homeless to help those who are down and out with no place to go, get through winter next year.
"A donation of $100 will buy many of these specially designed and much needed warm shower proof coats," he says.
To find out more and to donate to the Order of Malta and to find out details about the 10.a.m. Lourdes Healing Mass to be held at St Mary's Cathedral on Saturday, 29 November log on to www.orderofmalta.org.au