Life-Changing Course Deepens Faith & Creates Leaders of Tomorrow
Catholic Communications, Sydney Archdiocese,
21 Nov 2014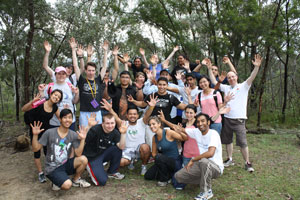 Members of Australia's Melkite, Maronite and Chaldean Eastern Churches will join other young people of faith from Catholic parishes across NSW, Victorian and Queensland on Monday for the Archdiocese of Sydney's eighth annual live-in Youth Leaders Formation Course (YLFC.)
The four week intensive course is being held at the newly-expanded purpose-build Benedict XVI Retreat Centre at Grose Vale and will run from 24 November until 20 December.
An initiative of Cardinal George Pell and Archbishop Anthony Fisher OP during his time as Auxiliary Bishop for the Archdiocese of Sydney, the first YLFC was held in 2007 to prepare and train young leaders in the 12-months leading up to Sydney's World Youth Day.
Open to young people of faith aged between 18 and 30, the course is designed to develop and improve their leadership skills, enrich and deepen their faith, and give them an opportunity to hear and discuss pastoral formation, intellectual formation and emotional intelligence with some of Australia's most dynamic and inspiring Catholics.

"Over the past eight years YLFC has transformed the hearts and minds of more than 150 young Catholics," says Bernard Toutounji, Director of Catholic Youth Services (CYS) for the Archdiocese of Sydney, adding that he is particularly delighted to be welcoming five participants for this year's course from the Eparchies of Australia's Eastern Churches.
In addition to discussions, testimonies and presentations, the 21 attending the course will also have a chance to evangelise in parish mission, experience a silent retreat, spend a day engaging in social outreach with organisations such as CatholicCare or St Vincent de Paul and participate in a Vocations Forum.
One of the highlights of the four week program will be the presentation by Archbishop Anthony Fisher OP. A leading scholar on bio-ethics he will give a presentation entitled "Made in God's Image: The Sanctity of Life."
Others set to give fascinating thought-provoking presentations include Peter Holmes, Scripture Scholar from the University of Notre Dame Australia; Jonathan Doyle, a graduate of the John Paul II Institute and co founder of Choicez Media; Sr Mary Rachel Capets, OP, the Superior of the Sydney community of the Dominican Sister of St Cecilia, Nashville; Robert Haddad, Head of the New Evangelisation for the Sydney Catholic Education Office; and Mary-Clare and husband, Chris Meney, Director of the Archdiocese of Sydney's Life Marriage and Family Centre.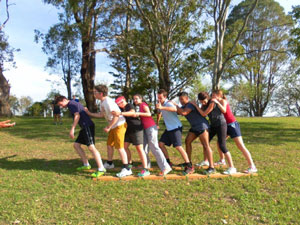 Chris recently returned from Rome where he was one of 16 lay experts from across the world invited to attend the recent Extraordinary General Assembly of the Synod of the Bishops on the Family, convened by Pope Francis.
The range of topics explored in the more than 30 presentations range from "Why Mary Matters" to "Apologetics: Defending the Catholic Faith."
In addition, the 21 attendees at this year's course will have a chance to engage in stimulating and insightful discussions with Bernard Toutounji and the team at CYS, Catholic Talk's Monica Doumit, as well as priests, religious, seminarians and participants from previous YLFC courses.
Father Epeli Qimaqima will at the Centre full-time throughout the entire four weeks and will celebrate daily Mass, Adoration and Night Prayer in the Benedict XVI Retreat Centre's chapel.
Describing the course as "literally life changing," Natalie Ambrose recalls that after participating in the Archdiocese's second YLFC in November 2008, her plans to become a teacher went out the window.
"I enrolled in the course at the end of my second year at the University of Notre Dame Australia where was studying for a double degree in Arts and Education. But after I finished the course, I realised my calling was to Youth Ministry," she says.
Natalie went ahead and finished her double degree. But despite being a trained teacher, instead of overseeing a classroom full of kids, she joined Catholic Youth Services instead, heading up NET Ministries Support and Administration.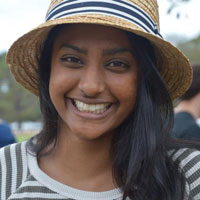 Now 24, she has spent the past six months helping plan and organise this year's Youth Leaders Formation Course.
"It was great being able to give real input when we began planning the program in July," she says pointing out this is the first time CYS has been given the responsibility of organising the four week course for the Archdiocese of Sydney.
"Helping organise this year's YLFC as well as being involved and presenting and helping organise each of the past seven YLFC's has been immensely rewarding," says Bernard Toutounji. He says it is not only the positive feedback from participants that is so gratifying, but witnessing the strong contribution they are able to make once and the course is over and they return to their parishes, dioceses, universities or communities.
To find out more about the Archdiocese's Youth Leadership Formation Courses and the feedback from past participants log on to www.sydneycatholic.org/ylfc