Why Do We Need a Mother and Father?
Catholic Communications, Sydney Archdiocese,
21 Nov 2014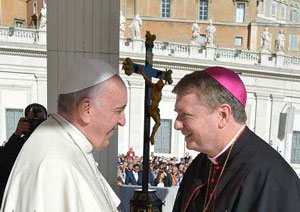 The Archbishop of Sydney, the Most Rev Anthony Fisher OP is returning from a unique interreligious Vatican conference which organisers hope will forge a global movement for marriage and recognition of the need for a mother and father.
The three-day colloquium, "Humanum: The Complementarity of Man and Woman", brought together 350 delegates from 23 countries and more than 30 speakers.
Religious leaders and scholars from a wide range of faiths attended. During the conference a series of videos from Nigeria, Lebanon, Mexico, Argentina, France, Scotland and the United States explored the universal power and beauty of male-female bonding across cultures and social classes.
During his opening address at the conference Pope Francis said children have the right to grow up "with a father and mother capable of creating a suitable environment for the child's development and emotional maturity".
At the conclusion of the conference Archbishop Anthony Fisher said there are real emotional, social, cultural concerns and risks if children do not have a mother and father who are committed to each other and to their children.
"If we are going to have healthy families based on marriage we have to recover a sense of importance of the mum and dad, of the male and female," he said.
"This goes to the heart of cultural wars about marriage. In other words do we put children first, are their interests paramount, or do we put the preferences, desires, the happiness of adults first?
"Our tendency, at least in the west, is to say adults come first.......the whole purpose of marriage is not just happiness of the couple. "