Caritas Marks Close of Jubilee Year with Commemorative Mass of Thanksgiving
Catholic Communications, Sydney Archdiocese,
20 Nov 2014

More than 150 people including Australia's bishops and staff and volunteers from Caritas Australia will gather at Mary MacKillop Place, North Sydney on Wednesday 26 November for a Commemorative Mass to mark the end of the agency's Jubilee Year.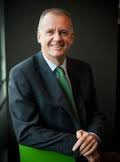 The Commemorative Mass to thank all those who have joined Caritas Australia on its 50 year journey of love and compassion, was to have been held at the Mary MacKillop Memorial Chapel. However as numbers swelled, a decision was made to hold the Mass as well as the celebration afterwards under a marquee beside the Chapel, in the garden at Mary MacKillop Place, says Paul O'Callaghan, CEO of Caritas Australia.
Part of Caritas Internationalis, the aid and development arm of the Catholic Church and the world's second largest humanitarian agency after the Red Cross, Caritas Australia is committed to helping the world's poor including many Indigenous communities, climb out of poverty through improved sanitation, health, hygiene, education, sustainable agriculture, food security, and job skills training.
"Regardless of ethnicity, religion or politics, Caritas Australia is dedicated to helping people help themselves," Paul says, pointing out that in addition long-term development programs in impoverished communities across Africa, Asia, East Timor, Latin America, Indigenous Australia and the Pacific, Caritas also provides emergency relief whenever and wherever disaster strikes.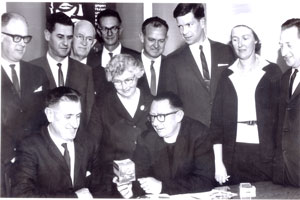 From Haiti's devastating earthquakes of 2010 to the severe floods that swept across South East Asia last year, ongoing famines and drought in Ethiopia or the current Ebola crisis in West Africa, trained emergency relief and medical teams from Caritas and its partner agencies will instantly be on the ground, helping victims with tents, tarpaulins, food, shelter, blankets, water purification tablets, sanitation kits and other urgent needs.
Although many of the world's NGOs also help provide invaluable and vital assistance during natural or humanitarian disasters, Caritas is there for the long haul. Not only on the ground during the first days and months of an emergency, Caritas staff and volunteers remain long after the emergency is over, helping people as they struggle to rebuild their villages, their homes and their lives.
Within hours of Typhoon Haiyan's deadly rampage through the Central Philippines on 8 November last year, which tore through 12,000 cities and villages, killed more than 6300 and displaced 4.1 million people, teams from Caritas were delivering help. Working alongside Caritas Philippines and the 41 agencies within the Caritas network, Caritas Australia is now helping with the recovery and rehabilitation phase.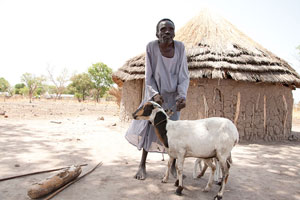 In addition supporting the building of temporary shelters, the agency is consulting engineers on the creation of safe, adequate, inexpensive and typhoon-resilient housing.
Caritas is also helping those impacted by the Typhoon re-establish their means of support by helping to provide fishing boats and outboard motors to those in coastal towns, and vegetable seeds and garden tools for 18 farming families.
Much of the assistance both during the emergency and now, during the recovery period, has been made possible by the generosity of every day Australians who donated $6 million to Caritas Australia's Typhoon Haiyan appeal.
In addition to big hearted response by ordinary Australians to those affected by Typhoon Haiyan, less than four months later Australians were again opening their wallets to donate a record $11 million to Caritas Australia's annual Lenten fund raiser, Project Compassion.
"When we look back over this our Jubilee year one of the highlights has to be the overwhelming response to Project Compassion by individuals, parishes, school children, university students, youth organisations and families," Paul says.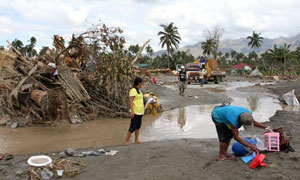 Caritas, which when translated from Latin means love and compassion, began in 1964 when a group of lay Catholics joined together determined to make a difference and tackle issues of hunger and poverty. To do this they created the Catholic Overseas Relief Committee, which would later be renamed Caritas.
The first nation-wide Lenten appeal for the fledgling agency was launched in 1965 and raised $90,000. But it was not until the following year when Roy Boylan and fellow Paulians, Mary Gilchrist and Dr John Farrar, convened a diocesan appeal committee in Sydney, with representatives from seven lay organisations, including the Legion of Mary and the Catholic Youth Organisation, that it was decided to name the Lenten fundraiser Project Compassion.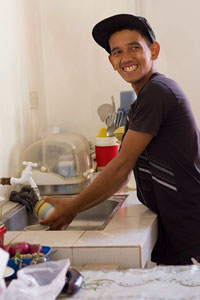 "I can still vividly recall filling our Project Compassion Box as a boy growing up in the St Thomas More parish of Canberra," Paul says.
The first Project Compassion raised $112,000. Two generations later Project Compassion is raising millions of dollars for the world's poor, disadvantaged and marginalised and has become a byword in Australia for generosity, support for the world's poor and disadvantaged and potent symbol of how Australians of all ages and walks of life can make a difference.
The Commemorative Mass of Thanksgiving at Mary MacKillop Place on Wednesday next week will mark the end of Caritas Australia's Jubilee Year and pay tribute to the agency's army of volunteers and staff both here and overseas.
The Most Rev Philip Wilson, Archbishop of Adelaide and Chair of Caritas Australia will celebrate the Mass which will be concelebrated by Deputy Chairs, Bishop Eugene Hurley of Darwin and Bishop Greg O'Kelly of Port Pirie.
Among those attending will be former Caritas CEO Jack de Groot who is now Group Mission Leader for St Vincent's Health. Also there will be Archbishop of Sydney, the Most Rev Anthony Fisher OP together with bishops and archbishops from across Australia who will be in Sydney next week for Plenary Meetings of the ACBC.
The Commemorative Mass which begins at 5 pm on Wednesday, 26 November will also feature the Australian Catholic University's Strathfield Choir. Afterwards the Mass there will be a celebration of highlights of the first 50 years of Caritas Australia and a look ahead to the future and the next 50 years.