ACU's New Chancellor John Fahey to be Officially Welcomed in Both Sydney and Melbourne
Catholic Communications, Sydney Archdiocese,
20 Nov 2014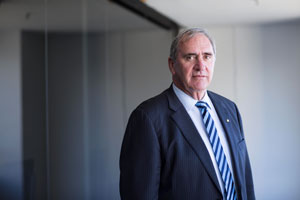 For the first time ever, the Inauguration Mass for a Chancellor of the Australian Catholic University (ACU) will be held at St Patrick's Cathedral, Melbourne this Sunday. But a second ceremony is already being planned at St Mary's Cathedral for ACU's fourth Chancellor, John Fahey.
The Archbishop of Sydney, the Most Rev Anthony Fisher OP will officiate at the ceremony which is expected to be held before the end of the year. Along with ACU professors, staff and students from the university's campuses at Strathfield and North Sydney, the ceremony at St Mary's Cathedral will be attended by the wide range of friends Mr Fahey has made over his long and diverse career among Australia's sporting personalities, politicians, business leaders and the legal fraternity.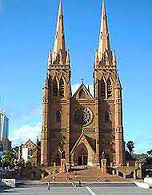 Trained as a lawyer, Mr Fahey was Premier of NSW from 1992-9 before entering Federal politics where he served as Minister for Finance and Administration in the Howard Government. During this time he was also Chair of Sydney's successful bid to host the 2000 Olympic Games.
He retired from politics a year later after being diagnosed with lung cancer. But after an operation to remove one lung, he returned to full health and was ready for his next challenge.
Appointed President of the World Anti Doping Agency in 2006, he spent the next seven years criss-crossing the globe before stepping down from as President in 2013.
In his youth he was also a noted rugby player and coach.
As the fourth Chancellor of ACU, Mr Fahey succeeds Governor General Sir Peter Cosgrove and follows in the footsteps of founding Chancellor, Cardinal Edward Clancy who served from 1991. Next came Brother Julian McDonald cfc who served as Chancellor from 2000 until 2009.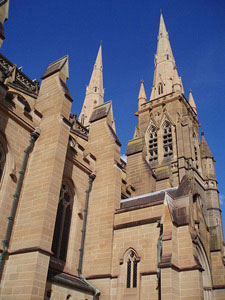 When he took up his appointment on 4 September this year, Mr Fahey said he was excited by this new challenge and the opportunity to use his energy and leadership experience. Comparing the role of Chancellor to "a bit like being Chairman of the board of a public company," he said he was very much looking forward to "playing a part in the delivery of knowledge to young Australians within the Catholic tradition under which ACU operates."
He also revealed that when the opportunity to be appointed Chancellor of ACU was first mooted, one of the attractions for him was the fact that ACU is Australia's only truly national university with campuses in Melbourne, Ballarat, Brisbane, Adelaide, Canberra, Strathfield and North Sydney.
This is particularly well-illustrated by the break with tradition in choosing Melbourne's St Patrick's Cathedral rather than Sydney's St Mary's Cathedral for the new Chancellor's Mass of Inauguration.
To be held on Sunday, 23 November at 11 am, the Inauguration Mass of the new Chancellor will be celebrated by the President of ACU, the Archbishop of Melbourne, the Most Rev Denis Hart. Among those attending will be ACU Pro Chancellor, Edward Excell, Vice Chancellor Professor Greg Craven, Provost Professor Pauline Nugent, Deputy Vice Chancellor Dr Stephen Weller, members of the ACU Senate, Chapter and staff, members of the Archdioceses of Melbourne and Sydney, and the Diocese of Ballarat, together with representatives of Catholic health, education and social services groups.
Chancellors of other Australian universities are also expected to attend.
Based in Sydney, where he lives with Colleen, his wife of 46 years, Mr Fahey has already attended meetings of ACU's Senate, or Board of Governors as the Senate is sometimes known, and is stimulated and excited by his new role.
"God has been good to me. I have been lucky to have been given so many challenges and now I am privileged and honoured to have been given another one," he says.
Details and the date of the Inauguration Ceremony to be held at St Mary's Cathedral in Mr Fahey's hometown will be announced shortly.