Vatican Hosts Conference on Traditional Marriage
Catholic Communications, Sydney Archdiocese,
17 Nov 2014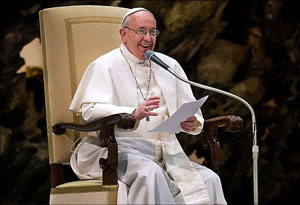 Dozens of religious leaders from around the world have attended the opening of a Vatican-sponsored conference to discuss the meaning of marriage, specifically its grounding on the complementarity of man and woman.
Pope Francis opened the colloquium and presiding over its first session.
The global interreligious meeting features representatives from 14 religious traditions and 23 countries.
Sydney's new Archbishop, the Most Reverend Anthony Fisher has also flown to Rome to attend the conference which "aims to examine and propose anew the beauty of the relationship between the man and the woman, in order to support and reinvigorate marriage and family life for the flourishing of human society".
Each session of the conference will be opened successively by the leadership of each of the cooperating Vatican offices - the Congregation for the Doctrine of the Faith, the Pontifical Council for the Family, the Pontifical Council for Interreligious Dialogue and the Pontifical Council for Promoting Christian Unity.
They will be followed by presentations and witness testimonies of leading religious figures and scholars including Mercy Sister Prudence Allen, former chair of the philosophy department at St John Vianney Theological Seminary in Denver, whom Pope Francis named to the International Theological Commission in September and Lord Jonathan Sacks, former chief Rabbi of Great Britain.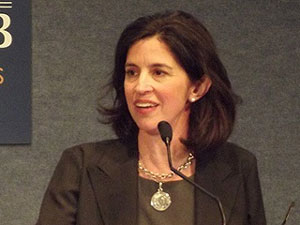 The Complementarity of Man and Woman in Marriage is just a month after the Synod of Bishops on family which sparked debate over divorce, same-sex unions and other non- marital relationships.
Consultant to the Pontifical Council for the Laity and professor of law at George Mason University, Dr Helen Alvare is also communications liaison for the colloquium.
"Complementarity is men's and women's equality plus their differences," Helen said at the start of the conference.
"Marriage is a natural institution with significance in every religion and culture of the world. There is insight, practical wisdom, valuable charisms, and lived experiences within these cultures and religions that can be brought to bear on the problems concerning marriage today - across religious and cultural divisions."
For more about the colloquium go to http://www.humanum.it