A Round of Farewells Before Archbishop-elect's Installation
Catholic Communications, Sydney Archdiocese,
31 Oct 2014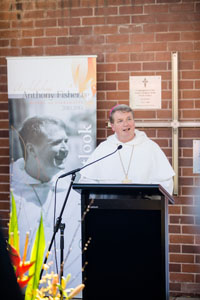 The past week has been a round of public and private farewells for the Most Rev Anthony Fisher OP, Archbishop-elect of Sydney and Administrator of the Diocese of Parramatta - with more to come before his Installation as the Ninth Metropolitan Archbishop of Sydney on Wednesday 12 November at St Mary's Cathedral.
Leaders representing Western Sydney, including Local Members, Councillors, businessmen, civic and inter-faith leaders, sporting and recreation club managements, gathered at St Patrick's Cathedral Hall in Parramatta on Thursday to thank and farewell their Bishop of nearly five years.
The State Member for Parramatta, Dr Geoff Lee praised the Most Rev Anthony Fisher for his contribution to the diocese including many community programs implemented to support families and young people as well as celebrate the diversity of Western Sydney. This followed comments made by Dr Lee when he addressed State Parliament following the announcement of the Bishop as the new Archbishop for Sydney when he said the Most Rev Anthony Fisher had hosted a forum with government, social and religious leaders to seek solutions for homelessness in Western Sydney.
Occasions of farewell and thanks will continue next week. On Wednesday 5 November all are welcome to a Mass of Thanksgiving to God on the Occasion of the Farewell of the Most Rev Fisher OP to be held at St Patrick's Cathedral at Parramatta at 7.00pm.
Then it will be the turn of the youth of the diocese when they will also have the opportunity to attend a Mass at St Patrick's Church at Blacktown on Saturday 8 November at 11.30am.
The Liturgical Reception and Mass of Installation for the Most Rev Anthony Fisher OP will take place on the evening of Wednesday 12 November at St Mary's Cathedral at 7.00pm. All are welcome to the Installation which will also be webcast live. For further information on the webcast on the night http://www.xt3.com/installation/ and https://www.youtube.com/user/Xt3dotcom