A Father's Journey
Catholic Communications, Sydney Archdiocese,
31 Oct 2014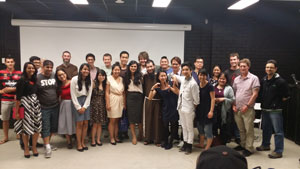 On Monday evening, 27 October, a documentary titled Father was previewed by cast and crew at the Information and Cultural Exchange (ICE) in Parramatta.
Father is a story of fatherhood, physical and spiritual. It tells the story of Brother John Nguyen OFM Cap, one of the Capuchin Friars currently based in Leichhardt, and of his family, who arrived in Australia as refugees from Vietnam. Brother John names his first ever home as East Hills Detention Centre.
Focussing mainly on the story of Brother John's father and told in his native Vietnamese with accompanying English subtitles, Father gives us an insight into the struggles faced by those fleeing their home during the Vietnam War. It portrays the struggles faced by the Nguyen family after arriving in Australia, and the sacrifices made by Brother John's father in order to provide for his young family and to ensure they received an education. These included working in a sweat shop, travelling extensive distances to and from work, working numerous jobs and long hours, all of which required him to spend time away from the family.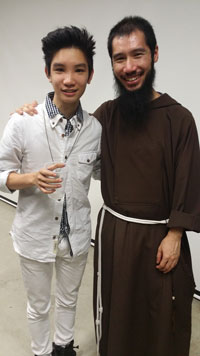 Mr Nguyen's perseverance enabled Brother John to attend university and pursue a career in architecture, as well as an acting career (including being in the Australian film Little Fish alongside Cate Blanchett).
Father poignantly portrays how it was initially difficult for Mr Nguyen to accept his son rejecting a very promising career in architecture and film and instead freely embrace poverty, from which he had worked so hard to preserve his family. It then shows his subsequent acceptance of and support for Brother John's vocation.
Father invites the viewer to reflect on how the commitment and sacrifices of a father for his children can provide them with the freedom to make their own.
Father was directed by Tresa Ponnor, who has been involved with the Capuchin Young Adults and is also a regular volunteer with the Friars' Van, a ministry which sees young adults from Sydney join with the Capuchin Friars to offer hot drinks, chocolate and friendly conversation to the homeless or others sleeping rough in and around the city.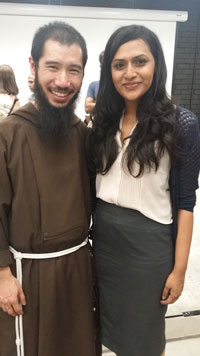 She created the film as part of her involvement with ICE's ParraDocs initiative. ParraDocs is a documentary skills development program for emerging Western Sydney filmmakers. Speaking before the premiere, Tresa recalled how watching a documentary about children who were born into (and lived) in Calcutta's red light district allowed her to see "how powerful it is to share someone's story and learn from it". She introduced the film, expressing her gratitude to Brother John and the Nguyen family for entrusting her with their story.
The short documentary will now be considered for the next phase, which would involve turning it into a feature-length work.
Brother John Nguyen OFM Cap will make his Final Profession of Vows on 14 December 2014 at 2pm at St Fiacre's Catholic Church in Leichhardt.