Change People's Lives by Giving to Charity this Christmas
Catholic Communications, Sydney Archdiocese,
30 Oct 2014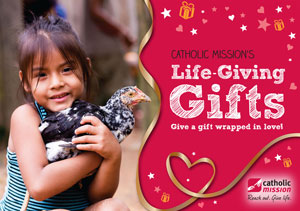 Australians are expected to splash out more than $35 billion on Christmas gifts for loved ones and friends this year. While most of us are thrilled with some of the presents we receive, there are many that end up in the bottom drawer, being recycled or discreetly thrown out a week or two after the Christmas break.
In fact almost every adult if asked admits that when it comes to Christmas, they would be just as happy with a donation or gift made in their name that goes towards helping a child or family in need.
So for Christmas 2014 instead of the usual frantic last minute rush to buy overpriced gifts for friends and family, Australians will be able to pledge to make a real difference and change people's lives through Catholic Mission's Life-Giving Gifts and Caritas Australia's Global Gift program.
Catholic Mission has launched its Life-Giving Gifts Christmas catalogue, featuring sixteen gifts that support children, communities and Church leaders across the globe.
Available both online and in hard copy, the new-look catalogue features options ranging from as little as $9 to provide a Peruvian family with a laying hen, to a very generous $13,340 to build a new church in a remote area of the world that will bring a community together in faith.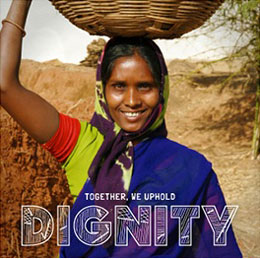 Other Life-Giving Gifts include: $17 provides textbooks for one year for two primary school children in the Philippines; $28 provides a nourishing daily meal for twenty-five children in Mongolia; $40 provides a pig so a family in Madagascar can become self-reliant; $118 provides the annual tuition fees of two seminarians in a developing country; $220 provides a wheelchair for one child with a disability in Zambia; and $1,258 provides a water tank for a pastoral outreach centre in Papua New Guinea.
Catholic Mission National Director Martin Teulan says a Life-Giving Gift is the perfect present. "Often we only feel like we are making a difference when we give," says Mr Teulan. "A Life-Giving Gift also allows our family and friends to support the less fortunate when they receive a present this Christmas."
Every purchase of a Life-Giving Gift will come with a beautifully designed printed card featuring an image indicative of the project the gift supports. With space for a personal message, the card can be placed in stockings or sent to loved ones. Alternatively, if the gift is purchased online, an e-card can be sent either immediately or on a specified date. You can order your Life-Giving Gift at www.catholicmission.org.au/gifts.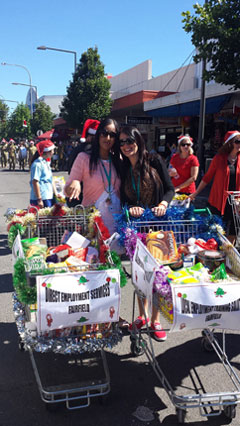 Caritas Australia is also offering a wide range of options to help some of the more than 220 communities worldwide where the Catholic Church's aid and development agency continues to make a difference.
Through the Global Gifts program, Caritas Australia gives people the opportunity to contribute to a wide range of programs to provide communities with fresh clean water, to ensure pregnant women have access to proper care, and to helping develop better and sustainable farming methods. Caritas Australia provides education to children as well as vital information on health and hygiene to parents, helps develop job skills among the poorest communities to bring in much needed income, as well as raising awareness about HIV/Aids and treating those affected.
By sharing a Global Gift with a loved one, you will help spread the message that together as one global family we can make the world a better place. Your purchase of a specific gift is representative of the type of community development work done by Caritas Australia's projects. You can purchase your Global Gifts at www.caritas.org.au/globalgifts.
Closer to home, there are many other ways we can all make a difference this Christmas.
Donations in the name of a family member or friend can go to CatholicCare where volunteers pack up Christmas hampers each year for Sydney's struggling families and single parents. Having been made redundant or had their weekly shifts cut in half, many are battling just to keep their heads above water and have no money left over for anything special, let alone a Christmas dinner or gift for their kids.
To find out more about how you or your organisation can work with CatholicCare to make a real difference in the lives of people in need visit www.catholiccare.org/donate.
St Vincent de Paul Society is another agency that helps provide Christmas cheer to families in need and at Vinnies' Matthew Talbot Homeless Services one way a family group or eight or more friends can help is to chip in and provide a healthy, nutritious midday meal for 400 of those who have no home or regular shelter.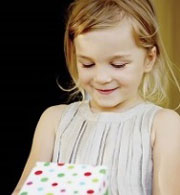 The St Vincent de Paul Society Christmas Gift Appeal assists people and families in need who, without their support, may not experience all that Christmas has to offer. Australians are invited to contribute by holding a gift appeal at your school, workplace or community group. Alternatively you can donate a 'virtual gift', such as a movie ticket for someone in need, or treating a family to a day of Christmas shopping, at www.vinnies.org.au/donate#!state=vic&appeal=66.