Sydney's Priests Commemorate Life of Catholic Pioneer Fr John Therry
Catholic Communications, Sydney Archdiocese,
30 Oct 2014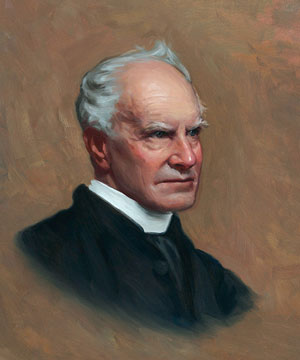 Fr John Therry, Irish Catholic priest and pioneer of the Church in Australia, described his forty-four years of service in this country as a life of "incessant labour very often accompanied by painful anxiety." Now, one hundred and fifty years after his death, Catholics around Australia are celebrating the contribution and achievements of this great priest, as well as recognising the sacrifices he made to bring the Catholic faith to the colony.
On Wednesday 29 October 2014, more than 90 priests from the Archdiocese of Sydney and the Dioceses of Parramatta, Broken Bay and Wollongong, gathered for a lunch at Le Montage function centre in Lilyfield to commemorate 150 years since the death of Fr John Therry.
Also in attendance was Bishop Peter Comensoli, Apostolic Administrator of the Archdiocese of Sydney, Bishop Terry Brady, Auxiliary Bishop of Sydney, Fr Vince Casey, Apostolic Administrator of the Diocese of Broken Bay, Good Samaritan Sister Marilyn Kelleher sgs, as well as Patsy Healy representing the event sponsor WN Bull, and Henry Pruyn from the Archdiocese of Sydney Catholic Development Fund, which also sponsored the event.
One of the highlights of the lunch was a Prayer for Priests that was recited by all those present, offered especially for the priests who administered the sacraments to and inspired Sydney's priests in their vocations.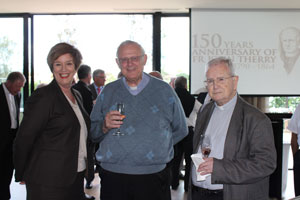 A key note address was delivered by distinguished scholar, educator and man of letters Emeritus Professor Father Edmund Campion, who shared some of the inspirational as well as amusing stories that often go untold about Fr Therry.
As Fr Ed explained, Fr Therry's story began when he was a young priest in Cork. After seeing a wagon full of Irish convicts on their way to deportation to the then priest-less Australia, Fr Therry spent all the money he had on Catholic prayer books and handed them to the convicts. He was determined to ensure that they were able to maintain the practice of their Catholic faith in Australia. It was this moment that God inspired him to eventually travel to Australia in 1820, and along with Fr Philip Conolly, became one of only two priests serving 6,000-7,000 Catholics in the country.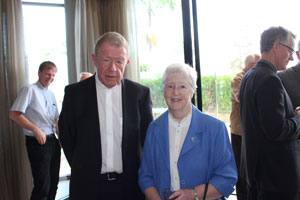 Fr John Therry, not only laid the foundations of the Catholic Church in Australia, he also built St Mary's Chapel which would later be reconsecrated as St Mary's Cathedral in Sydney. He founded schools, lobbied for land on which to build churches, provided aid for the poor and oppressed and gave pastoral care and support to Sydney's growing number of Catholics. He also witnessed the repeal of penal laws preventing Catholics from holding office and welcomed the arrival of Australia's first bishop, the Most Rev John Bede Polding in 1834.
A pioneer in every sense of the word, Fr Therry was known to ride several horses in one day, travelling long distances to bring Mass to people living in every corner of Sydney - from St. Mary's in the city, to Parramatta, to Liverpool and Campbelltown.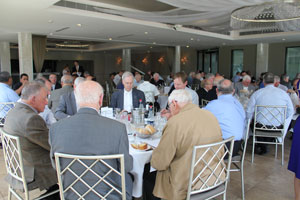 Noting that Fr Therry was not afraid to speak out and at times clash with other priests when a job needed to be done, Fr Ed Campion emphasised that "one of the notable things about John Therry was his devotion to duty," adding that he was known to always keep a horse saddled at the door of his home so that he could race off at a moment's notice if someone was sick and needed a priest.
"There are stories of him being pulled on a rope across a river because there was a man who wanted the last rights. There was also a story of him racing to government house because he found evidence of the innocence of a man who was going to be hanged, and he got there with second to spare! He taught the Catholic convicts not to be marched off to Protestant services, and there are stories of him feeding the Aboriginal people who camped at the bottom of his yard," Fr Ed explained.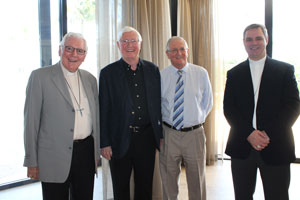 "These stories made him a hero to the people of Sydney."
Fr Therry died on 25 May 1864, and his funeral was reported as "the most numerously attended ever seen in Sydney." His remains are now in the Crypt of St Mary's Cathedral.
Members of the public are invited to attend a Mass of Thanksgiving in honour of Fr John Therry at St Mary's Cathedral, Sydney on Thursday 20 November 2014 at 5:30pm. The Mass will be followed by the launch of the Fr John Therry Exhibition in at St Mary's Cathedral crypt, which will feature displays of some of Fr Therry's archived letters, documents from the early Church in Sydney, and the chance to visit his resting place.