Notre Dame Professor nominated for Australian of The Year
Catholic Communications, Sydney Archdiocese,
30 Oct 2014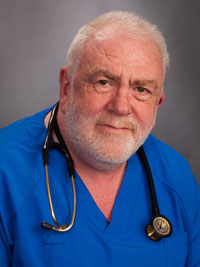 Professor Brendan Smith, from the School of Medicine Sydney at The University of Notre Dame Australia, has been named as one of the New South Wales finalists for Australian of the Year 2015.
Professor Smith is the Discipline Leader of Critical Care at the Lithgow Clinical School, and Director of the Intensive Care Unit at Bathurst Base Hospital. Together with his team at the hospital, Professor Smith developed the idea of using non-invasive scanning technology known as an Ultra Sonic Cardiac Output Monitor (USCOM) to test for septic shock (blood poisoning) in its earliest stages.
"I still haven't come down from cloud nine since hearing about the nomination," Professor Smith said.
Professor Christine Bennett, Dean of the School of Medicine at Notre Dame, Sydney, has passed on her congratulations to Professor Smith.
"Professor Smith is a clinical teacher with an outstanding reputation, "she says. "As a Discipline Leader in Critical Care his commitment and enthusiasm for teaching and mentoring our medical students from Lithgow Clinical School has made an impressive contribution to helping shape our graduates as excellent, caring and ethical doctors."
The technique developed by Professor Smith allows for much earlier diagnosis than previous methods, and has cut the sepsis mortality rate from more than 40 per cent to less than seven per cent. If this was to be repeated worldwide, it would result in the saving hundreds of thousands of lives annually.
"Septic shock is the biggest single killer of patients in Australia at the moment; it kills more patients than bowel cancer, breast cancer, lung cancer, prostate cancer and skin cancer put together," Professor Smith said.
"In the very conservative areas of medicine, most noticeably Australia and the United States, the uptake has been relatively slow, whereas in the 'tiger economies' of south-east Asia the uptake has been remarkably rapid; in China alone there are hundreds of these machines across the country."
Prior to the use of this technology, the only way to measure haemodynamics with any kind of accuracy was by passing catheters through the great veins of the neck or thigh, through the heart and into the lungs; an invasive and dangerous procedure, and yet the data from which was of remarkably poor quality.
Professor Smith realised that Doppler technology, as used in the USCOM, could allow medical staff to look at the heart and major blood vessels and measure all that they needed to know about blood flow through the heart and to the body, and learn a great deal more than could be obtained from catheter studies.
"The biggest area of uptake so far has been in paediatrics, and this I think is largely because we were never able to get accurate haemodynamic data in children before unless they were anaesthetised. Because we can do it noninvasively and totally painlessly now, we make it a game and the kids are happy to go along with it," Professor Smith said.
NSW Health has recently rolled out a treatment protocol called the Sepsis Pathway, using many of the strategies employed by Professor Smith and his team at Bathurst Base Hospital for the treatment of sepsis. This protocol has now been made compulsory across the state of New South Wales.
Professor Smith has been named as a NSW finalist alongside an Antarctic station leader, a child-advocate and a humanitarian aid worker. The four finalists will join with the finalists for NSW Senior Australian of the Year, NSW Young Australian of the Year and NSW Local Hero Award on 10 November 2014, at The Museum for Contemporary Art in Sydney for the announcement of Award recipients.
NSW Award recipients will then join recipients from all other States and Territories as finalists for the National Awards, which will be held in Canberra on Australia Day, 25 January 2015.