Holocaust Survivor's Dream Brought to Life with Harmony Walk in Sydney
Catholic Communications, Sydney Archdiocese,
27 Oct 2014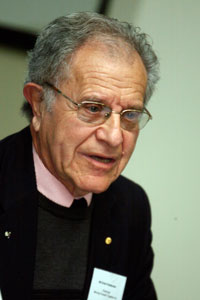 In December 1950, holocaust survivor Ernie Friedlander arrived in Australia filled with gratitude and hope for the future. Over 60 years later, Mr Friedlander's dream to break down the cultural and religious barriers that divide people around the world is being made into a reality with the annual Harmony Walk through Sydney.
On Sunday 26th October 2014, over 1,000 people gathered despite the hot weather at Cathedral Square outside Sydney's iconic St. Mary's Cathedral for the 3rd annual Harmony Walk, a celebration of Australia's national, ethnic and religious diversity.
The annual Harmony Walk, which started 2pm at Cathedral Square and involved a one kilometre walk through the adjacent parkland, brought together people from various racial, cultural and religious groups, who strive for an inclusive society around the principles of fairness, harmony and respect.
This year's participants included representatives from Australian NRL, Cricket Australia, the Australian Catholic University, the NSW Multicultural Group from Community Relations Commission of NSW, the Australian BaHa'i community, and many more.
Fr John Pearce, parish priest of St Brigid's Catholic Church Marrickville, participated in Sunday's walk as part of the Marrickville Multifaith Roundtable group, of which he is the president. The Marrickville Multifaith Roundtable group participated in the Harmony Walk with participants from the Inner West Jewish Community, members of the Marrickville Church of Christ with their Minister Peter Dipson, as well the representatives from St Brigid's Catholic Church.
"The walk was an easy one, it was just around the Cathedral forecourt," Fr John explains. "However it was the conversations that you had along the way that made it worthwhile. For example I had a great conversation with Uri Windt, a leader in the inner west Jewish community," he adds.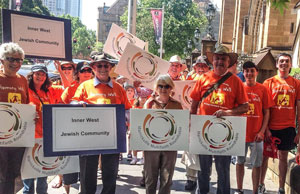 Indeed it is this opportunity to make conversation with different cultural and religious groups that makes the Harmony Walk such an important event, particularly during today's current climate of growing tensions between community groups.
"We live in a world dealing with tragedy and trauma," Fr John says.
"Events such as the Harmony Walk, as well as the Mosque Open Day that occurred on the same weekend, are positive experiences that allow us to break barriers," Fr John explains, adding that as Catholics, it is crucial to participate in these events in order to show others that we are truly living the Gospel in our everyday lives - not only Sundays.
"It is the Church in marketplace. We need to remind the world that we are here, that we care, and that we want to be part of making the world better."
For Ernie Friedlander OAM, Chair of the Moving Forward Together Association and founder of the Harmony Walk, this year's event was particularly important in today's society where fear of "the other" is becoming more and more prominent.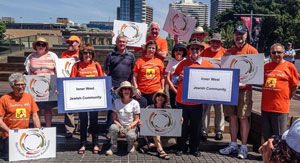 "Too many people think that conflict and violence is part of human nature, and that some groups of people are more inclined to this violence than others. But we need to help people realise that this not the case... we should never stereotype any group of people, " he explains.
Mr Friedlander's passion to end discrimination and prejudice in society comes from his very personal encounter with evil - but also with human kindness - as a holocaust survivor.
"Surprisingly, it was a German soldier who inspired me to start the work I am doing with Moving Forward Together and the Harmony Walk," says Mr Friedlander.
"I was taken on a march to the trains with my mother from Budapest. My mother spoke very little Hungarian as we were both Austrian,my father being Hungarian and so she was speaking to me in German which caught the attention of a soldier who started talking to us. Later on in the trip, I noticed him speaking quietly to my mother. After walking for about 25km - it was getting dark, He whispered something to my mother and amazingly turned his back and let us escape," Mr Friedlander explains. The 250 or 300 of us just carried on while we slid down the side of the road.
Even though three weeks later Mr Friedlander and his mother were once again captured and taken to a Ghetto, the delayed capture meant they were only in captivity for seven weeks before being liberated by the Russians, and they both survived.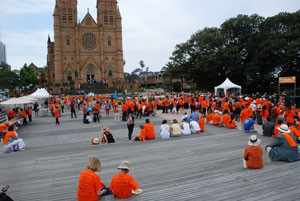 "This soldier's act of humanity made me realise not to stereotype about any group of people and never to discriminate. It also showed me that violence is not part of human nature - there is always good in people. I never got to thank the soldier, but he inspired me to bring this message to as many people as possible in Australia."
Since arriving in Australia in 1950, Mr Friedlander has been grateful for the acceptance that he experienced, and for being given a "fair go." As a retiree, he is committed to giving back to the community that supporting him so well when we had nothing.
The Moving Forward Together Association is putting together a think tank in coming months to develop the message of the Harmony Walk further, and to encourage Australians to embrace dialogue in order to remove barriers between the nation's great number f cultural and religious groups.
For Mr Friedlander, the success of this initiative will fulfil a lifelong dream: "Together we can remove fear of "the other", we can teach people to have a broader community outlook, and we can show people that we can have diversity without comprising the values that make Australia such a great place to live."