Ecumenical Summer School will Teach Students to Look Beyond Division
Catholic Communications, Sydney Archdiocese,
29 Oct 2014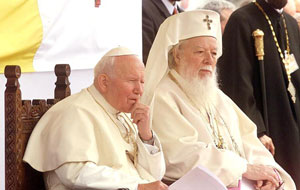 Saint John Paul II famously said that ecumenism needs to be "an organic part of the life and work" of the Church, and not simply an "appendix" to our practice of the Christian faith. Australian theology students from all Christian backgrounds will have a rare opportunity to follow this call from John Paul II and participate in a five-day summer school introduction to the study of Ecumenism, hosted by the Centre for Ecumenical Studies in Canberra next year.
The Centre for Ecumenical Studies is offering the "Looking Beyond Division" course both for students seeking accreditation towards a theology/ministry degree, and for others wishing to participate as auditors. The course can be credited towards undergraduate and post-graduate awards of Charles Sturt University. Students from the Australian Catholic University, the MCD University, and other Colleges or University Schools of Theology/Divinity can also apply to obtain credit for this course.
For Fr Gerard Kelly, President of the Catholic Institute of Sydney and long-standing supporter of the study of Ecumenism, this five-day course will challenge students to look at what the Church is, and how we understand the importance of unity in the Church.
"Participants will look at the biblical foundations of the Church to help them understand the role of unity and its imperative nature in our practice of the faith," says Fr Gerard Kelly, who has been a presenter at the summer school course in previous years.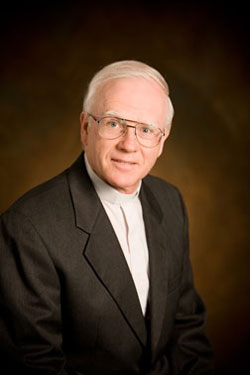 "They will also get a sense of what has happened historically to bring about division between Christian Churches in the past. The students will get a sense of what has been happening particularly in the last 50 years to bridge the positions of the various ecumenical dialogues," he explains.
Under the instruction of Academic Coordinator Rev Dr Ray Williamson OAM, former General Secretary of the NSW Ecumenical Council and co-founder of the Centre for Ecumenical Studies and is its Secretary, as well as guest presenter Rev Canon David Richardson, former Director of the Anglican Centre in Rome, representing the Archbishop of Canterbury, students will not only be exposed to presentations delivered from the perspectives of various Christian faith groups, but they will also have an opportunity to mix with other Christians attending the course.
"In previous courses we have had students from Catholic, Anglican, Uniting Church, Salvation Army, the Churches of Christ as well as Orthodox backgrounds," Fr Kelly says.
"The beauty of this course is that it is not directed at any particular faith group. One of the thing things that makes it so attractive as it gets people from other Christian groups in the same room, sharing opinions and talking to each other," he explains, adding that as part of the course, students will also visit an Orthodox Church and gain a rare insight into symbols and history of the Orthodox faith.
The upcoming course will also include an overview of the history of the modern ecumenical movement, an investigation of contemporary issues within the ecumenical movement, including Reconciliation in Australia and stewardship of the earth, as well as an examination of the current state of Christianity in Australia,.
Christianity still remains the largest faith group in Australia, with 61.1% of the population identifying themselves as Christian in the 2011 census. However Australia is also facing a great increase in the number of people who are identifying as "no religion". According to Fr Kelly, this growth away from Christianity has impacted that way in which we participate in ecumenical dialogue.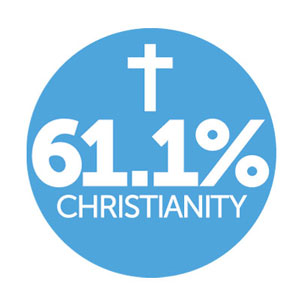 "Australia is an interesting place in that we have a strong sectarian background - historically the various Christian Churches have been enemies. That has broken down in recent years and Churches get on with each other much more," Fr Kelly explains.
"The number of people identifying as Christian is diminishing in Australia, so it is vital that Christians stand together and speak with one voice. That is not to say that there are differences, but rather that we need to learn to stand together in what unites us, most importantly that fact that we follow the same God."
Also, we live in a time where there is growing secularisation in Australia, and the voice of Christians needs to be heard more coherently. It is not about abolishing different Christian religions but rather about the points that unite us.
The Ecumenical summer school program will be held from Monday 16th - Friday 20th February 2015 at the Australian Centre for Christianity & Culture in Canberra. For more information and to download the Application Form, visit: http://www.xt3.com/event/view.php?id=3130