CatholicCare Sydney Takes Out Top Prizes at 2014 CSSA Awards
Catholic Communications, Sydney Archdiocese,
29 Oct 2014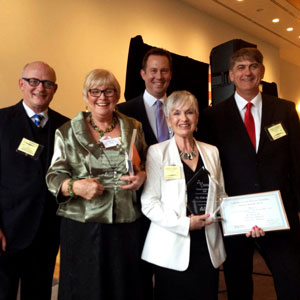 CatholicCare Sydney staff and programs were awarded the top prize in two of three categories at the Catholic Social Services Australia (CSSA) Annual Awards, held on 21 October 2014 at Parliament House, Canberra.
Catholic Social Services Australia is the Catholic Church's peak national body for social service agencies across the country. For over 50 years it has assisted its member agencies to promote a fairer, more inclusive society that reflects and supports the dignity, equality and participation for all people.
CatholicCare Sydney's Margaret Pirotta received the Perkins Award for Excellence in Service for her work with the Tree of Hope program, a service providing emotional and practical support to people living with HIV, their family and support person. The category was open to individuals from member organisations and the wider community.
Founded in 1996 by Sr Margaret Mines RSC, Tree of Hope draws on the support of CatholicCare Sydney and the Archdiocese of Sydney.
In accepting the award, Margaret spoke warmly of what it will mean to the volunteers and clients of Tree of Hope. "I know how acknowledged they will feel in receiving this Award. They've often said that it was the Catholics who were among the first to help in the AIDS epidemic - and Sr Margaret certainly was a pioneer in that area," said Margaret.
CatholicCare Sydney and CatholicCare Wollongong were awarded the Norma Parker Award for the Most Innovative Program for their joint program, My Kids and Me.
My Kids and Me is a unique seven-week program offering therapeutic and educational assistance to parents, whose children have been removed and placed in out-of-home care, with the aim of building and maintaining connections and positive relationships with their children. The program was jointly established, and continues to be conducted, by CatholicCare Sydney and CatholicCare Wollongong.
CatholicCare Sydney's Multi Mix Mob program was recognised with a Merit Award in the Norma Parker Award category for Most Innovative Program. The Multi Mix Mob uses music and other means to spread a powerful and positive message to communities affected by social issues, and provides a safe and welcoming place for Indigenous families to meet.
For more information about CatholicCare Sydney programs and services please visit www.catholiccare.org.