Faith in Action
Catholic Communications, Sydney Archdiocese,
29 Oct 2014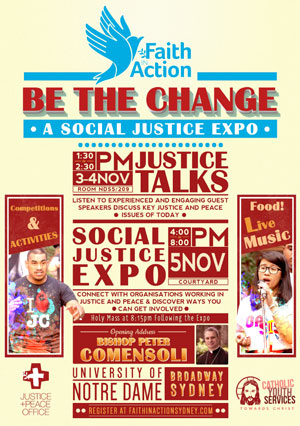 Social Justice Expo will occur on Wednesday 5th November at the University of Notre Dame Australia's Broadway Sydney campus.
An initiative of the Archdiocese's Justice and Peace Office, Faith in Action is a free event, aimed at introducing young people from across Sydney to Catholic agencies and organisations that work for justice, peace, ecology and development, and inviting them to make connections with those agencies carrying out the Church's social teaching in practical ways in Sydney, across the country and throughout the world.
The Social Justice Expo is in its second year, with hundreds streaming through the UNDA campus last year to view the exhibits, listen to guest speakers and live entertainment.
Commencing at 4pm, the Expo will be opened by Bishop Peter Comensoli, and Ashleigh Green and Father Brian Vale from the Columban Mission Institute will also speak to participants about their missionary work.
Food will be available, and there will be entertainment, competitions and activities throughout the event.
The Expo will conclude with Mass at St Benedict's Church, Broadway, commencing at 8.15pm.
Exhibitors will set up stalls in the UNDA courtyard, and participants will be encouraged to take their time to meet and speak with representatives from the many charitable agencies taking part in the Expo.
Included amongst the agencies that will be represented are Catholic Youth Services, Vinnies Youth, Palms Australia, Catholic Earthcare, Caritas Australia, House of Welcome, Josephite Community Aid, Columban Mission Institute, Ability Links, the Vocation Centre, This is Heaven, Australian Catholic Religious Against Trafficking in Humans (ACRATH), Young Christian Workers, Maximilian Magazine and Augustinian Volunteers Australia.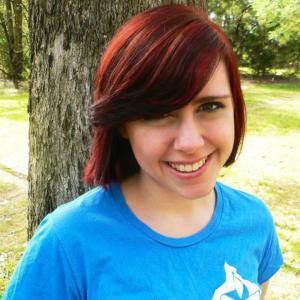 Qwayne Ybe Guevara, Research and Project Officer for the Justice and Peace Office, says: "Faith in Action responds to the desire of young people to be part of making a positive difference in the world". She goes on to say that Faith in Action will provide young people to engage in the new evangelisation of joy and hope.
The Social Justice Expo will be preceded by talks from young Catholics currently working in some of these agencies.
On Monday 3rd November, Therese Corkish, a 21 year-old Community Support Officer at Catholic Earthcare will speak on the topic of environmentalism and justice. Therese is a climate activist, and will explain how her Catholic faith is intricately linked with the value she places on social justice, and her motivation to take action for the common good.
On Tuesday 4th November, Paul Longobardi, the Youth and Young Adult Coordinator from Vinnies Youth NSW will speak about youth homelessness. He will encourage young people to use their energy, generosity and insight to make a difference in the lives of others.
http://faithinactionsydney.com/