Sydney Catholics Join Celebrations for National Week of Deaf People
Catholic Communications, Sydney Archdiocese,
24 Oct 2014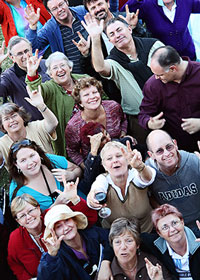 The National Week of Deaf People (NWDP), which runs from 18 - 24 October 2014 is a weeklong national celebration of Deaf individuals and the Deaf Australian community. According to Danni Wright, Community Worker at the Archdiocese of Sydney's Ephpheta Centre, NWDP is an opportunity for the deaf community to celebrate the presence of deafness in the world.
"We see deafness as just another aspect of diversity. Plato spoke about deaf people, as did St Augustine and even Jesus himself - this tells us that deafness is part of Gods plan for the world," Danni explains.
"We in the community do not mourn our inability to hear, we celebrate our deafness as a part of who we are. The celebrations are shared among the whole community not only deaf people, hard of hearing people, parents of deaf children, family members, friends, interpreters and all other members of the deaf community to get together and celebrate - our community, our culture, our history, and most importantly, our language, Auslan," she says.
To celebrate NWDP this year, there will be many events happening all over Sydney, including a Wine & Cheese evening on 24 October 2014 hosted by the Ephpheta Centre in Punchbowl.
"This year's Wine & Cheese Evening will follow the International theme "Strengthening Human Diversity" with great food and wine, beer and other drinks and some interesting presentations on the theme from a panel of Deaf people from different backgrounds," Danni explain, adding that guest presenters include a young deaf woman who grew up isolated in the Tasmanian countryside, as well as guests from Sri Lanka, Fiji and Afghanistan who will share their experiences, hardships and achievements as Deaf people.
"This year's event will also include a Blue Ribbon Ceremony to remember those who have suffered and been mistreated because they were Deaf, those whose deafness was wrongly diagnosed which resulted in mistreatment and placement in psychological institutions... We do this as reminder that we - as a community have come a long way and so will never let this happen again," Danni adds.
The Ephpheta Centre is a non for profit centre for deaf and hard of hearing people in Sydney, which provides liturgical services for deaf and hard of hearing people, as well as community support, youth groups, social gathering and pastoral care. They work over the dioceses of Parramatta, Broken Bay as well as the Archdiocese of Sydney, and provide services in a variety of ways to over 700 people.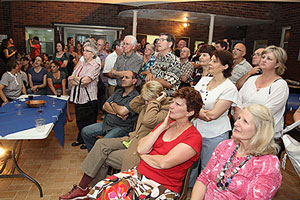 Earlier this year more than 200 members of the Ephpheta Centre attended Mass at St Mary's Cathedral on Sunday 3 August to celebrate the 100th anniversary of the founding of the Catholic Deaf Community.
"The Ephpheta Centre was founded in 1979 but Sydney's Catholics who were deaf or hard of hearing formed their own community group in 1914 and that's what we are celebrating this year," says Nicole Clark, Interpreter for the Deaf, former Chair of the Australian Catholic Bishops Conference National Committee for the Deaf and Hard of Hearing and Assistant to the Director of the Ephpheta Centre.
The Mass, which was celebrated by Bishop Peter Comensoli and concelebrated by Chaplain to the Ephpheta Centre, Father Michael Lanzon, was an important reminder of how far Australia, as well as the Catholic Community, has come in recognising the needs of deaf members of society.
The name for the Ephpheta Centre was taken from the Gospel story of Jesus who when he cured a deaf man and gave him back his hearing, said: "Ephpheta" which translated means "be open."
Initially based at the Sisters of Charity premises in Paddington, the Centre quickly grew moving first to Flemington and in 2009 to its current headquarters at Punchbowl . Providing signed Masses for the deaf, religious education programs as well as scripture and Bible study classes as well as a counselling service for the deaf and their families, the Centre is also a social hub for Sydney's deaf.
Each day the outdoor Deaf Cafe at the centre serves as a great meeting place for mothers and their children as well as older members. There is also a vibrant Deaf Craft Group who meet every Wednesday when they crochet, sew, knit or use other craft skills to make baby clothes, shawls, blankets and other items for Westmead Children's Hospital and other charities. In addition there is a Deaf Youth Group for 12-17 year olds offering them a wide range of activities, weekends away and regular get-togethers. There are also organised groups for the deaf or hard of hearing to go on trips to Sydney's museums, art galleries, gardens and historical sites.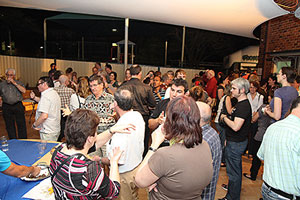 The Archdiocese of Sydney, along with the Dioceses of Broken Bay and Parramatta, has come a long way in serving the needs of the deaf community since the establishment of the Ephpheta Centre. However as Danni Wright explains, the journey is just beginning.
"There is still much to be done. In 2009 after a special Synod that focused on the needs of the deaf community, Pope Benedict XVI and the Vatican Council made 12 recommendations to all the bishops of the world. These recommendations, when put into practice would make the Church a fully accessible place for deaf people, where deaf people can not only received the Word proclaimed but BE the proclaimers of the Word that is their baptismal right. We are proud of what the Archdiocese is doing for the deaf catholic of Sydney and we pray that progress towards true equality is always high on the agenda for the Archdiocese," Danni explains.
For more information about the Ephpheta Centre and tonight's Wine & Cheese night, visit their website at www.ephpheta.org.au or the Ephpheta page on Facebook: https://www.facebook.com/thecentrefordeaf