Speaking the Truth Lovingly - Archbishop-elect Most Rev Anthony Fisher OP
Catholic Communications, Sydney Archdiocese,
24 Oct 2014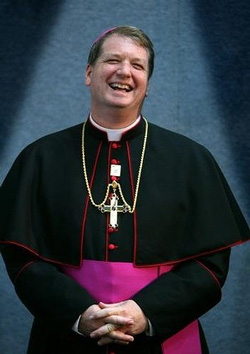 Regaining people's trust and openness to the Gospel; reconnecting with those who have been away or who are only barely still connected; addressing their deepest needs and longings; and drawing them up to that something greater for which they were made is the fundamental task for a Bishop in Sydney today.
These are the words of Archbishop-elect Anthony Fisher OP as he prepares to lead Catholics in the Archdiocese of Sydney as the ninth metropolitan Archbishop of Sydney.
"Christ has so much to offer the city of Sydney and the people of Sydney have much to offer to Him. It is my hope and prayer that the two will be brought closer together in my time as Archbishop of Sydney," the Most Rev Fisher has written in an opinion piece for "Religion and Ethics (ABC online http://www.abc.net.au/religion/articles/2014/10/23/4113339.htm)
The Archbishop-elect reflects that religious faith and practice are said to be declining in the West, if unevenly so.
"In Catholic Sydney regular Sunday Mass attendance is around one in six. While higher than normal for church-attendance in Australia, this reflects what seems to have been an inexorable decline in the mainstream churches over the past few decades. Of course, many people still regard themselves as Catholic or Christian even though they do not go regularly to church. They still pray sometimes, maybe even often. They live lives inspired by Christian teachings, sometimes better than some church-goers. They are not hostile to the Christian thing, and may well still go to church from time to time (big feasts, family occasions and so on)."
He also believes many people have forgotten how to love.
"The biggest challenge for the family today is not in the realm of the hot-button issues that gained media attention around the recent Synod, but the much more fundamental problem that modernity has forgotten how to love. That might sound odd in a culture saturated with love songs and "making love," but it is interesting that Google has found that the most commonly asked "How to ..." and "What is ..." questions asked of its search engines in America and Australia are "How to love?" and "What is love?"
"Many also connect to the Church in other ways - like through its schools, hospitals, welfare agencies, aged care. But without regularly hearing the Word proclaimed and preached, without regularly receiving the Sacraments of mercy and communion, without the support of a community of fellow sinners aspiring to be saints, that connection with God in Christ risks fading away."
The new Archbishop is also looking forward to continuing to work closely with youth.
"There are plenty of reasons to reach out to youth, and Church survival is the least of them. Much more important is their salvation and happiness and the contributions they can make to our Church and our world. It is youth who so often reflect the Blessed Trinity's eternal beauty and youthfulness in the Church. Young people need the Church and the Church needs them. As Archbishop of a youthful and energetic city, I am committed to making our young people a central focus on my pastoral attention.," he wrote.
For the complete article click on http://www.abc.net.au/religion/articles/2014/10/23/4113339.htm