Christ Week at Sydney University was the Spark Leading to Sr. Mary Michael's Vocation
Catholic Communications, Sydney Archdiocese,
24 Oct 2014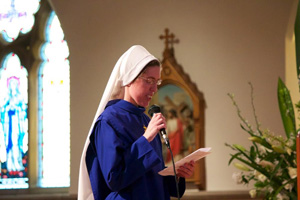 Simone Smith, originally from the Blue Mountains, is now known as Sr Mary Michael of the Cross, making her first profession of vows on September 14 in Hobart.
Sr Mary Michael of the Cross is one of five women in a new community of religious sisters called the Sisters of the Immaculata, which Archbishop Julian Porteous has made a public association of Christ's faithful within the Archdiocese of Hobart.
The order is focussed on the spiritual renewal of parishes with Eucharistic Adoration at the heart of their mission and an emphasis on the discipleship of young people.
Sr Mary Michael was studying a Bachelor of Arts at Sydney University when she had a profound encounter with Christ at the annual Christ Week, a mission run by the Sydney University Chaplaincy. Sr Mary Michael recounts the experience: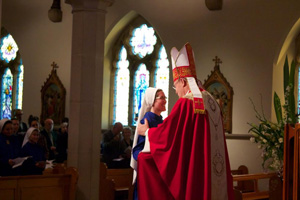 "During Christ Week there was a priest available for confession so I decided to go to confession and as part of my penance the priest told me to make a holy hour of adoration, and as there was an adoration tent on campus I decided to go then and there. When I sat in front of the Eucharist I saw another student enter the tent and kneel down. She was oblivious to all that was going on around her and was transfixed on Jesus in the Eucharist, her piety encouraged me to kneel down as well and in that moment I had a conviction that the Lord was really present there. I was introduced to Jesus through that experience," Sister Mary Michael explains.
After this experience she started to attend other Catholic events in the diocese and was a participant in the first Archdiocese of Sydney Youth Leaders' Formation Course, which ran for 3 months before World Youth Day 2008.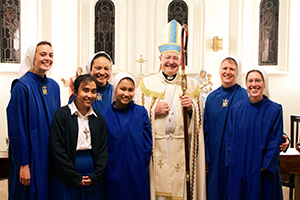 "I started to learn more about my faith and although I was already baptised and had received my First Holy Communion I had a desire to be confirmed as well," said Sr Mary Michael."
It was through the
Immaculata Mission School
that she got to know the community, their mission, and how she felt called to the charism of serving parishes and teaching youth how to be disciples.
"Having an active parish and living within a Catholic community is such a blessing and so encouraging," she says.
The Sisters of the Immaculata are hosting a vocations retreat in Brisbane this November. You can see all the details here:

The Archdiocese of Sydney Youth Leaders Formation Course 2014 runs from the 24 November to 20 December 2014 in Sydney. Applications to attend close on Friday 31 October 2014.