Archbishop-elect Presents Papal Medal for Bushfire Bravery
Catholic Communications, Sydney Archdiocese,
17 Oct 2014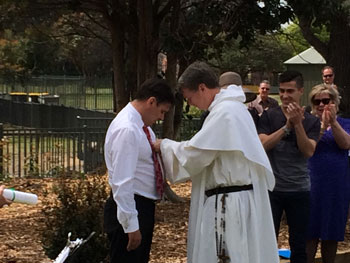 One year ago today devastating bushfires raged through close-knit communities in the Blue Mountains west of Sydney.
The fires burned on multiple fronts, 196 homes were destroyed,132 more severely damaged.
Families and students homeless, in danger, scared and not knowing when the wind would shift, temperatures drop or rain would fall.
At St Thomas Aquinas Primary School in Springwood fire had already destroyed nearby homes, many were under threat. Black smoke billowed across the school, ovals and nearby shopping centre.
It could have been a time for panic and alarm.
However St Thomas Aquinas Primary School Principal Sergio (Serge) Rosato and his staff were calm and well-drilled.
They gathered the children in the school hall but as the fire moved closer they had to evacuate urgently.
Mr Rosato and staff walked 550 students 2.5 kilometres calmly and bravely to safety to the Winmalee Shopping Centre, along streets where houses burned.
Serge Rosato knew his own home was in the fire zone.
They then accompanied them to the Springwood Sports Club, waiting until every child was reunited with family.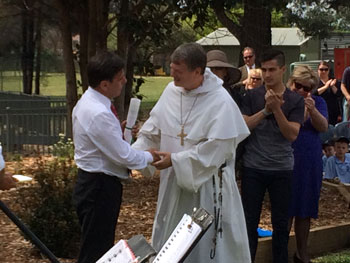 It was then Serge was told his home had been destroyed.
Although always reluctant to wear the badge of "hero" the parents of those school children would disagree.
Today the Archbishop-elect of Sydney, Most Rev Anthony Fisher OP presented the St Thomas Aquinas Primary Principal, Serge Rosato a Papal Award for his exemplary courage in evacuating his entire school during those life-threatening fires one year ago.
Catholic Bishop of the Parramatta Diocese at the time, the Most Rev Anthony Fisher was very aware of the catastrophic fires, the homes that had been destroyed and the threat to the school community.
Gathering on the first anniversary of the bushfires to offer prayers and thanksgiving and in one of his last engagements in the diocese before his Installation as Archbishop of Sydney next month, the Most Rev Anthony Fisher presented the award to Serge for remaining calm and dedicated, ensuring every child was accounted for and safely returned.
"This was despite his awareness that his own home had been destroyed," said Archbishop Anthony Fisher. "The actions of Mr Serge Rosato were heroic and exceptional."

"He is a man of strong faith, strong moral principles and integrity, proactive member of his Parish."

Archbishop Anthony Fisher conferred the Benemerenti medal on behalf of Pope Francis.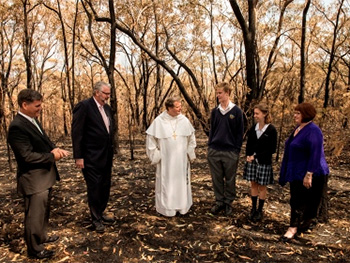 "Pope Francis has advised me that 'in recognition of his singular service to the Christian life' Mr Serge Rosato is awarded the gold papal medal 'Benemerenti'."

The Benemerenti medal was instituted by Pope Gregory XVI in 1832 and is conferred on those who have exhibited long and exceptional service to the Catholic Church, their families and community.
"I know Serge would say, has said, he was 'just doing his job'. While people attend to be acknowledged for doing extraordinary things, too rarely in life, I suspect, are they recognized for doing ordinary things, things in the course of their ordinary duties, extraordinary well," said Archbishop Fisher.
Fifty trees were planted to commemorate the heroic efforts of staff at St Thomas Aquinas symbolising strength hope and new life. The parents of St Thomas Aquinas unveiled a plaque honouring the courageous actions of staff, 'They bravely led our children to safety, and cared for them as their own'

"This community of Springwood and of this school of St Thomas Aquinas inspired our city and nation by the way it responded to such an ordeal one year ago.
"Today's tree planting is a testament to courage and community, to the faith, hope and love lived in real relationships and real actions, to that resilience and dynamism that means Church, school and community are forever renewing themselves, just as our natural world is. For some of you much more than a new tree has been required: whole houses have had to be rebuilt, and with them new friendships and new lives, and I pay particular tribute to those who have faced the particular challenge of starting again.," the Archbishop added.

Archbishop Anthony Fisher OP also presented the school with a Certificate of Appreciation to the teachers and staff for their outstanding commitment to the children in their care that day and every day.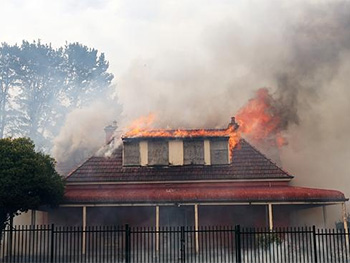 "I also thank the Catholic community and the wider community of the Mountains and beyond for their support. I was personally very moved at the time of our Fire Appeal that we had messages not just from all around this city, but all around the country and the world, even from the Pope himself; and often with those messages came prayers and financial assistance."
Still reluctant to talk about his "hero role" but keen to emphasise the role of teachers, staff and students, Serge praised those who "were wonderful under pressure". He said the fire fighters, police and other disaster personnel were the real heroes of those days.
He said the focus in the past year has been rebuilding, restoring routines,relationships and security for the children..
Student Madison Thompson summed up all the feelings the students had as witnesses to the terrible 2013 fires and responded with gratitude for those who helped each other.

"Today presents an opportunity to reflect on what this day has meant to us, perhaps revealed to us about ourselves or about others," said Madison. "The extent of the damage is undeniable, but so too is the hope. That is what we should try to remember."