Archbishop Julian's Joy, Faith and Enthusiasm an Inspiration
Catholic Communications, Sydney Archdiocese,
6 Sep 2013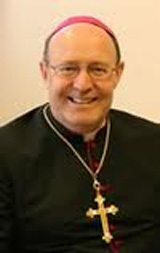 As Archbishop Julian Porteous prepares to leave Sydney next week for Tasmania where he will be installed as the 11th Archbishop of Hobart on 17 September, tributes continue to pour in to the Archdiocese of Sydney.
Filled with heartfelt good wishes for his future in the second oldest Archdiocese in Australia, the tributes are also tinged with sadness that the nation's newest Archbishop will be leaving Sydney.
"He will be sorely missed," says Patrick Langrell, Chaplaincy Convenor at the University of Notre Dame, and founder and coordinator of Sydney's Theology on Tap. Patrick echoes the recurring theme of the tributes when he says: "Sydney's loss, Hobart's gain!"
Without exception the tributes received talk about Archbishop Julian's great joy in faith, his warmth and laughter as well as his open-heart and tireless energy. Some speak about his interest and involvement with the Church's ecclesial movements while others talk about his commitment to evangelisation as well as his special rapport with young people, and his remarkable ability to reach them whether he is addressing their questions on matters of faith or simply discussing more mundane everyday concerns.
"Archbishop Julian will be greatly missed but he will never be far from our hearts," Patrick Langrell insists, and predicts within a very short time the people of Hobart will come to know and love Archbishop Julian just as he is known and loved here in Sydney.
"We have been blessed to have Archbishop Julian in the Sydney Archdiocese for so many years," he says adding that since August 2007 when Theology on Tap held its second meeting at PJ Gallaher's Irish Pup in Parramatta, His Grace has been a regular attendee.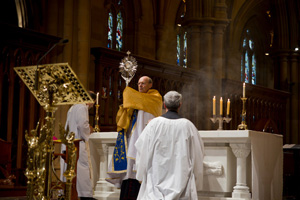 Born in Sydney, the eldest of two brothers and two sisters, Archbishop Julian attended the De La Salle Brothers' Oakhill College at Castle Hill and in 1968, at age 19, entered St Columba's Seminary, Springwood. His studies for the priesthood continued at St Patrick's College Manly and on 7 September 1974 he was ordained a priest at St Mary's Cathedral.
Tomorrow marks the 39th anniversary of his ordination as a priest and 39 years of service as a priest with the Archdiocese of Sydney. The following day, Sunday, 8 September a Farewell Mass will be held at St Mary's Cathedral at 10.30.am.
This Farewell Mass will not only acknowledge Archbishop Julian's outstanding contribution and service to the people of Sydney but will give the city's Catholics a chance to give thanks and to say goodbye.
"It will also be an opportunity for me to say farewell and to thank many, many people for their prayers and support over almost four decades," Archbishop Julian says.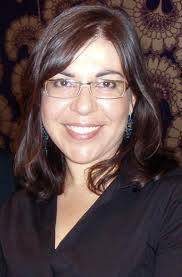 For the Archbishop-elect the next few days will be filled with mixed emotions.
"I will miss Sydney greatly and all the people I have come to know," he says explaining that he will not only be leaving the city where he was born but where he has spent almost all his life. When he heads for Hobart he will also be leaving members of his close-knit family behind including his mother and two sisters.
Balanced against this is his excitement about this new challenge.
"I am excited and very much looking forward to serving the Church in Tasmania," he says.
Already Archbishop Julian is making plans to show the young people of Tasmania how much the Catholic Church has to offer them.
"We need to put more focus on nurturing the faith of young people and this will be a high priority for me," he says.
A keen bush walker and lover of nature and the outdoors, Archbishop Julian is no stranger to Tasmania and has frequently visited either to bush walk through the Island's spectacular wilderness or, as he did on one occasion, cycle the entire way around the Island.
"I love walking and the wilderness and on that side of things, feel very much at home in Tasmania," he says adding his links with Tasmania go back to the days of his great great grandfather who arrived in Hobart in 1853.
"He was 12-years-old and came here with his mother and foster father who was a pensioner soldier accompanying convicts on their exile to Van Diemen's Land." His great grandfather and great grandmother were also born in Tasmania. "So I can claim some grounds for being regarded as a son of Tasmania who is now returning home."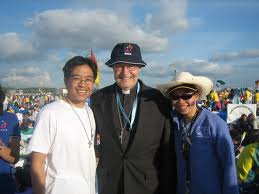 Following his ordination he served as an Assistant priest in the parishes of Kingsgrove, Manly, The Entrance, Woy Woy and Mona Vale. He was appointed Parish Priest of Dulwich Hill in 1999 and four years later on 3 September 2003 was ordained as a bishop at St Mary's Cathedral by the Archbishop of Sydney, Cardinal George Pell. At the same time, the Most Rev Anthony Fisher, Bishop of Parramatta was also ordained a bishop by His Eminence.
"Ten years ago he and I were both ordained as Auxiliary Bishops for the Archdiocese of Sydney. Now my Episcopal twin will spend the next 10 years as Archbishop of Hobart. No doubt his experience in Sydney - including regularly deputising for Cardinal Pell - will have been a great preparation," Bishop Anthony said this week adding that for himself personally: "It has been great to have a 'comrade-at-arms' through World Youth Day in Sydney and through many other challenges."
Tasmania is blessed to have him, Bishop Anthony says.
In addition to becoming Auxiliary Bishop to the Archdiocese of Sydney, from 2002 until 2008, Archbishop Julian was also Rector of the Seminary of the Good Shepherd at Homebush.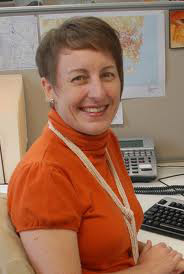 "He is a man of deep faith with a very spiritual and intense prayer life, and in the years I was at the Seminary he was very inspirational. The way he celebrated Mass inspired me as did his joy which was a constant. He was never moody and even in the midst of what may have been difficult times, he never lost that joy and radiant belief in his faith and the path he had chosen," says Father Anthony Denton.
After his years as Rector, Archbishop Julian was appointed Episcopal Vicar for Renewal and Evangelisation for the Archbishop of Sydney. In this role he continued his work with youth ministries, youth leaders and young people of faith begun back in 1979 when he was assistant priest at Kingsgrove.
He was also responsible for initiating or being at the forefront of Archdiocese events such as SCENE (the Sydney Congress Embracing the New Evangelisation), the annual Walk with Christ Procession, the 40 Days for Life Lenten Vigil as well as playing key roles in World Youth Day celebrations in Sydney in 2008, in Madrid in 2011 and most recently, in Rio de Janeiro in January this year.
While Archbishop Julian will no longer be on hand to lead the 40 Days for Life Lenten Vigil and procession from St Francis' Catholic Church, Surry Hills to the Preterm Abortion Clinic to signal the start of the Vigil, he has nevertheless agreed to remain Patron of Family Life International (FLI).
"He is well loved by everyone and a very prayerful and holy man," says Paul Hanrahan, director of FLI. "He is also someone who when he speaks with you gives you his undivided attention, focussing all his attention on you and what you are saying. He is also a man who lives in the moment and who lives his faith to the full, each moment of every day."
Another who has high praise and great love for Archbishop Julian is Selina Hasham, Chair of the Australian Catholic Bishops' Conference's World Youth Day Committee.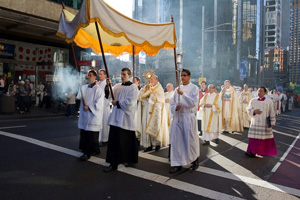 "From the earliest days of Australia being involved in international World Youth Days, Archbishop Julian has been a great supporter of youth ministry. Young people immediately warm to his kind and friendly demeanour and are inspired by his powerful uncompromising defence of the faith. His desire for all young people to be engaged in the church is something he will take with him to the community in Tasmania, and I have no doubt will have great results!"
As Episcopal Vicar of Renewal and Evangelisation, Archbishop Julian has also been at the helm of CREDO, the Archdiocese of Sydney's Catholic Renewal and Evangelisation Diocesan Office.
"He has been an extraordinary advocate for the importance of evangelisation across the Archdiocese," says Catherine Kennedy, Director of CREDO for the Archdiocese. "He has encouraged all those who evangelise and has called on others to take up this fundamental work. Most importantly, he has inspired by his example. His prayerfulness, faithfulness, joy, humility and enthusiasm, even in the midst of challenges, is a living example of what it means to bring Christ into every situation."
Catherine believes it is his joy and enthusiasm that has endeared him to the youth of the Archdiocese and says: "He will be sorely missed."
But even though Archbishop Julian will spend at least the next 10 years in Tasmania, there is a small part of Sydney that will remain very much his - a small getaway house he built with his own hands on the banks of the Hawkesbury.
"What to do about this was a concern. But after all the years I spent building it, I think it should stay. At least for now," he says with a smile.
The Farewell Mass for Archbishop Julian will be held at St Mary's Cathedral at 10.30 am Sunday, 8 September and be followed by refreshments in Cathedral Hall for people to say personal goodbyes and to wish him well.