Feast Day St. Vincent de Paul - the Humble Worker
Catholic Communications, Sydney Archdiocese,
27 Sep 2013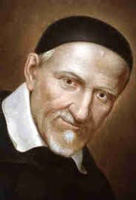 Today, Friday 27 September is the Feast Day of one of the Church's best known saints, St Vincent de Paul.
The Patron Saint of Charity, who has lent his name to the internationally known St Vincent de Paul Society, affectionately dubbed Vinnies in Australia, was born in poverty in Pouy, South West France on 25 April 1581.
The house where he was born still stands and can be visited in the town, which was renamed Saint Vincent de Paul in his honour in 1828.
Like so many poor families in the Middle Ages, the de Paul family lived off the land and everyone in the family, no matter how young, were expected to pitch in and help work the farm. Vincent whose first schooling was with the Franciscan Fathers at Acqs, was considered such an outstanding scholar that instead of joining his brothers and sisters on the land, he was sent to the Franciscan boarding school in Dax. Covering the costs of his education, the Franciscan Fathers support enabled the young man to continue his studies at the University of Toulouse. Graduating with a degree in theology, he answered God's call and in 1600 was ordained a priest.
Forced into slavery
In 1605, having journeyed to Marseilles he was on his way back to Toulouse when he was captured by African pirates and carried as a slave to Tunis. For the next two years he was in captivity Divine Providence intervened and after converting the owner who had purchased him as a slave to Christianity, in 1607 he made his escape. After returning to France, St Vincent travelled to Rome where he spent two years studying before being sent back to France where serve as chaplain to Marguerite de Valois. Next he spent a brief period as parish priest at Clichy, then in 1612 was appointed preceptor to the family of Emmanuel de Gondi, Count of Goigny, and General of the galleys of France.
Vincentians
Confessor and spiritual director to Madame de Gondi and her family, he began giving preaching missions to the peasants who lived on the estate. Appointed chaplain to the galleys in 1622, his new mission was the pastoral care for the galley-slaves. This led to St Vincent de Paul's 1625 founding of the Vincentians or Lazarists, as they were also known because of the Priory of St Lazarus, which the Vincentians chose as their headquarters in 1633.

The Congregation consisted then, as it does now, of priests and laymen with both entering a period of probation and taking four simple vows of poverty, chastity, obedience and stability.

Vincentians live from a common fund and devote themselves to sanctifying their own spirits and to converting sinners. Teaching the Catechism, preaching, reconciling differences, performing charitable deeds and spreading the Word of God, Vincentian institutions can be found in all parts of the world.
During St Vincent's life time, 25 communities were founded in France, Northern Italy, Poland and other European countries. Renowned as a man of deep compassion, humility and generosity, St Vincent then went on to establish con-fraternities to seek out and care for the sick.
Humble worker
Persuading many of France's wealth to donate funds, he opened hospitals to care for the poor and sick and especially, young children and also founded the Daughters of Charity.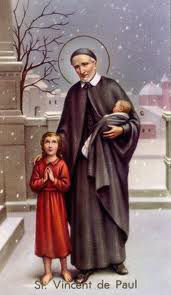 Throughout his life, St Vincent set an example of selfless charity and despite setbacks, calumnies or frustrations, approached all events as manifestations of the Divine will to which he was perfectly resigned. He died on 27 September 1660 aged 85.
Buried in the Church of St Lazare in Paris, he was beatified by Pope Benedict XIII in 1729, and canonised by Pope Clement X11 in 1737.
In 1885 he was named patron to the Sisters of Charity by Pope Leo X111 and proclaimed him patron of all charitable societies.
The Sisters of Charity were one of the first religious congregations to arrive in Australia where they founded St Vincent's Hospital at Darlinghurst in 1849, six years before St Vincent de Paul became their patron.
The Society of St Vincent de Paul dedicated to helping the poor was established by French university students in 1833 and today is present in more than 132 countries around the world.
St Vincent de Paul whose emblem is, appropriately, children is remembered not only by the Catholic Church which he served so faithfully but is also honoured with a feast day by the Church of England and America's Episcopal Church.