Kenyan Seminarian Prays for Victims of Nairobi Mall Massacre
Catholic Communications, Sydney Archdiocese,
23 Sep 2013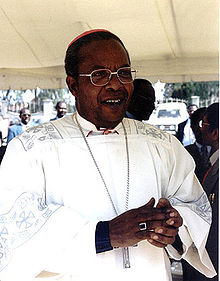 Kenyan-born seminarian at the Seminary of the Good Shepherd, Patrick Kimulu is praying for the victims, their families and those still held hostage in the bloody rampage at a Nairobi shopping mall. He is also offering prayers of thanks after being assured his sister and three brothers who live in Nairobi and often frequent the city's Westgate Mall were not among the known 68 killed and 200 injured.
"My brothers and sister all live in Nairobi before I came to Australia I spent my first four years studying for the priesthood at the Consolata Seminary in Nairobi," he says recalling his frantic calls to reach his siblings when he heard the extent and full horror of the attack at the Mall by heavily armed al-Shabab terrorists.
Two Australians are among the 68 dead with at least 200 injured and an unknown number held hostage in what is being described as the most chilling terrorist attack in East Africa since the 1998 car bomb attack by Al Qaeda on the US Embassy in Nairobi which killed 213 and wounded more than 5000.
Al Qaeda has strong links with Somalia's al-Shabab extremists who have claimed responsibility for yesterday's atrocities.
The sprawling multi-storey complex, part Israeli-owned, was opened in 2007 and is always crowded with expatriates, diplomats, UN workers and Kenyans.
Security organisations in Nairobi believe the Mall was a soft target for Islamic militants who have threatened to hit targets frequented by wealthy Kenyans and westerners - for maximum impact.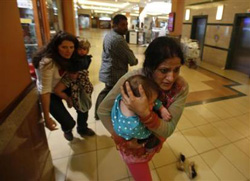 Today, as crack forces from Israel join Kenyan special forces to try to free the remaining hostages, Patrick says an inter-denominational service is being organised as a show of solidarity by Nairobi's Christians and to pray for those who lost their lives and all the other victims of this latest chilling attack by al-Shabab.
Cardinal John Njue, Archbishop of Nairobi will also preside over a Mass dedicated to the victims and their families at the city's Holy Family Minor Basilica Cathedral within the next few days.
However it is unlike either the special Mass at the Cathedral or the planned inter-denominational service of Christian solidarity will be held until after the ongoing hostage crisis at the Cathedral is resolved and hopefully, the 30-plus hostages released unharmed.
For Patrick it is difficult to be so far from home and family while grappling with the extent and scale of the massacre at Nairobi's Westgate Mall. While enormously relieved and thankful that his siblings are safe, he has no idea yet whether many of his friends have been as fortunate.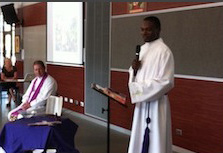 Now in the seventh year of his priestly studies, 28-year-old Patrick arrived in Australia in 2011 to complete his final years of study at the Seminary of the Good Shepherd, Homebush and where after his ordination, he will become a priest with the Diocese of Wollongong.
"My father was a seminarian as well but found his true vocation was as a husband and father," he says.
The youngest of his four siblings, Patrick grew up in a town about two hours drive from Nairobi, where his parents still live although his brothers Ambrose, Raphael and Francis, and his sister, Marita now make their home in Nairobi.
Patrick says from the time he was a teenager he had no doubt God was calling him to be a missionary and spread His word.
"In Kenya there are many young men with vocations for the priesthood so when I heard Australia needed more priests, I volunteered," he explains.
Shortly after his arrival here in 2011, Patrick joined 17 other priests-in-training from the Seminary of the Good Shepherd, spending a month in the outback to learn more about the day to day life of a priest in Australia's remote and sparsely populated parishes.
As part of the unique program which is an initiative of the Archbishop of Sydney, Cardinal George Pell, Patrick spent four weeks in the sprawling Broome Diocese spending time in far-flung Aboriginal communities.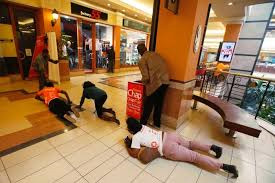 For the young seminarian, Saturday's news of the bloody assault on the Nairobi shopping mall came from a friend via an internet message.
"The message said little and at first I thought it was something minor like a robbery. But as more reports starting coming through I realised it was so much worse," he says and describes the popular upmarket Westgate Mall as the largest and most modern in Nairobi, and a place that would have been filled with men, women and children when the terrorists attacked.
On Saturday, Kenyan time, between 10 and 15 al-Shabab militants stormed the crowded multi-storey shopping centre. Using gunfire and grenades the Somali terrorists ordered Muslims to leave, but insisted they first provide proof they were of the Muslim faith by revealing the name of Mohammed the Prophet's second wife.
Then with ruthless determination, the Islam fanatics specifically targeted the non-Muslims inside the Mall.
With the Centre popular with Nairobi's large expatriate community many of those targeted were Westerners including an Australian man and his partner.
Social media revealed the couple was Tasmanian-born architect Ross Langdon and his pregnant partner Elif Yavuz.
Two other Australians in the Mall at the time of the rampage reportedly managed to escape.
Speaking by phone from Kenya, an Australian now living there said the city was in a state of shock at the Mall massacre.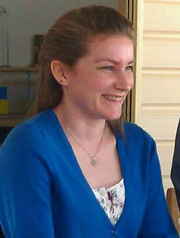 "The attacks in some cases were random. While it was said that Europeans were targeted one European at the Mall escaped injury the Kenyan next to him was shot. In another instance a Muslim who didn't know the name of Mohammed's second wife was killed," says Joanne Smyth who grew up on the Central Coast, worked in Sydney for eight years with disabled children before falling in love and marrying her Kenyan-born husband in January this year.
She and her husband live in Nakuru, Kenya's fastest growing city but make the two and a half hour trip to Nairobi every month or so.
They were in Nairobi last weekend.
"On our way into Nairobi we pass the Westgate Mall and we usually stop off there, but on Saturday for no particular reason we didn't," she says thankful and extremely grateful that by some quirk of fate she and her husband are safe.
On hearing about the assault and the deaths of so many, she instantly sent a message to her parents and family in Australia assuring them she was in no danger.
"Everyone in Kenya had been glued to the television for news and reading all the local and overseas newspapers for any bit of news we can get of friends and people who may be caught up in this tragedy," she says.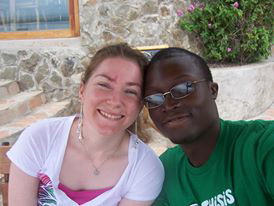 In the past during her visits to Nairobi she says she has always felt safe. "Like any big city there are areas you don't go into because of the high crime rate. But avoiding those districts I've always felt safe. Terrorism is just something that I never thought about. Nor did any of our friends."
Saturday's massacre has changed all that.
The Westgate Mall was hosting a Children's Day when the terrorists struck but with the siege continuing no one is yet sure how many children may have lost their lives or how many youngsters maybe among the hostages.
Israeli troops and British forces have joined Kenyan special forces in a bid to end the siege and rescue the hostages held by al-Shabab without further bloodshed and death.
At this tense and tragic time the people of Kenya, especially all those caught up in this tragedy, need our prayers, Patrick says.