Korean Kogye Buddhist Monks Tour St Mary's Cathedral
Catholic Communications, Sydney Archdiocese,
12 Sep 2013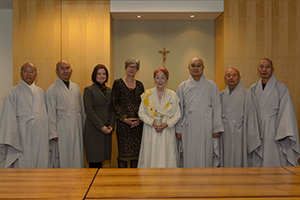 Visiting monks from Korea's Koyge Order of Buddhism were recently given a tour of St Mary's Cathedral by members of the Archdiocese of Sydney's Commission for Ecumenical and Inter-religious Relations (CEIR).
The monks were in Sydney to raise awareness of Korean Buddhism and to exhibit some of the Order's distinctive and beautiful artworks at the Museum of Contemporary Art, Darling Harbour.
"When most people think of Buddhism they instantly think of China and Japan. Few realise that not only is Buddhism one of the dominant religions of South Korea but dates back more than 1700 years," says Bedelia Melville, Interfaith Assistant to the Director of CEIR, Sr Giovanni Farquer.
Prior to their tour of the Cathedral the delegation of Koyge Buddhist monks spent time with Sr Giovanni discussing their beliefs and the long history of their particular form of Buddhism which dates back to the fourth century. Through an interpreter they also spoke of the tenets of Korean Buddhism and their beliefs with regard to human suffering, and the ongoing cycle of life and death.
After the meeting Bedelia and Suzanne Moffat, a member of the Commission and Officer of Religious Education (primary) at the Sydney Catholic Education Office, guided the visiting delegation of Korean monks together with their interpreter on a tour of the city's historic and iconic Cathedral .
Later the same day, the monks invited Sr Giovanni and members of the Archdiocese of Sydney to the Museum of Contemporary Art to view the exhibition of Koyge art works and to be their guests at a traditional Korean Buddhist Temple dinner .
"I enjoyed visiting the Exhibition of Traditional Lanterns and Korean Culture Experience at the MCA Square and this was followed by a dinner which was vegetarian and we were told was made up of the foods that Buddha himself would have eaten," Bedelia says.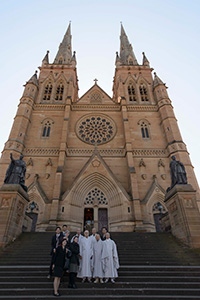 While Australians generally know little about Buddhism in Korea, it is not only practiced by more than 50% of South Korea's population with a further 10% of those in North Korea also Buddhists despite the hardline Communist dictatorship of Kim Jong-Un. In North Korea those of other religions are persecuted but Buddhism is permitted, albeit reluctantly, due to the integral role it plays in Korean history and culture.
Introduced from China in 372AD, Buddhism took over from Shamanism. By the 10th Century when the Koryo Dynasty took over, from which Korea took its name, Buddhism was widespread . At this time Korea's remarkable Tripitaka was created which is the most complete collection of Buddhist scriptures worldwide and which was carved by hand in Chinese characters across 80,000 woodblocks.
By the 14th Century though, with the Chosun Dynasty in power, neo-Confucianism took over with Buddhist temples in the cities ordered destroyed and their monks banished to the mountains. Oppression of Buddhism continued over the ensuing centuries. Then with Korea's new masters in 1910, Buddhism was once against tolerated but not the Korean form of Buddhism. Instead the Japanese rulers insisted Korea's Buddhist Monks renounce their vows of celibacy and take a wife or wives. The occupation of Japan remained until 1945, when Korean Buddhism experienced a resurgence.
In South Korea, Christianity has also experienced a resurgence. Today almost a third of the population are practicing Christians with one in three of these, Roman Catholics.