St Francis of Assisi - October 4 2013
Catholic Communications, Sydney Archdiocese,
5 Aug 2013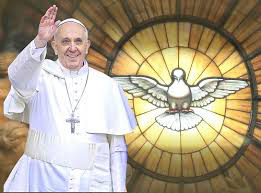 On this day the world celebrates the Feast Day of St Francis of Assisi, the patron Saint of Italy to whom the former Archbishop of Buenos Aires paid tribute when he chose Francis as his Papal name after being elected Pope in March this year.
The Holy Father says he chose the name Francis as his official title, explaining that his choice was inspired by St Francis of Assisi and reflected his desire for the Catholic Church to be an institution "of the poor, for the poor."
This week he spoke in more detail about St Francis of Assisi, explaining to the Italian newspaper, La Repubblica that to him: "He is everything, he is a man who wants to do things, wants to build, he founded an order and its rules, he is an itinerant and a missionary, a poet and a prophet, he is mystical. He found evil in himself and rooted it out. He loved nature and animals, the blade of grass on the lawn and the birds flying in the sky.
But above all he loved people, children, old people, women. He is the most shining example of that agape, that to love one another as Jesus loved."
One of the world's best known and most beloved saints, St Francis founded the Franciscan Order and the women's congregation of St Clare.
The Patron Saint of Italy, St Francis shares this honour with St Catherine of Siena, and his Feast Day is widely celebrated across the world with Christian denominations in marking his Feast Day with an annual Blessing of Animals.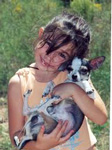 Born Giovanni Francesco di Bernardone in the Umbrian hill town of Assisi in either 1181 or 1182, St Francis was one of seven children. His father was a wealthy cloth merchant. His French mother, Pica named him in honour of John the Baptist, but to the family he was always known as Francesco - "the Frenchman" - possibly because of his enthusiasm for all things French.
He spoke fluent French and loved music and despite his privileged upbringing, showed an early propensity for charity and a desire to help the poor.
One story has it that as a teenager, and was selling cloth and velvet in the marketplace for his father, a beggar approached and asked him for alms. As soon as he had finished a business transaction, St Francis ran after the man and gave him everything in his pockets, despite being chided and mocked by his friends for this impulsive act of generosity.
In 1201, and just 20 years old, he joined the army to fight for Assisi against the nearby state of Perugia. Captured he was imprisoned for 12 months before escaping but it is perhaps during his incarceration that he began to reflect on his faith and what God might be calling him to do.

Returning to Assisi in 1203, he became desperately ill and underwent a spiritual conversion. But it wasn't until the following year where after he enlisted in the army of Count of Brienne and was fighting in Puglia, that he had a vision urging him to return to Assisi. From this time on, his life underwent a dramatic change. No longer partying, drinking and spending time with his old cohorts, he dedicated his life to the poor.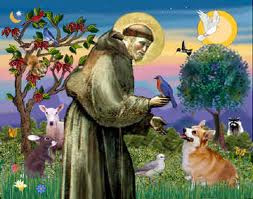 Making a pilgrimage to Rome, he joined the poor to beg outside the doors of St Peter's, then returning to Assisi began to nurse lepers, the most ostracised people of the time, as well as helping to rebuild the Church of San Damiano which was in a severe state of disrepair.
Selling cloth from his father's to raise funds for repairs, his father threatened him with beatings and instigated legal proceedings against his son before the local bishop. In response Francis renounced his father and patrimony, laying aside the garments he had received from his father from then on he would go barefoot dressing only in rough sackcloth.
Preaching in the streets of Assisi, Francis quickly amassed a dedicated following. At his choice he decided not to be ordained a priest but instead decided he and the community of his followers would be "fratres minores" - the Latin term meaning "lesser brothers." By 1209, Francis and his followers had become known as Friars and embracing poverty and helping the poor, dedicated their lives to "following the teachings of Lord Jesus Christ and to walk in his footsteps."
Receiving permission from Pope Innocent III to found a new religious order, the group adopted the tonsure to prevent possible charges of heresy as had happened to Waldensians some decades earlier.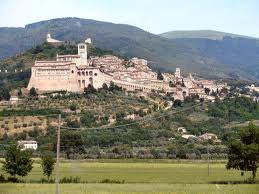 The Congregation of Franciscans grew and when Clare of Assisi heard Francis preach in 1209, she realised her calling and with the young man's help founded her own religious order for women based on Franciscan principles.
Called the Order of Poor Ladies, later called Poor Clares, the women adopted a similar habit to the Friars and led by Francis were detemined to bring the Gospel to all God's creatures.
By 1212, Francis was anxious to take his message abroad but the ship on which he sailed for Jerusalem was wrecked in a storm and he was forced to return to Italy. A second attempt, this time to reach Morocco also failed when he became ill and had to disembark in Spain.
But finally in 1219, accompanied by fellow friar, he landed in Egypt determined to convert the ruling Sultan. At the time the Crusades were in full swing but during a lull in battle, Francis was able to cross the Saracen lines and enter the Sultan's camp. While he did not manage to convert the Sultan, he nevertheless spent several days at the camp and was returned to the Christian Crusader camp unharmed.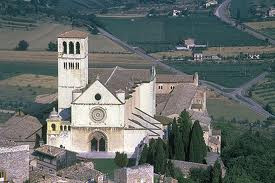 The following year, Francis again made history. This time with the world's first known three dimensional nativity scene which he set up at Greccio, near Assisi, using live animals to create a realistic depiction of the birth of Christ. A straw filled manger was set between a live ox and donkey and used as the altar for the Christmas Mass.
By this time, there were Franciscan congregations in France, Germany, Hungary, Spain and the Holy Land as well as across Italy.
The mountain of Verna in Italy had long been a retreat for Francis and in 1224 during a 40-day fast in preparation for Michaelmas on 29 September 1224, Francis had a vision during which time he received the stigmata. For the next two years, suffering from these stigmata and also from an eye disease, Francis sought relief. But to no avail and on the evening of October 3 1226 lying in a humble hut in Porziuncola, Italy near Assisi, he died.
Two years later he was announced a saint by Pope Gregory IX and a foundation stone was laid by the Pontiff in Assisi for the Basilica of Saint Francis. When the church was completed, St Francis was laid to rest under the Lower Basilica.
His writings throughout his life are considered to have great literary value. Poverty was central to his character as was nature and all living things. St Francis called all creatures his "brothers" and "sisters" and even preached to the birds and supposedly persuaded a wolf to stop attacking some locals after he had asked these men and women to feed the wolf.
St Francis believed nature itself was the mirror of God and statues and paintings of this beloved saint usually depict him in a garden surrounded by animals, a bird perched on his hand or shoulder.
Legend has it that on his deathbed, St Francis thanked the little donkey that had carried and helped him throughout much of his life and that the donkey had bowed its head and wept.