Vietnamese Priest Proud to Call Australia Home
Catholic Communications, Sydney Archdiocese,
2 Aug 2013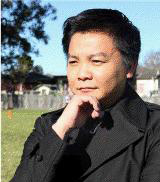 Australia is home to the whole world and I am very proud to be one of those to call Australia home, says Fr Liem Duong, Assistant Parish Priest at Sacred Heart Catholic Church, Cabramatta.
Like so many Vietnamese families forced to flee their homeland both before and after the Vietnam War, Fr Liem found a new life, safety, opportunity and a new future in Australia.
Yesterday, 1 August marked the 48th anniversary of what were then known as Indochinese refugees being granted permission by the Federal Government to settle in Australia. The decision was an important step away from the White Australia policy then in force and opened the door to refugees such as Fr Liem and his family to contribute to the rich fabric of today's Australia.
There are now more than 160,000 Vietnamese-born Australians and 174,000 with Vietnamese parents or grandparents.
"Australia is a truly multi-national society with people living here from every corner of the globe," says Fr Liem. He adds as with the Irish and other large groups who have immigrated to Australia, the Vietnamese Australian communities integrate the values and culture of their new country with the ethos, history and culture of the old.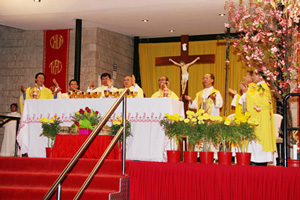 "Our identity and roots are important to us but we also share many of what Australians regard as Aussie values - generosity, love of family and living life to the fullest,"" he says.
For Fr Liem's family leaving the homeland was a difficult decision but as Hanoi's Communist Government asserted its authority after the end of the Vietnam War, basic human rights disappeared such as freedom of speech, religion and freedom from persecution and torture.
As a Catholics the Duong family were especially vulnerable. Finally in April 1987 taking his youngest son with him, Fr Liem's father joined the hundreds of thousands of other Vietnamese fleeing their homeland.
For several months the pair lived in a crowded refugee camp in Indonesia before finally receiving permission to settle in Australia. He then set about arranging visas for his wife and the rest of the family. But Fr Liem's elder sister and brother, who were now adults, were ineligible for visas so despite fleeing the country, they spent the next four years in squalid conditions in a refugee camp in Malaysia before being sent back to Vietnam. It would be another four years before they were finally accepted by Australia, by which time Fr Liem, his mother and two remaining siblings were living in Sydney after receiving their visas the previous year.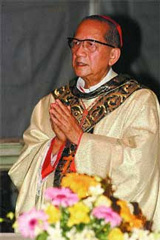 "Sydney's Vietnamese Catholic community is very strong. What happens when you are thrown out of your own country, is that you all come together to build a new life and support one another. In some ways it becomes like living in a country within a country. Our traditions, languages and culture are kept alive for future generations and are an important link to the past," he says adding each in the community is proud of their three distinct identities - Australian, Vietnamese and Catholic.
Ordained by His Eminence Cardinal George Pell at St Mary's Cathedral in 2006, Fr Liem is active in Church youth groups and an inspiration to many young people, particularly young Vietnamese Australians.
He is also very active in Sydney's Vietnamese Catholic community who continue to be extremely generous donors. Known for their unstinting big-hearted fundraising to help victims of Queensland's floods and Victoria's disastrous Black Saturday bushfires, in 2011 they also donated $50,000 for a portrait of Blessed Cardinal Xavier Nguyen Van Thuan to join the paintings of other beloved figures and pioneers of the Australian Catholic Church on the walls of Domus Australia's chapel in Rome.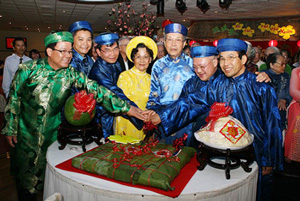 "Cardinal Nguyen Van Thuan spent a lot of time in Australia and always called this his second home," Fr Liem says.
However while generosity and a desire "to give back" to the people and the country which they now call home, he believes the biggest contribution that Vietnamese Australians have made and continue to make to their new homeland is striving to be the best they can be and to live life to the full.
"What's important is not what happened to us to bring us here to Australia. What is important is what we are doing now including the many young Australian Vietnamese - their different fields and professions and their achievements," he says.