Church Music Inspired Opera Australia's Mezzo Soprano Dominica
Catholic Communications, Sydney Archdiocese,
26 Aug 2013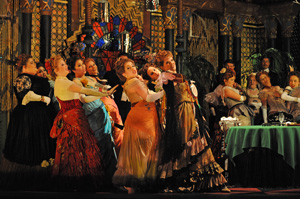 Whether she is on stage at the Opera House delighting audiences as one of Opera Australia's principal artists and rising stars or singing with the congregation during Mass at her local church at Castle Hill, Dominica Matthews experiences the same joyful emotions.
"I love to sing," she says simply but admits as a trained opera singer and mezzo soprano when she joins in the singing at Castle Hills' St Bernadette's Catholic Church during Mass, she has to remind herself to "tone it down" a bit.
"If I go into full voice the little kids are hilarious. They climb out of their seats, stand in front of me and stare at me in disbelief," she says and breaks into her distinctive rich infectious laugh.
A pupil at St Bernadette's primary and later a student and member of the choir at Gilroy Catholic College, Dominica says church music was not only her early training ground but remains a profound source of inspiration.
For Dominica now regarded as one of the nation's leading mezzo sopranos faith and music are intricately linked.
"They are one and the same," she insists. "Church music is uplifting and joyous and absolutely enhances prayer whether this is the beautiful sacred music from a previous century or a youth choir singing along with drums and guitars. They were all written and inspired by God."
With an outstanding voice and intensely musical, Dominica firmly believes both are gifts from God and insists it is her "absolute duty" to work as hard as she can to make the most of this blessing.
"Thy will be done is something I strongly believe in. I live by that, and know I must use these gifts not only because I want to but because I have to," she says.
Certainly Dominica is no stranger to hard work. For the past six weeks she has been juggling evening performances at the Opera House in Verdi favourite, La Traviata with rehearsals during the day for Benjamin Britten's comic lampoon of English village life, Albert Herring which premiered on 16 August.
This week Dominica is set to once again delight audiences at the Sydney Opera House playing the irrepressible 19th Century courtesan Flora Bervoix in La Traviata with performances tomorrow night and again on Thursday, 29 August. Then on 30 August, just 24 hours later, she will be back on stage. But instead of playing the corseted temptress Flora in the Verdi Opera, she will be Mrs Pike, the imminently sensible morally upstanding housekeeper of Benjamin Britten's comedy of errors.
By Saturday Dominica will have switched roles once again and be back on the opera stage as Flora in Verdi's adaption of the French classic, La Dame Aux Camellias.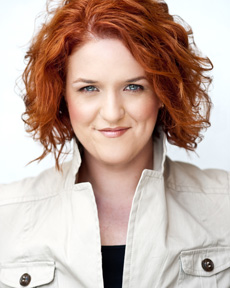 "The two roles are chalk and cheese," she agrees, adding that having the opportunity to play such rich diverse roles that switch from drama to tragedy to comedy is one of the challenges of working with Opera Australia.
The variety of characters and singing the music of many different composers in Opera Australia's seasons each year she says is not only creatively fulfilling and exciting, but "enormous fun."
"I just wish more people realised what opera has to offer. So many people still think of it as an old fashioned-thing with the sort of Valkyrie soprano wearing horns spoofed by Anna Russell in the 1950s and 1960s. This is still the image perpetuated by the media. But opera isn't like that anymore and hasn't been for decades. If only people would come to one of the operas, they'd realise this and really enjoy themselves."
A visual feast along with outstanding music, a live orchestra, large casts, amazing sets, with some of the world's as well as the nation's leading directors and performers, opera is one of the great theatrical experiences.

"These days when you study opera you study everything from stage craft to acting to comedy, to movement, languages and all sorts of other stuff as well as singing, sight reading and musicianship," she says. "To be a singer you have to have the muscular strength to pump your voice out into the theatre without the help of a microphone. The bigger the music, the bigger you have to be. That doesn't necessarily mean you have to be large but it does mean you have to be physically fit."
Dominica's musical talents and voice were apparent from a very early age, and at 17 she was selected as a solo canto to sing at the Beatification of St Mary of the Cross MacKillop before an audience of hundreds of thousands at Randwick Racecourse. However when she left school rather than chase a career as a singer, she enrolled at the Australian Catholic University to study to become a primary school teacher.
On graduation Dominica spent the next two years as a relief teacher at schools across Sydney before deciding she needed to make a choice.
"I was still studying singing on the side and my singing teacher thought I could make a career out of it," she recalls. Figuring if singing didn't work out she could always return to teaching, she took the plunge and began studying for a Diploma of Opera at the Sydney Conservatorium of Music. Awarded a Peter Moores Foundation Scholarship for two years study in England in 2004, she returned to Australia in 2006 after being snapped up by Opera Australia as part of its Young Artist Program.
In a bitter sweet irony, when Dominica made her debut at the Sydney Opera House in Pirates of Penzance in 2009 it was the same year her beloved father lost his hearing.
"For 15 years I'd been having singing lessons but when I finally opened in Pirates at the Opera House he could no longer hear," she says. Although her father wore hearing aids he could hear almost nothing. The night he came along to see his daughter was the night that the singer playing Ruth, the role Dominica was understudying, became ill and Dominica found herself on stage in one of the leading roles.
"Dad was there along with my mother and my two other brothers and younger sister and even though he couldn't hear he told me that night was the proudest moment of his life."
Dominica's father passed away in 2010. She and the rest of the family miss him greatly and she has fond memories of their times together and how he fostered her love of big bands and Frank Sinatra.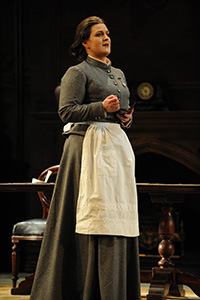 "I grew up on Frank Sinatra at the Sands and Walt Disney movie themes," she laughs and admits that while she was never an Abba fan - or even part of that generation - she enjoys modern music with Bon Jovi a special favourite.
She refuses to say what her favourite opera is however and insists "it is whatever opera I am working on at the time."
This year she has not only performed in La Traviata and Albert Herring but in January and February was one of the leads in Falstaff and will shortly start rehearsals for Wagner's Ring Cycle which goes on stage in Melbourne in November and December.
"As a singer in opera you give up quite a lot. You can't have big nights out especially if you have a show the next day. You have to give up any sort of social life. Everything revolves around your voice and being well," she says but insists she has no complaints.
"My life revolves around my mother, brothers, sisters, nieces and nephews and singing. To be able to find something you love doing and that you are good at is a blessing and gift from God."
Dominica Matthews can be seen at the Opera House in La Traviata on 27 August, 29 August and 31 August and in Albert Herring on 30 August. To find out more log on to www.opera-australia.org.au.