Many Shocked and Saddened by Sudden Death of Humble and Holy Opus Dei Priest in Sydney
Catholic Communications, Sydney Archdiocese,
19 Jul 2013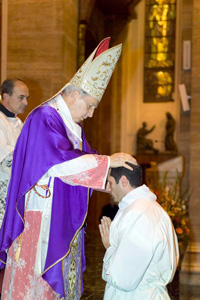 Fr Amin Abboud, priest of the Prelature of Opus Dei, passed away last night at the age of 48. Fr Amin was attending a spiritual retreat conducted by a priest of Opus Dei at Kenthurst Study Centre.

It appears that Fr Amin suffered a heart attack; however this is yet to be confirmed.

This news has been received with shock and sadness, moving those who knew him to prayer and acceptance of God's will in this moment. Fr Amin was well known to be fit, energetic and optimistic, sparing no effort in his pastoral work.

Fr Amin was ordained a priest of Opus Dei by its Prelate, Bishop Javier Echevarria, in May 2006. Prior to ordination he was a medical doctor, who specialized treating people suffering from Alzheimer's disease. In preparation for the priesthood, he completed a doctorate in Moral Philosophy and was soon to publish a book on Bioethics.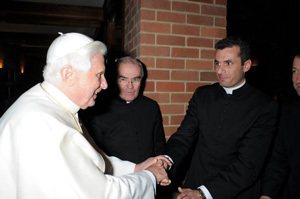 Just prior to ordination, Fr Amin said: "The Christian philosophy of man has been fundamental to my work," he explained. "In school, they taught us how to prepare people for pain and death without any religious explanations. That seemed empty to me. Faith permits one to open himself to the next life and to give meaning to the present one. It's a 'medicine' of incalculable value."


In his seven years as a priest, Fr Amin maintained an assiduous work load. As Vicar Secretary for the region of Opus Dei in Australia and New Zealand, he worked closely with the Regional Vicar, Monsignor Victor Martinez, in the government of Opus Dei in this region. He also carried out an extensive pastoral work with university students, lay men and women and priests.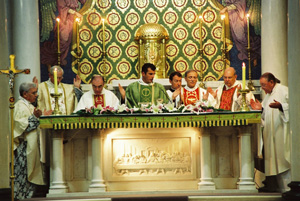 "Fr Amin Abboud", said Monsignor Martinez, "was a humble and holy priest, who always put the needs of others before himself. His loss is deeply felt.


"Now we pray for the soul of Fr Amin, confident that God will look mercifully upon him. We pray also for Fr Amin's family, his parents Philip and Salma, his sisters Mary and Victoria, and his brother Barry and his wife Janet and their 5 sons."

Further news about the Requiem Mass for Fr Amin will be communicated once known.