Sydney Bishop Porteous to be Archbishop of Hobart
Catholic Communications, Sydney Archdiocese,
19 Jul 2013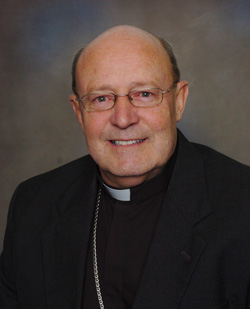 Auxiliary Bishop of Sydney ,Bishop Julian Porteous has been appointed the new Archbishop of Hobart.
His Holiness Pope Francis announced the appointment tonight 8pm Sydney time or 12 noon in Rome.
Bishop Porteous will succeed Archbishop Adrian Doyle as the 11th Archbishop of Hobart. Presently leading a group of young pilgrims in South America before heading to Rio de Janeiro for World Youth Day, Bishop Porteous will be installed as Archbishop of Hobart on 17 September this year.
The Episcopal Vicar for Catholic Renewal and Evangelisation for the Archdiocese of Sydney and Auxiliary for ten years, Bishop Porteous Bishop Porteous has also been the Rector of the Seminary of the Good Shepherd in Sydney and has published a number of books on the new evangelisation.
"I warmly welcome the appointment of Bishop Porteous as the new Archbishop of Hobart. I am sure Tasmania will make the new Archbishop very welcome, and I invite you to pray with me for the Archbishop-Elect as he prepares to move from Sydney to take on the Pastoral Leadership of the Archdiocese of Hobart," said Archbishop Doyle.
"It has been a great privilege for me to have been the Archbishop of Hobart for the last 14 years, and I am grateful for the friendship, loyalty and support given to me during that time."
Archbishop Doyle will continue in the new role of Apostolic Administrator of the Archdiocese of Hobart until the installation of Bishop Porteous as Archbishop of Hobart on September 17, 2013. The new Archbishop will take over the commitments from the day of his installation.
.
Bishop Porteous is scheduled to make a short trip to Hobart on August 14 after returning from World Youth Day.
Before leaving for South America, Bishop Porteous celebrated a special Commissioning Mass at St Mary's Cathedral for the pilgrims heading to WYD2013. Highlights of the mass can be seen here
Further information about Bishop Porteous can be found on the Archdiocese of Sydney website at http://www.sydneycatholic.org/people/bishop_julian_porteous/