On a Wing and a Prayer - Cardinal Leads Pilgrim Group to Lima, Peru Enroute to WYD
Catholic Communications, Sydney Archdiocese,
18 Jul 2013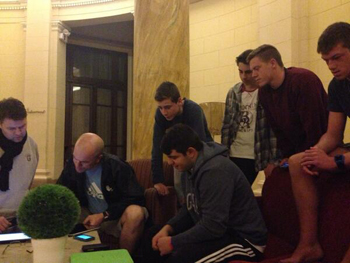 A group of pilgrims from Sydney led by Cardinal George Pell has arrived in Lima, Peru for a mission project before flying into Rio de Janeiro for World Youth Day.
Understandably tired after a long flight and local connections but still very excited and enthusiastic , the group of 72 is staying in a retreat house run by the Sisters of San Jose of Cluny.
However each day they will travel out to the nearby shantytowns where the extremely poor locals struggle to make a living. The young pilgrims, youth leaders, priests and religious will spend the next five days carting soil, sand and cement as they help build stairs and pathways into the steep hillside without which makes traversing the shantytowns extremely precarious.
For many of the group their trip took more than 26 hours including a 10-hour stopover at Chile's international airport in Santiago before the connecting flight to Lima.
The retreat house was a welcome site where the group celebrated mass before some much-needed sleep - well for most of them. One group roused themselves at 4am local time to watch the State of Origin online, much to the amusement of the Sisters.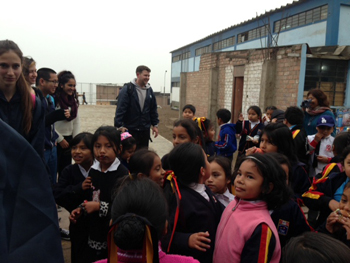 Around 1800 Australians are heading to WYD Rio with around 450 travelling with Cardinal Pell and three auxiliary bishops from Sydney, Bishop Peter Comensoli, Bishop Julian Porteous and Bishop Terry Brady. Bishop Anthony Fisher OP from Parramatta is leading another group of around 250 pilgrims. They have all included immersion and mission experience in their plans - working with local communities, teaching, undertaking sporting programs with some of the young villagers and building infrastructure, even a chapel.
Hundreds of Year 10 and Year 11 students from the Archdiocese catholic schools are also undertaking mission work in Peru before flying to Rio in Brazil and joining the hundreds of thousands expected to greet Pope Francis when he flies in for WYD.
Selina Hasham from Catholic Communications and cameraman Daniel Saban filed this video of the first leg of their journey.