WYD Pilgrims in Peru Up at 4am to Watch Origin on iPhone
Catholic Communications, Sydney Archdiocese,
18 Jul 2013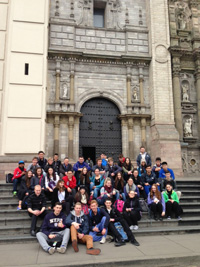 More than 20 Sydney WYD pilgrims and dedicated Blues fans were determined not to miss a second of last night's State of Origin despite being half a world away in Peru.
"Dedicated pilgrims woke up at 4 am to watch Origin through an iphone," tweeted Natasha Mohamad this morning.
An English and Religious Education teacher at Marist College, Kogarah, 23-year-old Natasha is leading a group of eight pilgrims from the college for five days of immersion missions in Peru before heading on to Rio de Janeiro for World Youth Day which will run from 23 - 28 July.
"Imagine 20 odd male pilgrims screaming at an iphone," she tweeted of the match attaching a photograph of the guys and adding: "The hotel staff think we're crazy!"
But despite cheering and yelling themselves hoarse, the die-hard Blues supporters in Lima were disappointed as once again the Maroons took out the series, winning the game 12-10 in a tense nail biting final quarter.
Also travelling with one of the four groups of students from Sydney's Catholic schools is 26-year-old Sydney priest, Father Greg Morgan. They all spent yesterday in the desperately poor shanty towns on the outskirts of the city.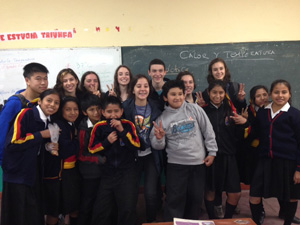 Known locally as favelas, many of the groups of Sydney's young pilgrims spent their second day in Peru helping construct pathways and stairways in the steep deforested rubble-littered hillside shanty towns. This will help to make it safer and easier for the communities to transverse. For other groups though it was a day to visit youngsters at some of the shanty town schools where Natasha, Fr Greg and student pilgrims gave Catechesis.
"Our first lesson was the parable of the Good Shepherd," Natasha says.
Along with Catechesis, the group was given a crash language course by their young Peruvian charges via a poster the children made offering Spanish translations of "Useful Expressions" including Good Morning (Buenos Dias), Hello or Hi (Hola) and the somewhat unusual "Nice to You" (encantado de conserte.)
Despite the extreme poverty of those who live in the favelas where houses are makeshift at best and made of whatever materials can be salvaged, which Natasha says was disturbing and very confronting, the welcome they received their joy in Christ and their happiness despite owning and having nothing, was inspiring.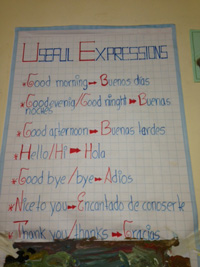 Since the arrival of Sydney's student pilgrims in Lima on Tuesday this week, Natasha says the days have been filled with highlights and unforgettable moments.
"We are living on three hours sleep and coffee," Natasha tweeted shortly after her group's arrival in Lima. But the lack of sleep was no deterrent as the four different bus groups of students and leaders from Sydney's Catholic schools spent their first day in Lima visiting the city's spectacular religious landmarks such as the St Rose of Lima Church and Sanctuary, the magnificent St Dominic's Cathedral and the house of St Martin de Porres.
Just 23, Natasha graduated with a degree in English and Theology from Australian Catholic University in 2011 and joined the teaching staff of Marist College, Kogarah the following year.
Despite her full schedule and commitment to her students as a teacher at Marist College, she is currently studying part time for a Masters Degree in Religious Education.
"Everyone has a different faith journey and we need to find our own faith place in that journey. For me that is just amazing," she says.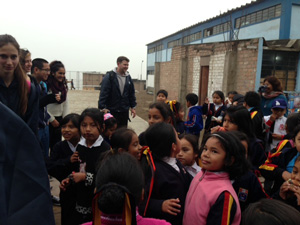 Yesterday all four groups from Sydney's Catholic schools joined together for a Mass celebrated at one of Lima's churches by Fr Greg Morgan.

"Fr Greg gave the best homily on 'Barbie-ism was 'GaGa-theology,'" she tweeted after the Mass.
For Natasha, World Youth Day in Rio will be her first. The weeklong celebration of faith, youth and the new evangelisation will provide a wonderful opportunity to "live out my faith and see it in action."
"I know that each of us in our different ways will be deeply affected and transformed by our time in Rio. To hear Pope Francis speak and to be with millions of other young people at the final Open Air Mass celebrated by the Holy Father will be one of the major highlights and I know will be something I will never forget."
Follow Natasha on Twitter @nat890