Australian Copts Applaud Removal of Morsi but Fear Retaliation by Muslim Brotherhood
Catholic Communications, Sydney Archdiocese,
12 Jul 2013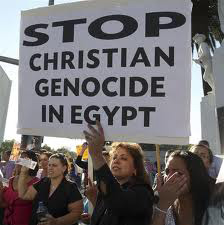 Australia's highest ranking Coptic cleric, Bishop Anba Suriel and leader of Australia's 80,000 Coptic Christians says it is critical Foreign Minister Bob Carr and the international community understand the overthrow of Egypt's elected President Mohammed Morsi was not a military coup but a response to the will of more than 33 million Egyptians who signed a petition for his removal.
"Australians and people worldwide should be in no doubt whatsoever that this was the will of the people. Millions of Egyptians were unhappy that Muslim Brotherhood backed-Morsi was not following democratic processes as expected and instead was imposing Sunni Muslim ideology on the entire Egyptian nation," he says.
Today Bishop Suriel called on Australian Catholics and Christians of all denominations to support Egyptians at this time and to understand why Morsi had to go, and why this was the will of the people and not a coup by the military to overthrow democracy.
He points out that before taking any action the Egyptian Military consulted not only with the nation's judiciary and civilian leaders but with Egypt's leading Muslim cleric, Al Azhar Grand Sheikh Ahmed al Tayeb, Opposition leader Mohamed El Baradei and the leader of the world's Coptic Christians, Pope Tawadros II of Alexandria.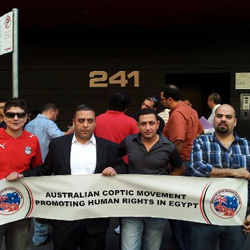 Pope Tawadros II, the Muslim leader and Opposition leader, El Baradei joined military leaders to address the Egyptian people about Morsi's overthrow and to announce a roadmap for the nation's future including new presidential and parliamentary elections to be held within the next six months.
The decision by the military to intervene was made after a petition signed by 22 million Egyptians called for Morsi's removal, and was followed by simultaneous protests on 30 June by more than 33 million Egyptians not only across Egypt but worldwide, including here in Australia where Sydney's Coptic community held a protest rally in Martin Place attended by more than 3000, and Melbourne's Coptic community held a similar rally.
"Historically there has never an event like the one on 30 June where vast numbers of humanity joined together in a political protest. What happened on that day is unprecedented," Bishop Suriel says.
The 33 million Egyptians who joined forces to call for Morsi's removal far outnumber the 13 million who voted for him in Egypt's first democratic presidential elections last year when the Muslim Brotherhood backed candidate assumed power with the slimmest of margins, receiving just 50.7% of the vote.
Faced by such overwhelming opposition to the Morsi regime, on 3 July this year, Egypt's military felt it had no option but to respond to the will of the people and Morsi was removed as president almost exactly 12 months after he came to power.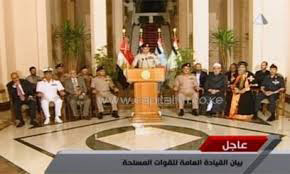 Despite the 33 million, or almost half of Egypt's population who wanted Morsi gone, Western leaders including Australia's Foreign Minister, Bob Carr said they were "deeply disappointed" that the first democratically elected government in Egypt had failed.
Bishop Suriel immediately wrote to the Foreign Minister concerned he was out of touch with the situation and what had happened in his homeland.
"It is critical that the global community appreciates that 33 million Egyptians have been protesting throughout Egypt since 30 June 2013 to show that their tolerance of the Morsi regime is at an end," he wrote in his letter which included copies to Leader of the Opposition, Tony Abbott and Shadow Minister for Foreign Affairs Julie Bishop.

The Leader of Australia's Orthodox Coptic Christians went on to point out that even in the brief 12 months the Muslim Brotherhood-backed Morsi regime had been in power "it had delivered a complete breakdown in law and order, near total economic collapse and daily abuses of human rights."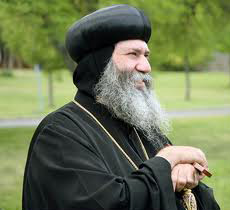 "It is vital that world leaders understand the Egyptian Armed Forces, which is the most respected institution in Egypt, acted for the will of an overwhelming number of Egyptians, and was supported in this action by all key sections of Egyptian society - civil, political and religious," he explained in his letter to the Foreign Minister. He then went on to say he applauded the Egyptian people, both Muslim and Christian, for taking this step, and for the civility with which they have affected remarkable change in their country once again.
"I know the vast and overwhelming majority of Australians of Egyptian descent share my sentiments," Bishop Suriel's letter concluded.
Ten days later he has yet to receive a response from Foreign Minister Carr, who despite American President Barack Obama now calling the military's decision to force Morsi to step down an "intervention" and signalling that the US will continue with plans to support Egypt with $1.3 billion in military aid and $250 million in economic aid, went on television two days ago to call for Morsi's release from house arrest along with other leaders of the Muslim Brotherhood held in detention.
Bishop Suriel who has just returned from Egypt today expressed his sadness and fears as violence by the Muslim Brotherhood escalates and is directed not only against Coptic Christians but Muslim moderates as well.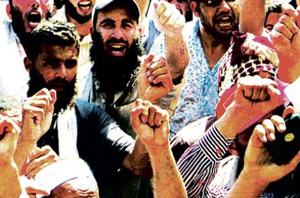 Outlawed during the rule of Mubarak and battling for more than 80 years to achieve power in Egypt, the Muslim Brotherhood who are supported by the even more extreme Sulafist Muslims have no intention of relinquishing the power so recently attained. The result has been an explosion of sectarian violence with television footage at the recent Muslim Brotherhood protest outside the elite Egyptian Republican Guards showing Morsi supporters hurling Molotov cocktails and carrying guns and other arms.
The Brotherhood has insisted the footage seen is "old footage" used by the interim government to discredit them.
But the violence against Christians while not new is ferocious and cannot be dismissed.
"I am very concerned over what is happening and what will happen to Christians," Bishop Suriel told Catholic Communications. "Their support for this initiative has made them targets in the eyes of the Muslim Brotherhood and already we have seen priests brutally murdered. Last Saturday a priest was pulled from his car and shot. Another priest has been beheaded and several others killed. In Upper Egypt 20 to 30 homes have been ransacked and destroyed and I fear things will get worse before they become better for the people of Egypt."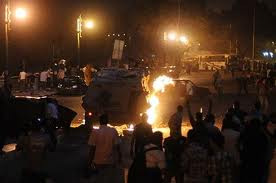 Throughout Morsi's 12 month rule, Egypt's Coptic minority who trace their ancestry back to the time of the Pharaohs and who were among the world's very first Christians, lived in fear of their lives with rampages by Islamic extremists carried out with virtual impunity. This despite Morsi's pledge prior to being elected that he would govern for all Egyptians and would protect religious minorities.
His promises meant little. Within six months Morsi had removed most of the Egyptian judiciary from office and was drafting a new constitution which gave him unprecedented powers so that safeguarded any of his decrees from being challenged by the courts. He then enshrined Islam into the Constitution along with Sharia Law and made no effort to rein in the sectarian violence against the nation's Coptic Christians.
In February this year, Morsi's decision to hold new parliamentary elections during the most sacred period of the Coptic Calendar, the Christian Easter Celebrations effectively excluded Copts from the democratic process and was seen as an attempt to solidify Islamic domination of the Egyptian Parliament to implement a radical agenda.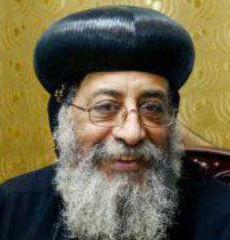 Then in early April, after Islamic extremists laid siege to Cairo's centuries-old Cathedral and ancient seat of Coptic Orthodox Christianity, murdering four Copts and injuring 90 others, although Morsi assured Western governments including Australia's Bob Carr that an inquiry would be held, no further investigations took place, no one was held accountable and no one arrested for these crimes.
Bishop Anba Suriel says there is no doubt military intervention was "necessary."
"I think it is very clear the people of Egypt were unhappy with the regime. There was union between both Christians and Muslims on this. What Egyptians want is a united secular government where all people and all religions are respected and protected," he says.