"It's a Girl" - Film Exposes Horror of 'Gendercide'
Catholic Communications, Sydney Archdiocese,
27 Feb 2013
In Australia the birth of a daughter is greeted with delight. The newborn receives a joyous welcome into the world. But for 200 million baby girls born in India and China each year their arrival is not a cause for excitement or celebration. Instead, unwanted and unloved, millions of these precious infants are smothered, poisoned or starved to death while those who survive face a harsh, brutal future filled with humiliation, violence and abuse.
In countless societies and communities across India and China the words "it's a girl" are a death sentence.
Now a powerful award winning feature length documentary by American activist, father and film maker, Evan Grae Davis and his team at Shadowline Films has exposed the full horrifying extent of 'gendercide'. "It's a Girl" reveals what is happening to newborns, girls and women in rural communities across India and China.
In a brutal irony, the violence and murders of newborns, girls in particular, is instigated and perpetuated by women, according to director Davis who points out in his film, the most insidious force is frequently a mother-in-law. He says it is under her authority millions of daughters-in-law in China and India are forced to live. Determined their sons should only have sons, these powerful and pitiless matriarchs are responsible for forcing countless young women into having to make the terrible decision between killing their defenceless baby daughter or being brutalised and killed themselves.
In one of the most chilling scenes captured in India for "It's a Girl," a young Indian woman is unable to contain her laughter as she confesses to having killed eight of her infant daughters.
"I just strangled it soon after it was born," she says matter-of-factly.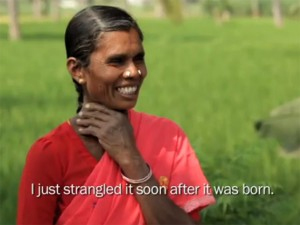 Ranmal Samarawickrama, Group Leader for South Asia and East Timor for Caritas Australia urges as many people as possible see this powerful documentary about 'gendercide' which he says for far too long has been a secret, hidden and tragic phenomenon.
"It is vital we start having a conversation about gendercide and this remarkable and important documentary provides an opportunity to do this and look for solutions," he says.
Although Caritas, the aid and development arm of the Catholic Church, does not work directly at addressing 'gendercide', gender is nevertheless a constant and underlying focus across programs run by the agency in more than 200 nations around the world.
"We are working at improving the situation for women by giving them a voice, education, improving their economic situations and providing access to health and better sanitation," says Ranmal who will expand on the work Caritas is doing when he addresses the special screening of "It's a Girl" at the Archdiocese of Sydney's offices at Polding House tonight.
"Through our programs we hope to increase the value of women and girls in their local communities and in this way change the environment and culture so these tragedies no longer happen," he says.
But as "It's a Girl" reveals, sons continue to be the favoured child for millions of families in India and China, while daughters can be considered of little value and for the poor simply another mouth to feed.
Shockingly in many parts of India, untold numbers of women who fail to produce sons are beaten, raped and killed so their husbands can remarry in the hope of acquiring a more productive wife who gives birth to sons not daughters.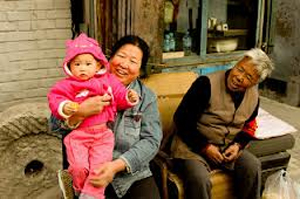 In communities where a baby girl escapes abortion or being smothered or poisoned as a newborn, her chances of surviving to adulthood are poor. A large number die of neglect and malnutrition before the age of five with struggling families spending their meagre resources on food, medicines and education for their sons at the expense of their daughters.
As children and teenagers, huge numbers of girls are sold into prostitution or married as early as possible where they become victims of dowry violence and ongoing domestic violent physical abuse. Rape is common but as witnessed in recent cases of gang rape in India, it is rare for the perpetrators to be blamed or be charged with a crime. Instead the victim is held responsible for "enticing" the man or men and is punished and sometimes even killed.
Director Evan Grae Davis says while he had seen some statistics and heard what was occurring in India and China it wasn't until he travelled through these countries that he began to comprehend the massive scale of the problem and that each year 200 million female infants, girls and women went "missing."
"We thought 'gendercide' would be a thing of the past and that things would be getting better as economic outlooks and the countries developed. What we discovered instead was that things were getting worse," he says.
Davis and his team at Shadowline Films want their documentary to mobilise and educate people.
"We want our film to get people thinking about this issue and to educate them about what it is and why it is happening, then coming together as a world community and looking at possible solutions," he says.
Such was the demand to attend a screening organised by the Archdiocese of Sydney's Justice and Peace Office and the Life, Family and Marriage Centre tomorrow night, Thursday 28 February, that there were far more applications than available seats.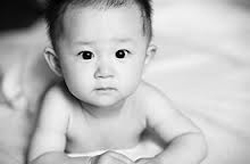 However for those who missed out, "It's a Girl" director, Davis can be contacted at the website for "It's a Girl" to obtain information and anything else necessary for groups, parishes, communities, schools or individuals to host their own screenings.
"We believe there is an urgent need for as many people as possible to see the film and become aware of the sheer magnitude of sex-selective abortion and infanticide which is happening worldwide," says Mary Winkels, Research Officer with the Life, Marriage and Family Centre and one of the key organiser's of this week's screening. "This threat to the life of girls and women and the enforcement of unwanted abortion and infanticide is a grave injustice to women and highlights the intersection of life issues, such as abortion, with social justice issues such as poverty and the systematic social, economic and cultural devaluing of women. For this reason, we felt it was particularly appropriate to join with the Justice and Peace office in hosting tomorrow night's screening."
Mary says screening the documentary during Lent was also important and points out that this very special time is "when Catholics and people of goodwill express their solidarity with the poor, the unborn and the suffering, and pray and work for the constant protection of women and their children."
For parishes, churches, schools, universities and similar organisations who wish to host their own screening of this important and powerful film go to: http://www.itsagirlmovie.com/screenings/host-a-screening