Cardinal Pell Visits the Reconciliation Church
Catholic Communications, Sydney Archdiocese,
18 Dec 2013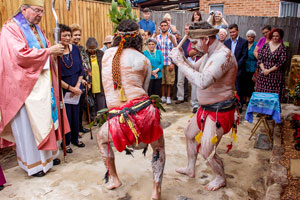 Cardinal George Pell was welcomed by Indigenous elders and families, a smoking ceremony and traditional dance when he visited the Reconciliation Church at La Perouse last Sunday.
The church is part of the Aboriginal Catholic Ministry (ACM), Sydney Archdiocese. A new prayer garden which had just been completed, was also opened and blessed by the Cardinal.
Respected Elder, Aunty Elsie Heiss, and former Coordinator of the ACM, was honoured on the day. In the garden, the Cardinal unveiled a plaque acknowledging Elsie's contribution as a founding member of the Ministry, as well as a plaque to mark the garden opening.
Aboriginal artists, Glen and Matthew Doyle, played didgeridoo before the mass with Cardinal Pell and Fr Barry Brundell and performed a smoking ceremony and traditional dance in the garden.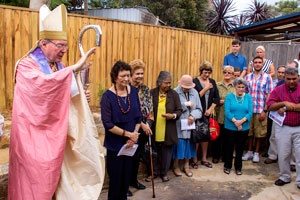 Federal Member for Kingsford Smith, Matt Thistlewaite, State Member for Maroubra, Michael Daley and Randwick Councillor, Noel De Souza were also in attendance.
The Cardinal was presented with two gifts from the local Aboriginal community, as well as a Pope John Paul II rose and a beautiful stole, which was painted by Ruth, Valerie and Morgan Bryant.
The church was full and the day was a joyful celebration.
The Executive Officer of the ACM, Graeme Mundine, thanked the Cardinal for his support for Aboriginal people and spoke specifically about the bursaries for students in Catholic systemic schools.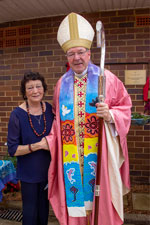 The day was completed with parishioners enjoying a casual lunch, where the Cardinal took time to speak with many of the community.


The Reconciliation Church was formerly Our Lady of Good Counsel, which is part of the Malabar Parish. Aunty Elsie Heiss, with the support of Father Pat Hurley and Malabar Church Council, secured the church for the Aboriginal Catholic Ministry in 1998.
Since then the ACM has hosted schools, religious and inter-faith groups, holding workshops on Aboriginal Spirituality, Stolen generations and Aboriginal identity, as well as liturgies and monthly masses. It has also continues to refurbish the Church building which was started with the acquiring of the Artworks of Mr. Richard Campbell, "The Aboriginal Stations of the Cross".

All are welcome to visit and be part of this Reconciliation Church, with masses at 11 am first Sunday of each month and the ACM also holds a mass at 11 am on the third Sunday of the month at St Mary's, Erskineville Parish.