Historic Agreement Between ACU and the University of Notre Dame
Catholic Communications, Sydney Archdiocese,
18 Dec 2013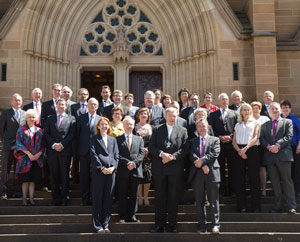 Australia's two Catholic Universities, Australian Catholic University (ACU) and the University of Notre Dame Australia have signed an agreement recognising a desire to deepen the co-operation, collaboration and mutual support between the two universities.
A priority area in cooperation will be teacher education in Sydney.
Vice-Chancellors Professor Celia Hammond of Notre Dame and Professor Greg Craven of ACU signed the Memorandum of Understanding (MoU) at Cathedral House, Sydney in the presence of Cardinal George Pell, members of the governing bodies and executives from both universities.
Reflecting their collaborative commitment to further their Catholic Mission and Identity, the MoU may in time include offering courses, disciplines, practical training and experience to students; exchanges and joint appointments of staff; conducting research; sharing services and facilities; exchanging information and expertise; and facilitating mutual collaboration with other higher education Catholic Institutions in Australia.
Both universities have fast-growing and vibrant campuses in Sydney.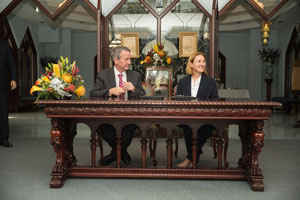 "The development and fostering of stronger relationships between universities, nationally and internationally, is vital for every university - as it provides opportunities for collaborative excellence in student learning, research, business services, and other important university initiatives," Professor Hammond said.
"It is hoped that this Memorandum of Understanding will see Notre Dame and ACU, both Catholic universities in Australia, continue to promote enhanced learning opportunities for their students, reflecting the values of respect, faith and service to others which continue to be demonstrated through the presence of Jesus Christ today."
Professor Craven said the two universities were naturally bound together in a relationship of shared faith, values and a commitment to academic excellence.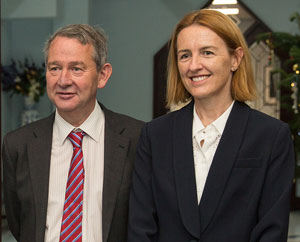 "The MoU is an historic event that formalises the commitment of both universities to deepen their co-operation, collaboration and mutual support. It is aimed at the sharing of services, resources,Knowledge and research between ACU and Notre Dame, particularly in relation to the operation of the universities in Sydney, where each has campuses, as well as disciplines in common."
In blessing the Memorandum of Understanding Cardinal Pell said; "May these two universities with their diverse origins and histories enrich Australian society and the Catholic community by their creative interaction. We know that the first universities of the western world were Catholic foundations.
We have received a wonderful inheritance and we pray that the staff and students of Australian Catholic University and Notre Dame University Australia will also follow these paths as the students are prepared professionally and the staff and students strive to understand the proper order of things: to differentiate the passing and the ephemeral from what is ultimately significant in the life of Christian faith," he said.