Traumatised Syrian Refugees Battle Freezing Cold, Hunger & Loss of Hope
Catholic Communications, Sydney Archdiocese,
7 Nov 2013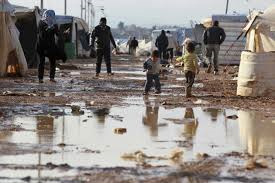 Melville Fernandez, Caritas Australia's Group Leader of Humanitarian Emergencies has spent the past two weeks in the crowded refugee camps of Turkey and Lebanon where millions of Syrian men, women and children are struggling to survive.
He also visited Lebanon where 700,000 Syrians forced to flee the carnage in their homeland are living in tents, converted sheds, stables - anywhere they can find shelter.
"What is happening inside and outside Syria is the worst and most complex humanitarian crisis of modern times," he says.
For the past 25 years, Melville has been on the frontline delivering emergency aid in the aftermath of some of the world's most devastating natural disasters. These have included the massive 7.6 Gujarat-India earthquake of 2001 which killed more than 20,000 and left many thousands more homeless. He was also among the aid workers on the ground giving immediate assistance and care to victims of the unprecedented tsunami on Boxing Day 2004 when 230,000 in 14 countries were swept to their deaths and entire villages and towns washed away.
He joined the first emergency workers flown to Myanmar in 2008 to help victims of Cyclone Nargis which cut a deadly swathe through the developing nation killing more than 230,000.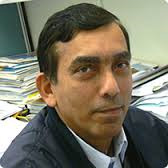 But of all the disasters with which he has been involved Melville says what is happening in Syria is the worst he has seen and warns as winter approaches, the crisis has entered a deadly new phase.
"Those in camps in Turkey and Jordan, and those living in tents and settlements in Lebanon have little to protect themselves against the bitter cold of winter. Already we are seeing people with lung infections and respiratory problems. We are also starting to see children suffering from malnutrition," he says and points out that malnutrition has long-term consequences affecting the physical development of children as well as the development of their brains.
Hunger is also an increasing problem. So too is the threat of infectious diseases that will almost certainly spread rapidly in the overcrowded and unsanitary conditions of the camps and refugee settlements.
Already inside Syria there has been an outbreak of polio, a disease many thought had long been defeated with the widespread use of the Salk vaccine. But as Melville points out, with the Syrian conflict now in its third year, many Syrian children have missed out on protective vaccines and inoculations from diseases such as polio as well as other potential fatal illnesses.
He is also concerned about the health of elderly refugees as well as those with disabilities who along with children are particularly vulnerable to infectious diseases and life threatening conditions such as pneumonia.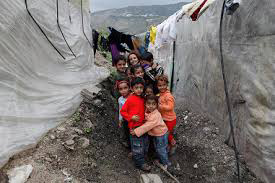 With more than 2 million having fled the brutal bloody war to seek shelter in Lebanon, Turkey, Jordan, and to a lesser extent Egypt and Iraq, restrictions on numbers are now being imposed by host countries, with some even considering forcibly sending the refugees back to their war-torn homeland.
Turkey has closed its borders and although Jordan recently opened up another refugee camp, the government is now considering restrictions. Lebanon also faces a growing crisis. Syrian refugees now make up a quarter of Lebanon's population and are straining the nation's services, infrastructure and resources.
Caritas Australia has long supported programs on the ground in the region and for the past three years has been working closely with Caritas Jordan as well as teams from Caritas International, the US-based Catholic Relief Services and local as well as international NGO relief agencies to help Syrians both inside and outside the war-torn nation.
Of Syria's population of 23 million, the United Nations reports that more than 2 million, of which at least half are children, have fled to refugee camps and settlements in neighbouring countries. The UN also reports that in addition to the refugees in need of humanitarian aid, a further 6-8 million living inside Syria are also in desperate need.
"Caritas Australia currently supports six projects that are making a difference to the lives of more than 100,000 Syrian refugees," Melville says.
His recent visit to the region gave him a chance to monitor and spend time with each of these projects.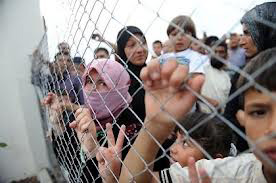 One of the projects is a healthcare program based in Jordan, which through the establishment of GP clinics, provides both primary and secondary care to the refugees. Another project involves the supply of blankets, mattresses and shelter before the freezing cold of winter sets in and snow begins to fall.
Emergency relief is another project sponsored by Caritas Australia which helps ensure thousands of refugees have access to safe drinking water and sanitation.
With the financial assistance of AUSAid or as it is now known under the new Government, DFAT support, Caritas Australia has been able to supply food to the camps as well as non-food items such as hygiene kits and bedding materials. Support from Caritas Australia has also helped provide educational and social services for refugee children and their families.
Another important program supported by Caritas Australia are mental health assessments for 20,000 vulnerable refugees in Jordan and protection for the most vulnerable.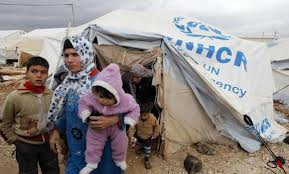 While the work of teams from Caritas and other relief agencies, including the United Nations, is making a difference, the sheer size of the crisis and the increasing numbers who need help is overwhelming.
In the past two weeks Melville saw the plight of hundreds of thousands of desperate men, women and children first hand. But of all the images that continue to haunt him it was the sadness of the children and the despair in their eyes.
"There was a great sadness in everyone I spoke with but it was the sadness of the children that affected me most of all," he says and points out that while NGOs and relief agencies such as Caritas are doing all they can to help these dispossessed and traumatised people, much more money is needed.
Of the $4.4 billion pledged by the world's wealthiest nations to help Syria's refugees, less than a third has been received. Now as Australians prepare to celebrate Christmas and buy gifts for their loved ones, Melville makes a personal plea and urges us to remember Syria's men, women and children and to contribute to the Caritas Syria Crisis Appeal.
To donate to the appeal log on to http://www.caritas.org.au/learn/emergency-response/syria-crisis