Padre Pedro Proves Battle Against Poverty Can be Won
Catholic Communications, Sydney Archdiocese,
1 Nov 2013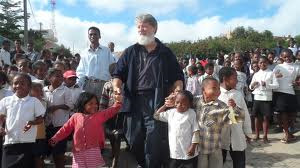 For the past 24 years Argentinean-born priest, Pedro Opeka has dedicated his life to fighting a battle against poverty and transforming the lives of Madagascar's hundreds of thousands of poor.
Arming the destitute with construction and building skills, training teachers and establishing schools, Padre Pedro has transformed countless lives and seen youngsters grow up to become doctors, nurses, university professors, teachers, social workers and engineers.
"The poor only want three things. The first is to work, the second is education for themselves but especially for their children and the third is to live in safety," he says pointing out that in the garbage dumps and crime-ridden streets where so many of Madagascar's poor are forced to live, anarchy prevails and every day is a fight for survival.
Padre Pedro, as he is known in Madagascar, is not only helping to change this but for almost a quarter of a century continues to prove that the battle against poverty can be won.
Nominated twice for a Nobel Peace Prize by the Slovenian European Parliament, awarded a Legion of Honour by the French and given the Golden Order for Services, the highest national decoration of Slovenia, Padre Pedro has spent the past week in Sydney.
The 65-year-old priest is uninterested in awards or prizes but believes the nominations for the Nobel Peace Nobel Prize are different from most other accolades as they receive international attention.

This raises awareness for the work being done by and for the poor as part of Akamasoa, the NGO organisation he founded which means "Good Friends" in Malagasy. It has also opened the door to new opportunities for funds and other assistance.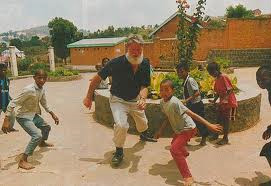 "The Nobel nominations and other awards are a recognition of the poor. They are not about me," he insists.
A firm believer that with "God's help anything is possible," Padre Pedro was not only born in the same city as Pope Francis and shares the Holy Father's great love of the poor, but they both attended the same theological college in San Miguel, Buenos Aires Province, and at the same time.
"His Holiness was in his final year of theological studies and I was in my first," he recalls and relates how he met with Pope Francis in March this year, just three days after the former Archbishop of Buenos Aires was elected Holy Father and the new spiritual leader of the world's 1.2 billion Catholics.
"I was in Rome looking for help for Akamasoa. As part of the Conclave of Cardinals, His Eminence Cardinal Claudio Hummes of Brazil was also in Rome. He had visited Madagascar five years ago and seen the work of Akamasoa. He invited me to meet His Holiness."
Cardinal Hummes, who had stood at Pope Francis' side the night the new Pontiff was presented to the world on the central balcony of St Peter's Basilica, led the way and when the Holy Father arrived, he introduced the Argentinean priest to Pope Francis.
"l knelt to receive the Holy Father's blessing, but when I stood up we hugged and embraced each other Argentinean style," he says with a broad smile.
Among other similarities are their working-class backgrounds - Pope Francis' father worked on the railways while Padre Pedro's father was a bricklayer - and their passion for soccer.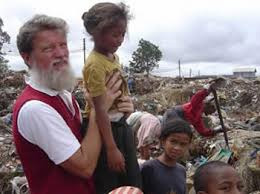 The Pope has been a lifelong supporter of the San Lorenzo de Almgra Football Club while the priest not only supported Buenos Aires football clubs but at age 15 was torn between becoming a professional footballer or realising his vocation as a priest.
Still lean and fit Padre Pedro continues to play soccer with the children of the Akamasoa's 18 villages where the poor are trained, given work, shelter and where they help build their own houses and village infrastructure such as schools and hospitals.
"I can still kick a ball with my right and my left leg and put in a 25 metre goal," he says and with a burst of laughter, describing such prowess as "a miracle."
But far more important to him than his football abilities in late middle age are the sports clubs for soccer and basketball that have been established in each of Akamasoa's villages.
"Sport is very important to young people and if they are involved in sport they are keen to stay fit and won't drink, do drugs or smoke," he says.
At age 41, Padre Pedro was sent to Madagascar in 1989 by his Lazarist superiors to be the director of a seminary in the nation's capital of Antananarivo. All that changed after the Argentinean priest came across thousands of men, women and children rummaging among the foul-smelling garbage dumps across the hills bordering the city.
Determined to help the people in Madagascar's garbage dumps find dignity, proper shelter, work and safety, he eschewed the comfort of the seminary and decided to devote the rest of his life to the poor.
"In Madagascar's capital city which has a population of 2 million, 92% live below the poverty line," he says and describes how the nation's poor rake through rotting waste in a desperate search for food, their own shelter strips of torn sacking strung between the mountains of city detritus.
For several weeks 24 years ago he spoke with impoverished "garbage people" of Antananarivo and managed to convince many to leave the misery, anarchy and abuse of the dumps for the sake of their children, and to make a new life in villages he would set up.
Borrowing $900 from various Christian charities, Akamarosa was born. The bricklayer skills Padre Pedro had learned from his father were put to good use as he taught the poor how to build and construct their own homes, then schools, then hospitals and self supporting villages.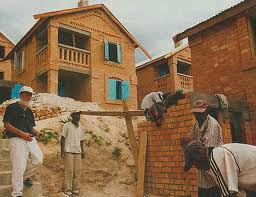 Today Akamasoa more than 30,000 former garbage people live in individual homes in 18 clean attractive villages where, paying off mortgages in small instalments, they have become and proud self-supporting home owners with many of them proud parents of children who have gone on to become doctors, nurses, academics, social workers and teachers.
Many hundreds of thousands of Madagascar's poor are still in desperate need of help and each day Padre Pedro says at least 60 families arrive on his doorstep begging for help.
Help is given wherever possible and the two tonnes of rice needed each day to feed the 7000 primary school kids at Akamarsoa schools also goes towards providing food for the poor waiting outside the school gates.
Akamarosa provides a meal five days a week for their primary school students. Otherwise, Padre Pedro says the children would be too hungry to attend school and would go out begging instead.
Last week in Sydney, Padre Pedro met with the city's Catholic French-speaking community who through Sydney French Roman Catholic Charities (SFRCC) give financial and other support to Akamasoa. He was also on hand last weekend for the group's annual Charities' Night which raised $50,000 for Akamasoa.
For the past eight years SFRCC has given assistance to Akamasoa via Caritas Madagascar. But thanks to CFRCC having recently entered into a partnership with Catholic Mission, in future all individual donations to help Akamasoa and Padre Pedro's remarkable work will be tax deductible.
"To work with the poor is to see the face of Jesus," Padre Pedro says and not only believes that the battle against poverty can be won, but that with God's help anything is possible.