Papal Honours for Five Outstanding Catholics
Catholic Communications, Sydney Archdiocese,
14 Nov 2013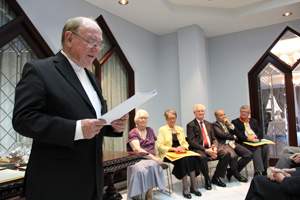 Five outstanding Sydney Catholics were conferred with Papal honours by the Archbishop of Sydney Cardinal George Pell yesterday.
At a ceremony held at Cathedral House the selfless and important contributions each of these three men and two women have made to the Church, their professions, their local parishes and to the community at large were recognised by His Holiness Pope Francis.
Those singled out to receive one of these important Papal awards were Mrs Jill Dalton who became a Dame of the Order of Pope St Sylvester; Mrs Patricia Burke who was created a Dame Commander of the Order of St Gregory; Anthony Biddle who was conferred with a Knighthood of the Order of the Pope of St Sylvester; Dr Brian Croke who was made a Knight Commander of the Order of St Gregory the Great and Anthony Cleary who was created a Knight of the Order of Pope St Sylvester.
Anthony Cleary, Director of Religious Education and Evangelisation for the Archdiocese of Sydney's Catholic Education Office (CEO) says the great honour awarded him by Pope Francis was "totally unexpected."
"One doesn't seek out honours or recognition and when these occur there is a tremendous sense of humility.
I know there are literally hundreds of people who are all equally or much more deserving than I am," he says and believes that the Papal honour he received yesterday says far more about the team of remarkable people he has had the privilege of working with than it does about himself.
"Every achievement mentioned in the citation that was read out at the ceremony has been due to the support, guidance, help and direction of other people" he says.
Anthony Cleary describes his team at the CEO as "fantastic" adding that he has also had the good fortune to work with and for some outstanding people.
He also pays particular tribute to Cardinal Pell for "a relationship of trust and support, and for his enormous energy and vision for the Church."
"I am so fortunate to be part of that and to be able to contribute to that vision," he says.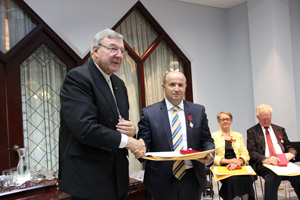 Awarded the Papal Knighthood in recognition of the faith witness he provides as the Director of Religious Education and Evangelisation for the Catholic Education Office, and previously as the Director of the CCD, Anthony has contributed to a range of initiatives associated with the New Evangelisation.
Anthony was also recognised for the major role he has played in developing and strengthening the Australian contribution to and participation in World Youth Day. The impact of World Youth Day is the subject of his PhD thesis.
In addition to contributing to the establishment and formation of the Faculty of Theology and Philosophy at the University of Notre Dame in Sydney he has helped develop the Archdiocesan Strategic Plan.
Anthony who is also a Knight of the Equestrian Order of the Holy Sepulchre has been instrumental in the ongoing development of the Archdiocesan Religious Education program as well as helping foster relations with Eastern Catholic Churches and raising awareness about their distinctive forms of religious expression.
However his response to the long list of achievements and service to religious education cited at yesterday's ceremony is typically one of humility, in keeping with the motto by which he tries to live: "Everyone to whom much is given, much will be required"(Luke 12:48).
"I was blessed with a good family, a good education and good opportunities," he says and firmly believes when you work for the Church it is not about self advancement but about the advancement of others, a commitment to the common good and a striving to give people the same opportunities you were fortunate enough to be given.
"What I have received back over the years from young people, from teachers and from a wide range of communities have greatly enriched my life. I have benefited far more from my interaction with them, I would suggest, than they have from me," he says.
Among the Papal honours conferred by Cardinal Pell on behalf of the Holy Father yesterday, Mrs Jill Dalton's award was given in recognition of her many years with the Regional Tribunal of the Catholic Archdiocese of Sydney and voluntary services to the Church.
A longstanding member of the Canon Law Society of Australia and NZ, Mrs Dalton also played a key role in the establishment of the CEO's Parent Participation in Schools Unit in 1981 which grew out of her work with other volunteer parents to implement human development and Christian values programs in Catholic Schools.
Mrs Dalton's many other faith-based activities were also recognised yesterday, including her work at her retirement village as a Eucharistic Minister.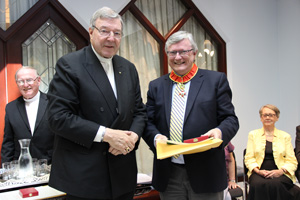 Mrs Patricia Burke was another whose invaluable faith-based volunteer work and tireless contribution to the Church was cited during yesterday's Papal awards ceremony. Honoured for her many years as the Sydney Archdiocesan Director of Caritas, the aid and development arm of the Catholic Church, Mrs Burke served in this voluntary role for a quarter of a century. Instrumental in launching Project Compassion each year she also made a major contribution to the agency's ongoing financial success.
Already a Dame Commander of the Equestrian Order of the Holy Sepulchre and the recipient of Order of Australia for her community service, Mrs Burke is a member of the Paulians. She has also made important contributions to the Catholic Women's League fund-raising endeavours and continues to serve as a member of the School Board of Santa Sabina College at Strathfield.
Conferred with a Papal knighthood at yesterday's awards, Anthony Biddle was recognised not only for his profound faith but in particular for his work with the Society of Mary and his contribution not only to dioceses across Australia but overseas as well. With an astute business brain and deep commitment to the Catholic faith, Mr Biddle has been Business Manager of the Marist Fathers' Australian Province since 1999 and is a member of the Investment Advisory Board for the Oceania Province which is based in Fiji as well.
Not only have his long voluntary service and financial abilities been recognised by the Society in Rome but for many years now, Mr Biddle has also been entrusted with managing the Marist Fathers' investment funds deposited in Australia.
Dr Croke, who received one of the highest Papal honours becoming a Knight of Commander of the Order of St Gregory is well known across Australia as Executive Director of the Catholic Education Commission NSW (CECNSW) and Deputy Chair of the National Catholic Education Commission. He was honoured for his loyal service and commitment to education over many years and in particular to the Catholic education system.
In addition to his work with the CECNSW and national body he is a member of both the Australian Curriculum Assessment and Reporting Authority and Education Services Australia, and is a director of the Australian Council for Education Research.
Anthony Cleary congratulated the four other recipients of Papal awards yesterday.
"I admire and know each of them personally and I am aware of the lasting contributions each one of them has made to the Church, their parishes, their communities and in their day-to-day lives," he says adding that he was filled with humility not only to receive a Papal honour but to share the honour with such outstanding Catholics and men and women of faith.
ALL PICTURES BY SHARYN McCOWEN, THE CATHOLIC WEEKLY