Doctoral Research Explores Impact of WYD on Australian Pilgrims
Catholic Communications, Sydney Archdiocese,
4 Oct 2013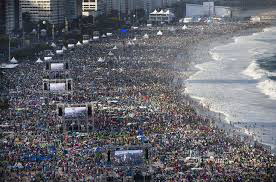 The youthful pilgrims who attend International World Youth Day every three to four years far outnumber other mass global gatherings including events such as the Olympic Games or FIFA's Soccer World Cup. Held in Rio de Janeiro, Madrid, Rome, Cologne, Manila or Denver attendance at WYD is a global phenomenon.
But what draws young people to these six day celebrations of faith and what is the impact on their lives not only in the weeks and months afterwards but over the ensuing years as they enter their 30's or even 40's.
In a bid to find out, Anthony Cleary, Director of Religious Education and Evangelisation for the Archdiocese of Sydney's Catholic Education Office has conducted interviews with more than 200 Australian pilgrims who attended WYD in Madrid and surveyed more than 1000.
The first WYD was held in 1986 but in the almost 30 years since there has been almost no research on the reasons pilgrims attend, their experiences during the six day youth festivals of faith and later, after they return home.
Research on WYD and the impact on Australia's young pilgrims is the focus of Anthony Cleary's doctoral thesis, which promises to break new ground and open up discussions on faith, young people and the Church.
Although he has been working on the project for the past three years, he is quick to point out, there are many interviews, surveys and research to complete.
Now in the wake of this year's WYD, he is particularly eager to speak with pilgrims who were in Rio de Janeiro and the impact this has had on their faith and their lives.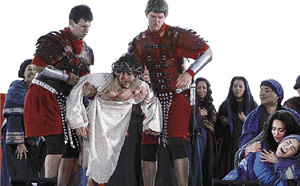 Anthony, who has Masters' degrees in Religious Education, Education Leadership and Theology is in the midst of a doctoral research project exploring how the events of a WYD and the associated pilgrimages impacted on those who attended.
He will investigate what motivated Australia's young people to attend an international WYD and whether participation influenced their perception of faith, spirituality, religious practice, community and themselves.
"There is no doubt WYD in Sydney in 2008 was a watershed," Anthony says pointing out that with Australia being so far from Europe and the rest of the world, unless actively engaged with the Church, until WYD in Sydney most young Australians had been unaware of World Youth Day.
"Until then World Youth Day was simply not part of a young person's vocabulary. We should be forever grateful to His Eminence Cardinal George Pell and Bishop Anthony Fisher for what I would call their 'audacity' to stage WYD in Sydney against a backdrop of secularism and media cynicism, and not only galvanise young people of the Church but young people across the entire nation," he says.
WYD08 enabled hundreds of thousands of Australians to get to know, understand and participate in a World Youth Day, he adds.
"Thanks to the efforts of Cardinal Pell and Bishop Anthony WYD in Sydney also gave many young Australians an opportunity that because of circumstances, funds and other factors, they may not otherwise been able to have," he says.
Although Australians had been among participants at previous WYDs, it was Sydney's World Youth Day that created a real surge of interest and a determination among thousands of Australia's young people to be part of WYD in Madrid and WYD in Rio two years later.
"When I interviewed students in Catholic Schools after WYD in Madrid, most spoke of their desire to go again and were already planning to attend WYD in Rio. Hundreds were also encouraging younger brothers and sisters to experience a WYD as soon as they were old enough," he says.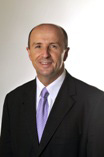 Anthony has attended the four World Youth Days and says one of things that has always interested him are what attracts young people to this religious event, particularly when for Australians to attend means travelling vast distances. Unlike their European counterparts who will be able to take a train, bus, drive themselves or in some cases even cycle to attend WYD in Krakow, Poland in 2016, Australians not only have to fly thousands of kilometres but spend thousands of dollars in fares.
"I also wanted to find out how people rated their experience at a WYD in terms of life experiences and whether it was a defining moment in terms of their own faith," he says adding that as part of his research he has interviewed Australian pilgrims who were at Paris in 1997, Manila in 1995 and Denver in 1993.
"Even 20 years on, many of those I spoke to described their experience at WYD as life-changing," he says.
Speaking with more recent pilgrims to WYD, young people have responded the same way, insisting the WYD experience has renewed and strengthened their faith and through the fellowship of so many other young people from so many different cultures and nations, given them real understanding of the universality of the Church. They are also more open to discussion with others, report a deeper commitment to parish life and find they are more generous and open-hearted.
But above all what his research is finding is that despite being one of 2 million-plus pilgrims, the experience is deeply personal.
"Amongst all these thousands and millions of pilgrims, they sense the one who has created them. The encounter with the divine has the most profound effect and perhaps is best described as the absolute silence of the final Mass in Sydney in 2008. Thousands of people were there but it was so silent you could hear the birds in the trees," he says and calls this "the silence of the heart that the young people who make the WYD pilgrimage recognise and understand that they are not alone, and that what they have encountered is ever ancient and ever new."
To add to his research, Anthony Cleary would like to hear from pilgrims who attended WYD in Rio in July this year. Participation involves the completion of an online questionnaire at http://e-learn.acu.edu.au/newsurveys/index.php/17756/lang-en.
Interviews will also be conducted with selected pilgrims at mutually convenient times.
Details and names of all those who volunteer for this important research that may well shape of WYDs will be kept private and their participation will remain anonymous.
To volunteer for interviews, contact Anthony Cleary at 02 95688433 or email him at Anthony.cleary@syd.catholic.edu.au
To hear Anthony speak about his project go to http://www.youtube.com/watch?v=tAnLkWmTfVg
http://www.youtube.com/watch?v=tAnLkWmTfVg