Rusty Priest - The Soldier's Soldier - Honoured with State Funeral St Mary's Cathedral
Catholic Communications, Sydney Archdiocese,
2 Oct 2013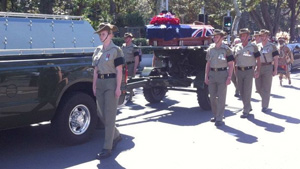 The former boss of the NSW RSL and tireless advocate for diggers from all conflicts was honoured with a State Funeral in St Mary's Cathedral attended by the Governor, Premier, family and hundreds of veterans, proud to wear their service medals and call Rusty their mate.
Rusty died last week at the age of 86.
The NSW Governor, Prof Marie Bashir paid tribute to Rusty for his distinguished 22-year military career and service to his country and veterans since his retirement.
"Godfrey Rusty Priest's life certainly was a life of unstinting service to his country and to the men and women who protect it," the Governor told those gathered in the Cathedral for the service.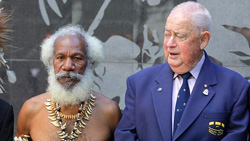 She said he was "a soldier's soldier" and a fierce advocate for fellow diggers, those who fell in war in far off countries and those who returned.
"Once he set himself a goal, he was not one to be easily distracted or deterred," she said.
Mr Priest was instrumental in creating the Kokoda Track Memorial Walkway at Concord and having the Glebe Island Bridge renamed the Anzac Bridge.
The two bronze statues on the bridge, one of an Australian soldier, the other a New Zealand soldier even carry within their plinth some sand from the beach of Gallipoli.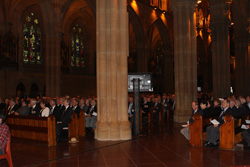 Fr Graeme Malone SSS, Honorary Chaplain to the Kokoda Track Memorial Walkway at Concord told the gathering that although their hearts are shaped by sorrow and grief they should also celebrate Rusty's rich and colourful life.
Rusty's son, Tim and daughter Carole-Anne both spoke of their father's achievements as a soldier, veteran advocate, mate to many friends but most importantly as a loving husband and father.
Head of the NSW RSL for a decade before retiring in 2002, it was expected the Cathedral would be full with other veterans, young and old.
At the end of the service there was the laying of a wreath at The Fallen Soldier Memorial in the Cathedral, the Last Post followed by a minutes silence and then soldiers escorted Rusty Priest's body to Hyde Park for a gun salute.
The mourners said as one "Lest we forget" and you just knew they wouldn't.