St Mary's Cathedral Ecumenical Service Will Celebrate Centenary of Fleet's First Entry into Sydney Harbour
Catholic Communications, Sydney Archdiocese,
2 Oct 2013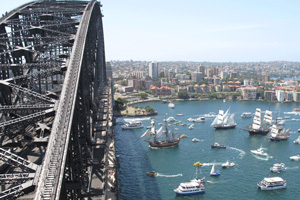 On Sunday, 6 October an Ecumenical and Interfaith Service led by the Director of General Chaplaincy and Principal Chaplain, Monsignor Stuart Hall RAN will be held at St Mary's Cathedral - exactly 100 years and one day after the Cathedral celebrated a special mass to mark the first time the Australian Naval Fleet sailed into Sydney Harbour.
Chief of the Royal Australian Navy, Vice Admiral Ray Griggs AO CSC RAN will give the commemorative address at Sunday's Cathedral service which will be attended by the Governor of NSW, Prof Marie Bashir; Royal Australian Navy Fleet Commander, Rear Admiral Tim Barrett AM CSC RAN; senior naval officers and rank and file together with those from other nations taking part in this week's International Fleet Review and Spectacular.
More than 2500 are expected which will begin at 2 pm with invitations extended to religious leaders representing many different faiths including Islam, Judaism, Buddhism, Hinduism, as well as to leaders of Eastern Rite Churches, Anglicans, Methodists, Baptists, the Uniting Church and other Christian denominations.
Members of naval associations and the general public will also be there.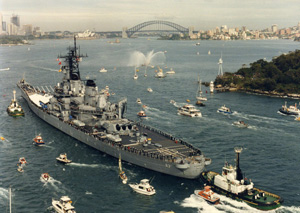 Among those leading prayers at the service will be the Protestant Principal Chaplain Garry Lock, the Anglican Principal Chaplain Eric Burton, junior and senior sailors and senior naval officers.
The Royal Australian Navy Band will provide the music for the service which will also be attended by navy chaplains and religious leaders attached to other navies. Lieutenant Jeffrey Moore from the United States Navy's Chaplains Department will also take part in the service and has been invited to lead a prayer for peace.
"Military Chaplaincies are often described as the Silent Service and are usually in the background, quietly ministering to the men and women of the defence services," Mgr Hall says.
Naval chaplains operate across all ranks and branches of the services, giving sacramental, pastoral, practical and emotional support to anyone who requests it. They also offer support to families of give their time and help to all, regardless of whether the person they are assisting is Catholic or non-Catholic, a believer or a non believer.
"Navy Chaplaincy is often the frontier of evangelisation, where the seed of faith is sown and is repeated at other times and in other situations," he says.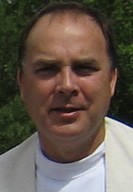 Whatever their denomination, Navy Chaplains work together and along with ministering to those who need care and support they also give assistance and referrals to organisations and professionals if further help is required.
Although a Navy Chaplain must be ordained as a priest or minister, to take on the role he must also be physically fit and able to pass the Navy's rigorous entry requirements and undergo the same often gruelling officer training.
"You are accepted into the Navy under the same criteria as everybody else, you train the same way, you wear the same uniform, experience the same comfort and discomfort, and go on the same exercises," he says.
As a result while life may not always be easy, a chaplain can identify closely with the men and women with whom they serve. Sharing training in naval life this way also helps gain respect and trust.
In two decades as a Naval Chaplain, Mgr Hall, who remains a priest of the Archdiocese of Melbourne has been deployed to the Persian Gulf on HMAS Anzac and has deployed to East Timor on two occasions.
"I joined the Royal Australian Navy as a part-Chaplain in 1991 and in January 1994 became a full- time Chaplain. Initially the posting was for four years but 20 years on, I'm still here," he says.
It's a life he obviously loves.
Promoted to Senior Chaplain in 2005, Mgr Hall was appointed Director General Chaplaincy - Navy in November 2011. Just one month later, Pope Benedict XVI appointed him Prelate of Honour with the title Reverend Monsignor.
The first Navy Chaplains serving with the Australian Navy date back to 1911. After a series of discussions with the Department of Defence and leaders of the Anglican, Presbyterian and Methodist Churches, three Anglican and two Protestant Chaplains were appointed to the Navy.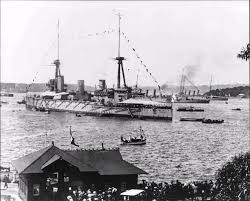 Less than a year later, the Archbishop of Melbourne, the Most Rev Thomas Carr was delegated by the Catholic Bishops of Australia to confer with the Department of Defence and on 16 August, 1912 Father Patrick Gibbons became the first Catholic Chaplain appointed to the Navy.
"We celebrated the Centenary of his appointment with a Mass at the Garden Island chapel last year," Mgr Hall says.
Now he is involved with another Centenary. This time the Naval Fleet's first entry into Sydney Harbour on 4 October 1913.
From tomorrow 3 October until Friday, 11 October Sydney will host the International Fleet Review as part of the Navy's centennial celebrations. The Chief of the Navy, Vice Admiral Griggs having issued invitations to 50 different nations to send a warship or tall ship and participate in what will be an historic and unforgettable event.
At least 40 warships and 16 tall ships are expected to take part in the International Fleet Review with celebrations to mark the event continuing over eight days and including a fireworks spectacular this Saturday. This will mark exactly 100 years the first entry of the Royal Australian Navy's Fleet into Sydney.
The flagship, HMAS Australia let the new fleet comprising HMA Ships Melbourne, Sydney, Encounter, Warrego, Parramatta and Yarra into Sydney Harbour to be greeted by thousands of cheering citizens lining the foreshores. It was a moment of immense national pride, rec ognised as a key indicator of Australia's progress towards national maturity.
"From every flagstaff, north, south, east and west flew the British - Australian colours. It was truly Australia's national day," one newspaper reported.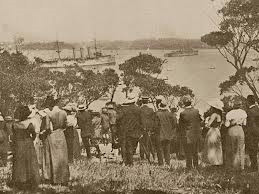 Two days later on 6 October 1913, men and women crowded into the city to watch dignitaries and Navy personnel arrive for at St Mary's Cathedral for a special Mass to commemorate this historic event.
"Several thousand people lined College Street in connection with the church parade at St Mary's Cathedral," it was reported. "Lieutenant Walsh had charge of about 170 Roman Catholics from all ranks in the fleet who assembled from the warships and marched up Macquarie Street arriving at St Mary's at 11.50.am."
The sermon that day was delivered by Monsignor O'Brien who spoke at length about patriotism and insisting that "the Fleet would not be employed for the conquest of other nations but for the defence of the shores of Australia in order to keep pure and sacred the temples of our God and the hearts of and homes of our people."
"The importance and primary purpose of the Royal Australian Navy since Federation has been to defend Australia as well as defend our sea lanes. Keeping our sea lanes open for trade and commerce is important with almost all our trade arriving by sea and all our exports sent by sea," Mgr Hall says.
The Ecumenical and Interfaith Service to Commemorate the Centenary of the First Entry of the Royal Australian Navy Fleet into Sydney Harbour will be held at St Mary's Cathedral on Sunday 6 October at 2 pm.