40 Days for Life Vigil Celebrates Birth of Baby Ashley
Catholic Communications, Sydney Archdiocese,
22 Mar 2012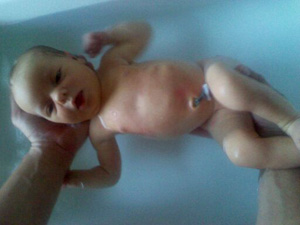 The text message sent this week to Paul Hanrahan, Director of Family Life International (FLI) was one of joy. "Say hello, to Baby Ashley," the proud father wrote under a series of photographic attachments of his newborn daughter.
"I can't thank you enough for your help and support. Both mother and child are very happy and healthy," the father said in his text adding that he and his partner, were living in Queensland and that "life is great."
"Please use Ashley, her photograph and story to make life better for others," he urged.
For all those taking part in Sydney's annual 40 Days for Life Lenten Prayer Vigil opposite the Preterm Clinic in Surry Hills, the city's longest running abortion facility, news of Ashley's birth and her parents over-the-moon delight was greeted with elation.
"For people who criticise us for having the wrong approach and doing more harm than good by keeping vigil outside abortion clinics like Preterm in Surry Hills, stories like Ashley's put a lie to all that," says Paul.
One of the principal organisers of the city's annual Lenten 40 Days for Life Vigil, Paul says he first met Ashley's parents in August last year when they arrived at the Preterm Clinic planning to end the unplanned pregnancy.
"The mother, whom I'll call Chloe was in her late teens and Jake - not his real name - was a tradesman who was about 15 years older," Paul recalls. "It was obvious they were very much in love but Jake was out of work and they were living with his mother, who had pressured them into having the abortion pointing out that with no job, her son was in no position to take on the responsibilities of fatherhood."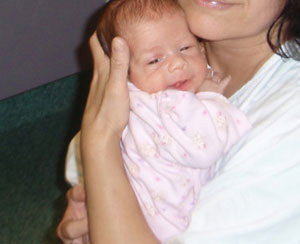 Each week throughout the year a small group from the Sydney Chapter of Helpers of God's Precious Infants, which was founded by Paul, gather opposite the Preterm Clinic on the corner of Rundle and Elizabeth Streets making themselves and their trained counsellors and psychologists available to anyone who wishes to seek help from them, or simply just talk.
"Chloe and Jake approached us and told us they had already had one abortion the year before and that this was the last thing they wanted. But money was tight and Jake had no job and his mother was insisting they get rid of the baby," Paul remembers.
The couple were filled with guilt and sadness over the first termination but with the support of the friends they made that day, in particular Olivia, a second year medical student who was roughly the same age as Chloe, they realised that there were other options.
"Over the next few weeks Ronan, another of our people and Olivia spent time with them both. We helped them deal with their grief over the previous abortion and overcome their guilt that this was the course they had taken, and we counselled them in practical ways."
The upshot was that the couple moved to Queensland where Jake found a job and away from his mother and with a steady income, the pair could begin to plan for their baby's arrival.
"Often at their wit's end, people see abortion as the only alternative. But it is never an alternative and we can help in many ways, including financially until a couple or mother are able to get back on their feet," Paul says.
Already this year there have been several "turn-arounds" as women like Chloe are called, the most recent occurring last week. "They approach us rather than the other way around," Paul explains and adds that while many women panic that another baby will tip an already stretched-household budget over the edge, particularly in cases where they already have two or three other children and their husband or partner has just lost his job, once the baby arrives this disappears.
"Once the new baby is there, they manage and not once have we had a mother regret her decision to have the baby despite whatever difficulties she may have been facing," Paul says.
One such case is Anna* who at 41 had two children under five, one of whom had just been diagnosed as a severe asthmatic, and now found herself pregnant with a third child. With a husband on a disability pension and aware the pregnancy meant she'd be unable to continue with her job as a nurse with its demands and its shift work, she was convinced that abortion was the only way out.
Arriving at the Preterm Clinic for a termination, she noticed the group on the corner opposite and when they asked if she was sure she knew what she was doing, she hesitated. "At first I was angry and then after talking with them confused emotionally," she says and recalls that although she made no instant decision that day, she cancelled the appointment.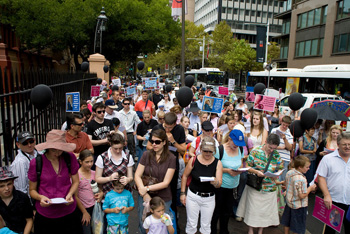 In the next few months, she was given financial and practical support from FLI, with volunteers helping mind her kids or take them to school and playschool when needed and on 23 March 2011, Maria*, the first daughter to be born in seven generations on the paternal side of Anna's family made her debut.
"We're joining Anna and her family for Maria's first birthday this Saturday," says Paul.
Then on Sunday, 25 March which is also the Annunciation of Our Lady, participants in the Lenten 40 Day Vigil will commemorate what has become known as the Day of the Unborn Child. As in previous years, this will be marked by a 10.30 am Mass celebrated by Bishop Julian Porteous, patron of the Lenten Vigil, followed by a procession from the preterm Clinic to State Parliament House in Macquarie Street.
The following Sunday is the final day of the Lenten 40 Days for Life Vigil when Bishop Porteous, the Archdiocese of Sydney's Episcopal Vicar of Evangelisation and Renewal will lead participants in the final hour prayers at St Peter's Church. There will then be a candlelit procession to the Preterm Clinic then a return to St Peter's for Benediction followed by a celebration in the Church's courtyard.
*names have been changed to protect the privacy of the couples and mothers who decided not to terminate their pregnancies and who have since become happy delighted parents.