Important Adult Stem Cell Research Supported by Archdiocese Grant
Catholic Communications, Sydney Archdiocese,
16 Mar 2012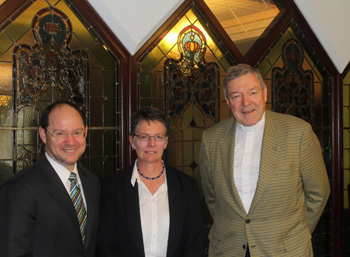 The Archbishop of Sydney, Cardinal George Pell today announced the Archdiocese of Sydney's fifth grant of $100,000 to support adult stem cell research has been awarded to Professor John Rasko and Dr Janet Macpherson from the Royal Prince Alfred Hospital (RPA), Sydney.
The research will look at ways adult stem cells can be produced in safe and increased quantities to help suppress reactions to foreign tissues, or rejection, following transplants or similar procedures.
Professor Rasko is Head of the Department of Cell & Molecular Therapies at RPA and an internationally-recognised leader in clinical stem cell therapy and the study of blood. He also heads the Gene and Stem Cell Therapy Program at the Centenary Institute of the University of Sydney.
Dr Janet Macpherson is also well-known in the field of stem cell research and joined the Department of Cell & Molecular Therapies at RPAH in 2010.
In warmly congratulating Professor Rasko and Dr Macpherson on the 2011 grant, Cardinal Pell said: "Their project on finding a way to develop these adult stem cells that could well revolutionise the treatment of a whole range of diseases highlights some of the wonderful avenues for research, and hopefully healing, that adult stem cells open up.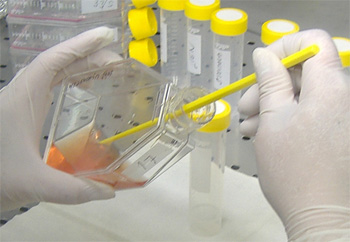 "I am delighted that the grant will help to support the work of two such accomplished and innovative researchers, and wish them every success in their research."
Harvested from bone marrow adult stems cells, known as mesenchymal stromal cells, are capable of developing into connective tissues like bone and cartilage and support the formation of blood and lymphatic cells. Mesenchymal stromal cells also contain immunomodulatory properties which Dr Macpherson says makes them valuable in helping suppress reactions to foreign tissues as occurs with organ and bone marrow transplants and similar procedures.
Currently despite the promise shown in the therapeutic use of mesenchymal stromal cells, the major limitation has been their slow proliferation and the difficulty in procuring an adequate number of them for use in therapeutic and different procedures, explains Dr Bernadette Tobin, Director of the Plunkett Centre for Ethics at St Vincent's Hospital, Darlinghurst and chair of the independent panel of leading researchers, scientists and medical experts who select the successful application.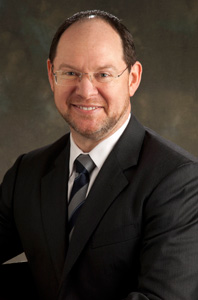 Dr Macpherson and Professor Rasko are hopeful their research may provide some answers to previous limitations.
"As a result of this grant we would hope our research will lead to clinical trials and therapeutic treatment of individuals," Prof Rasko said.
"We know people are looking for answers and treatments and that is our goal."
The main types of adult stem cells found in bone marrow comprise hematopoietic stem cells which are blood forming stem cells, and mesenchymal stromal cells which form connective tissue, tendons, cartilage and bone. Professor Rasko's team has already shown how blood forming cells respond favourably to being grown on an elastic bed or "nano mattress" and Professor Rasko and Dr Macpherson now plan to test the potential of the "nano mattress" hoping not only to develop a safe cost-effective way of manufacturing MSC stem cells, but to discover ways to maintain these cells in conditions as near to their natural environment as possible.
If their research proves successful, the implications could be far reaching and improve the treatment of a range of diseases including many forms of cancer, conditions affecting the joints, bones, heart and immune system, as well as preventing rejection by the immune system when skin grafts or transplants are carried out and encouraging the body's natural regeneration.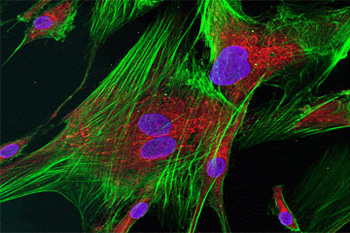 Over the past eight years, the Archdiocese of Sydney has made four grants to leading Australian researchers to foster and support their studies into adult stem cells and their use in the treatment of various chronic conditions and diseases.
Cardinal Pell said the number and quality of applications for the 2011 grant, and the shift away from embryonic stem cell work internationally, showed that good ethics are no impediment to good science.
The Cardinal said "Adult stem cell research has provided healing and hope without any destruction of human life and without all the other problems to which embryonic stem cell research gives rise. It is also very good to back a winner, both ethically and scientifically."