Crowds Gather at St Mary's Cathedral For Launch of Lights of Christmas 2012
Catholic Communications, Sydney Archdiocese,
14 Dec 2012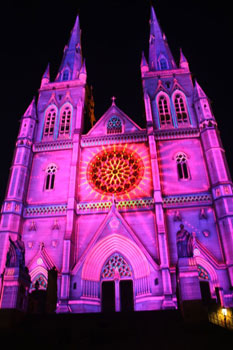 With the theme of "Unity" the spectacular Lights of Christmas 2012 was launched at St Mary's Cathedral with light projections that marvelled and enthralled.
The 75 metre high and 33 metre wide sandstone facade of the Cathedral was transformed by the stunning illuminations, delighting the hundreds who gathered in Cathedral square.
The massive display features brightly coloured floral projections, stars and Christmas tree along with subtle scenes highlighting all of Australia's cultures and backgrounds coming together to wish peace and harmony.
In celebration of the 500th Anniversary of the artworks adorning the ceiling of the Sistine Chapel by Italian Renaissance artist Michelangelo, the iconic image of the Creation of Man appears. This shows God reaching out to Adam, breathing life into Adam, the first man.
Chronologically the fourth in the series of panels depicting episodes from Genesis on the Sistine ceiling, this fresco was among the last to be completed. It is the probably most well-known of the Sistine Chapel fresco panels.
In a sequence depicting Madonna and Child, a number of magnificent artworks are also displayed on the Cathedral, with permission of
The Accademia Carrara, Bergamo Italy.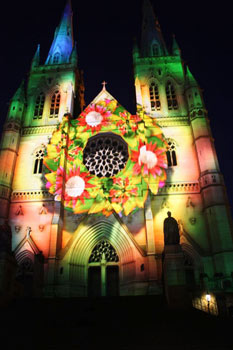 Presented by the Archdiocese of Sydney with Australian Catholic University the major sponsor, the Lights of Christmas has quickly become a highlight of the Christmas calendar popular with young people, families and tourists to Sydney.
Many people also gather together and travel from parishes to the north, south and west of Sydney to visit the display.
Auxiliary Bishop of Sydney, Most Rev Julian Bishop opened the display on Thursday night which was also webcast live by the Archdiocese social network xt3.com - allowing thousands of people around the world to see the beautiful display and reflect on the true meaning of Christmas.
Produced by Creative Designer Anthony Bastic of AGB Events, the display will be on every night from 8.30 pm until at least midnight through to and including Christmas Day night.
On some nights there will be choirs beforehand and next Monday evening, 17th December, it will be one of the first stops for Cardinal George Pell following his return from Rome. He will be joined at the Cathedral by the Vice-Chancellor of Australian Catholic University, Prof Greg Craven as well as many students and people from parishes through the Archdiocese.
To view the webcast of the first night go to: http://www.xt3.com/lights2012/