Surprise Retirement Party for Elsie Heiss - an Inspiration To Us All
Catholic Communications, Sydney Archdiocese,
11 Dec 2012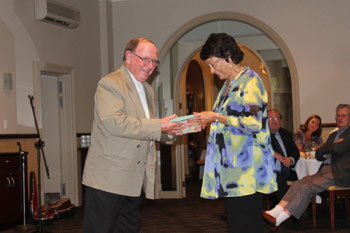 The Archbishop of Sydney, Cardinal George Pell describes Elsie Heiss as the driving force behind the Archdiocese's Aboriginal Catholic Ministry (ACM) and says he feels a great sense of indebtedness for the time she has spent developing this vibrant ministry, nurturing a greater understanding of other cultures and working tirelessly to help strengthen the bonds of community.
Commending Elsie not least for encouraging Sydney's Indigenous communities to join together to celebrate their faith and establishing the Church of Reconciliation at La Perouse, Cardinal Pell told her, she was an "inspiration to all of us."
Although His Eminence who is currently at meetings in Rome and was unable to be present at the surprise dinner held last Friday to farewell Elsie who retiring from the ACM after more than 25 years of dedicated work, his heartfelt tribute and letter to her was read to Elsie and all those present by the Chancellor of the Archdiocese, Mons John Usher.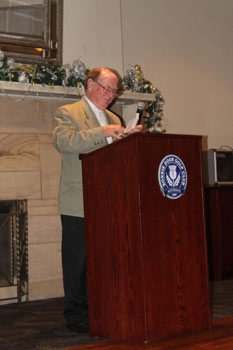 "One of your greatest legacies will be the magnificent example you have given of deep faith and unwavering commitment and energy," the Cardinal wrote. "Your love for the Lord has shone out in the kindness, warmth and compassion you show to everyone. Because of you, your colleagues and friends and supporters, the ACM is a thriving ministry for people of all ages and all walks of life."
His Eminence concluded his tribute by saying Elsie how grateful he was for her friendship as well as her outstanding commitment to this ministry, and told her how very much she would be "missed by the Archdiocese and Indigenous and non Indigenous Catholics who have had the privilege of working with you."
The tribute from Cardinal was one of the many highlights at last Friday's dinner which was attended by 125 Indigenous dignitaries, priests, religious, Archdiocese representatives together with Elsie's family and many friends in celebration of her achievements and the rich legacy she leaves.
Many friends travelled from interstate to be with "Dr Aunty Elsie".
The surprise dinner was also an opportunity for all those present as well as those who were unable to be there to say "thank you."
"I haven't often seen Elsie speechless but that's what happened last Friday night when she walked into the room and saw everyone there. It was the last thing she expected. She thought she was just having a small girl's night out," says Cate Wallace of the ACM who has worked closely with Elsie for the past nine years, and who not only organised the entire event but managed to ensure that for the guest of honour it really was a genuine "surprise."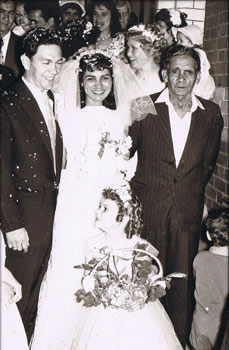 "Elsie couldn't believe how we all managed to keep it a secret and when she phoned me yesterday she was still overwhelmed," Cate says, delighted the dinner was such a success and that Elsie was so moved by the event and by all those who attended, who over the years have become her dear and treasured friends.
Along with Mons Usher, among the many guests who attended the dinner at the Bonnie Doon Golf Club at Daceyville eager to pay tribute to Elsie were Father Brian Lucas, Secretary of Australian Catholic Bishops Conference; Jack de Groot, CEO of Caritas; Dr Dan White, Director of Schools for the Archdiocese of Sydney; Br Kelvin Canavan former Director of Schools whose efforts transformed Catholic education and who worked closely with Elsie during the early days of the ACM; Sister Anne Derwin, Congregational Leader of the Sisters of St Joseph; John Ferguson CEO of the Australian Catholic Social Justice Council (ACSJC); and Craig Arthur National Administrator for the National Torres Strait Islanders and Aboriginal Catholic Council.
Together with His Eminence others who were upset they were unable to be there were Bishop Christopher Saunders, Bishop of Broome and Chair of the ACSJC who has worked closely with Elsie over many years. His wrote tribute to Elsie and heartfelt apology was read out as was one from another friend and admirer, Fr Frank Brennan SJ who is currently on retreat.
"The evening was all about saying thank you to Elsie for all she has done for her people and for the Church, and to let her know how much she is loved and appreciated, and how much she inspires all those who are lucky enough to know her," Cate says.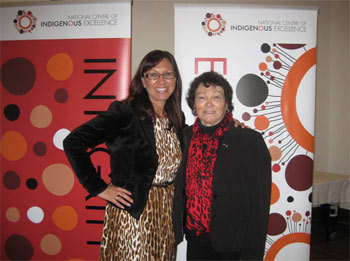 Long-time friend, Aunty Ali Golding gave the Welcome to Country after Elsie's arrival and recalled the many nights they have spent with friends in different parts of Australia telling yarns, laughing, swapping anecdotes and sharing their love of Christ and the Church.
On hand to see Elsie's joy and share this special night with her were four of her five children: sons Mark and Josef and daughters Gisella and Anita, and their partners. Elsie's other daughter, Monica lives on the central coast and sadly could not be there.
In the past several years Elsie has received countless honours. In 2009 she was named NATSICC's Elder of the Year and last year was awarded an honorary Doctorate of Letters from the University of Notre Dame Australia in recognition of her work with Indigenous people and her work in helping establish and fostering what is now the vibrant and fast-growing Sydney Archdiocese's ACM.
Humble, down to earth, full of humour with an ability to laugh at herself and enjoy life to the full, Elsie will be greatly missed.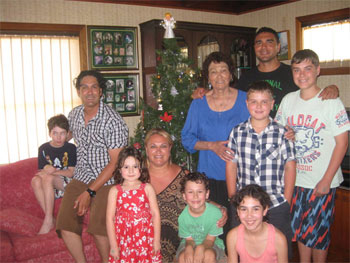 But while she says it is time to pass the baton and let a new generation take over enabling her to spend more time with her eight beloved grandchildren and tell them the stories of their heritage, and the courage of their great grandmother, Elsie's mother, who was a member of the Stolen Generation. Taken from her family and siblings at age five and sent to the Cootamundra Training Institute for Aboriginal girls, it would be more than 20 years before she was able to track down her family and be reunited with them.
Despite the hardship and brutality of her upbringing and her stolen childhood, Elsie's mother's faith never deserted her and she instilled her love of Christ in her children, telling them "they can take everything else from you, but no way can ever take your faith."
Despite Elsie's decision to retire, she insists this does not mean she will cease being involved with the ACM, NATSICC or the Archdiocese.